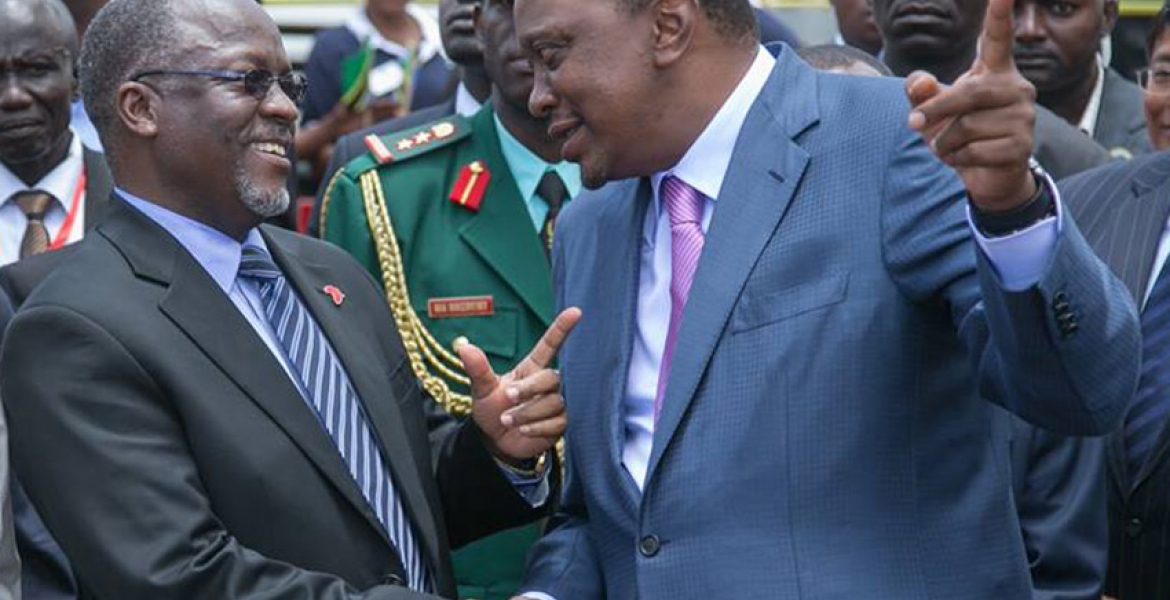 President Uhuru Kenyatta speaks to his Tanzanian counterpart, John Magufuli at a past event
Brookside Dairy, a company connected to President Uhuru Kenyatta's family is among 20 Kenyan companies that have been banned from accessing Tanzania market, despite last week's deal that lifted export restrictions between the two countries.
New KCC, cigarette manufacturer BAT, all the cement makers, Vivo Lubricants and Bidco Oil Refineries are other companies whose products have been blocked from entering Tanzanian market.
Kenyan exporters said that they have suffered huge losses after perishable products, which require quick sale went bad in their hands. They have asked the government to seek clarification from President Magufuli's administration as to why Kenyan exports are still being blocked.
"The United Republic of Tanzania will lift restriction on milk and milk products and cigarettes manufactured in Kenya with immediate effect," read a joint statement issued by Foreign Affairs Cabinet Secretary Amina Mohamed and her Tanzanian counterpart Augustine Mahiga last week.
Kenya had banned importation of cooking gas and wheat from Tanzania, citing quality issues, while in return Tanzania imposed a restriction on unprocessed foods, milk products, and cigarettes from entering TZ from Kenya.
Kenya Association of Manufacturers (KAM) on Thursday said that Kenyan exporters were being frustrated by Tanzanian authorities, despite last week's agreement.
"We have received complaints from our members reporting that there still is a total blockade when it comes to accessing the Tanzania market," said the lobby in a statement.
"Some of the products like milk and margarine are perishable products with a very short shelf-life," said KAM said in its protest note.