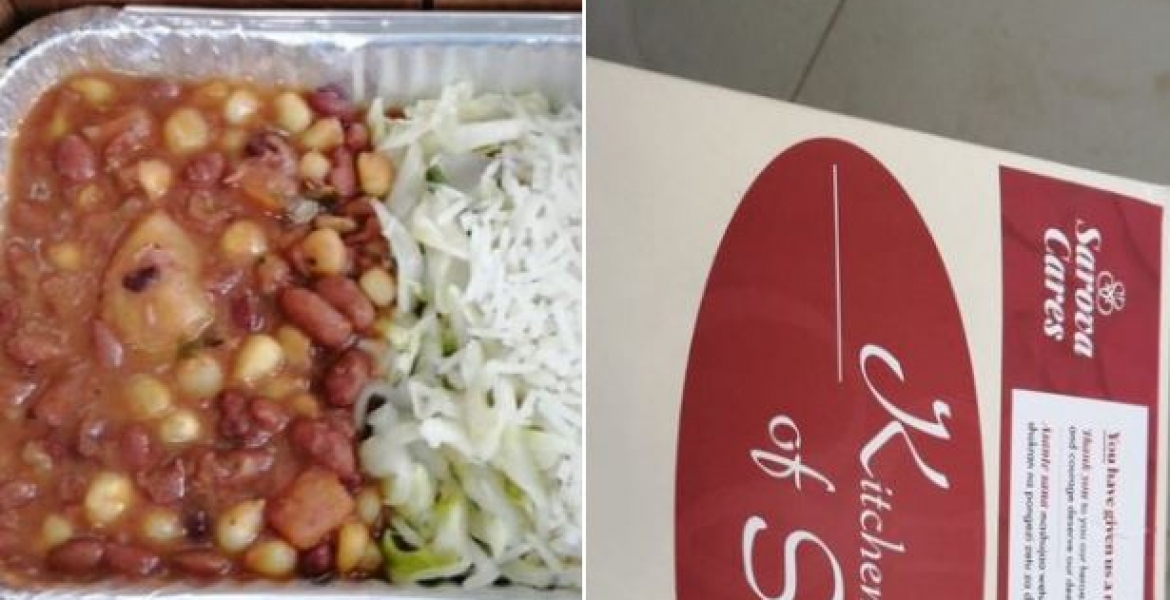 As Kenya fights the Covid-19 pandemic, people have come up with different ways of appreciating healthcare workers who are on the frontline in this battle. 
The Kenya Defense Forces (KDF) flew helicopters carrying a banner with thank you message for medics, Safaricom is offering a special data and airtime package to health workers for three months while the Editors Guild launched a campaign dubbed "Saa Sita", where Kenyans countrywide will stop what they are doing and give a special clap for medical workers every Wednesday at noon. 
On Thursday, Sarova Hotel on Thursday decided to send packed lunch to medics attached to Kenyatta National Hospital (KNH) as an appreciation for their efforts in combating the bug. 
But the luxurious hotel's donation sparked mixed reactions among Kenyans on social media after the type of meal in the boxes was revealed—githeri and rice. Well, this not the kind of meal that crosses your mind when Sarova, a five-star hotel, is mentioned. 
Some Kenyans on Twitter could not understand why on earth the high-end hotel settled on Githeri from their long menu of local and international dishes. The hotel said it will serve lunch to medics at KNH for the next 30 days.
Here are some of the reactions from Kenyans online;
@DadiCool20 said: "Sarova hotel, you can do better than this! Achana na hii vitu ya Grogon! For the next 30 days KOT will be assessing the food before you serve our frontline COVID19 soldiers!"
@fredwhitecap asked: "Hahahaha. @SarovaHotelsKen this is the best you could do? The way your hotels make so much money. Halafu @KNH_hospital is proud of this? This shows you how Healthcare workers are regarded in this country."
@RuthMwai said: "When will Kenyans ever appreciate anything without being soo negative? You mean Sarova serving Githeri to health workers is such a crime, like its poison? I thot most of you ate githeri in high sch? I mean, it's good food. What hv you done 2 help apart frm tweeting??"
@KinyanBoy noted: "Sarova Hotel jumped in the bandwagon but really, Githeri na waru like prisoners food? Sarova of all the places? SMH! The food served at KNH for staff and patients is better."
@Mahugu_Kimani posed: "Sarova hotel why package a meal so nicely kumbe ndani ni githeri.. please respect our health professionals they deserve better than that. You can do better than that."
@rosekamau_tweeted: "Mtu hata chai ya ksh 200 hajawai nunua Sarova suddenly feels like how they use their profits is beneath them."