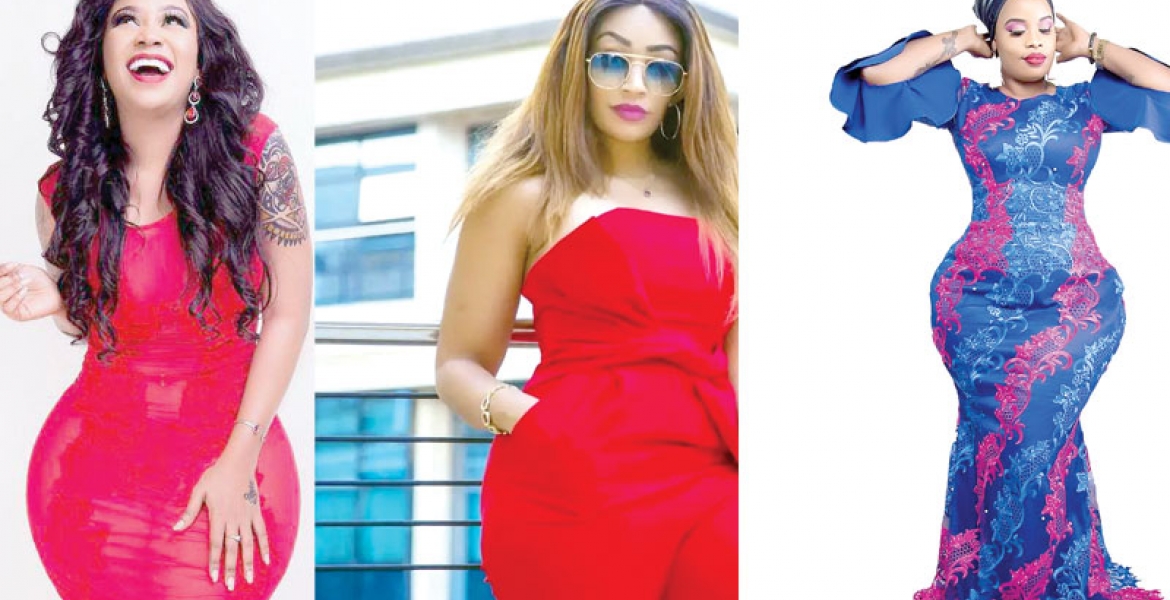 A socialite is said to be a person who participates in many social events and one who spends most of their time entertaining and being entertained.
Most of them have a large social media following where they share their racy photos and more often than not, they are seen as sex objects who make money by sleeping with wealthy men. 
But what is the real-life of a Kenyan socialite? We examine the lives of some of the popular Kenyan socialites.
1.    Corazon Kwamboka
The 26-year-old rose to fame as a socialite a few years ago after her seminude photos showing off her curves emerged on social media. She had accompanied comedian Eric Omondi for a project when the photos that completely changed her life were taken.
At the time, she was a law student at the University of Nairobi and later graduated as an advocate.
"My friend called me to tell me my pictures had gone viral. I don't regret it really, I'm actually glad it happened the way it did," She says.
She admits her life as a socialite made it difficult for her to practice law due to the negative perception people have about her.
 "It made me not practice law. I feel that at some point, I was being misjudged in a way so I kind of pulled back from Law. I didn't even want to go look for a job because I was scared 'how will they even give me the job'. It also affected a lot of my relationships since I became Corazon Kwamboka the socialite," she told the Standard Digital.
"I've dated, but usually the guys get insecure because of the comments on social media and the perception they get. They feel like, yeah, I know you in person but few months down the line the insecurity kicks in. They start asking why this guy is sending you a message, why are you going to the club…"
2.    Bridget Achieng
Bridget says her main agenda when she joined the social scene was to earn a few coins that would take her to the next level.
"I am simply a go-getter, an open-minded businesswoman who is not scared to try anything," she says about herself.
The mother of one says she is different from other socialites and has never been attracted to old rich men.
"The meaning of socialite was changed by those who came before us. I do still term myself as one, but with a different approach of helping others through my YouTube channel and helping the needy," she notes.  
"Many people would think that if I went to Nigeria or Malaysia, I was meeting and sleeping with old men, but in all honesty, I was just going to get a stock for my business." 
Bridget reveals she is now an event organizer and also a philanthropist.  
"I am organizing Naifest (a music festival) and I am planning to jet in a well-known international artist. Also, in terms of gracing events, I believe my rate card has gone higher because my level of engagement and standards have also elevated," she says. 
"I am also a philanthropist who takes care of widows and the less privileged as I consider it a way of leaving a legacy through my Bridget World Foundation. Other than that, I run a skincare business called Bridget Body shop where I sell skin care products such as cremes. I also run a boutique where I sell luxury outfits called Bree_Luxury." 
She says people still view her as an immoral person who offers her body to rich men in exchange for cash, but this is not the case. "I was a church girl and I can tell you, working out your life as a socialite is not a bed of roses." 
She confesses to losing her virginity after she joined the socialite business.  
"The socialite business looks good on the outside but you will strip naked for the whole world because men will look for you and do anything to get what they want from you." 
"Sometimes you want to portray an image of a rich girl who has everything going for her simply to keep things going even when you know deep inside that things are not working."
"I don't think any man wants to marry a socialite as they view you in not such a good way. The truth is you will simply go out there and get clubbing to make the cash. You don't have to give in sleeping with these men because all they might want is just pleasure and company. As for you, this is not something to regret as it is just business. I wouldn't be making any money right now if I did not follow this path," she notes.
Bridget says most of what is posted online about her are lies, especially on how socialites earn their money and spend money to enhance their bodies.
"For example people said I bleached myself which is not the case. It was skin-tan, which cost me about Sh3 million. My skin-tan was actually inspired by various celebrities that I have been watching on TV such as the American rapper Nicki Minaj. Besides, what is wrong making money even from rich men then you invest it. Isn't that business? I don't regret this," Bridget says.
She currently dates a wealthy Nigerian businessman who she recently unveiled on social media.
3.    Huddah Monroe
Huddah became a household name in the Kenyan social scene after she was picked to represent Kenya on the Big brother Africa show in 2013. Thereafter, she earned a huge online following and led a flashy lifestyle.
Like many socialites, Huddah underwent surgery to improve her body appearance in Beverly Hill, California. She says the procedure cost her Sh3.5 million.
"I could've died [during the surgery] but I'm well now," she says.
In the recent past, she shifted her focus to her cosmetic line, Huddah Cosmetics. There are many theories on how Huddah makes her money, the most obvious one being sleeping and dating wealthy men.
4.    Tanasha Donna
Tanasha is the newest entrant in the socialite business and is arguably the most discussed social media celebrity at the moment.                                                                                                                                  
The 24-year-old began gaining fame after it emerged that she was dating Kenyan actor Nick Mutuma. She was later hired by NRG radio as an influencer presenter before news broke out that she was dating Tanzanian singer Diamond Platnumz and the couple was planning to formalize their union.
She got pregnant with Diamond's baby, gave birth and quit her job at NRG radio to become a musician. She recently released a new song dubbed 'Gere' featuring Diamond.
5.Vera Sidika
Sidika came into the limelight about 10 years ago after she featured on a music video titled 'You Guy' by P-Unit featuring Collo. What caught the attention of many is her curvaceous body and since then, her life has never been the same. She went ahead to gain many social media fans and admitted to having lightened her skin.
Soon after, she ventured into business and launched her own brand of detox tea in an event graced by celebrities. In 2018, Sidika opened her beauty shop, Vera Sidika Beauty Parlor, at the Western Heights in Westlands, Nairobi. 
In the recent past, Sidika appears to have toned down on her socialite life to concentrate on business. 
"I am not a socialite. I am an entrepreneur. I run my businesses across the globe. I run my beauty parlor here in Nairobi and I have also started a music career besides by interior graphics jobs," she said in a recent interview.