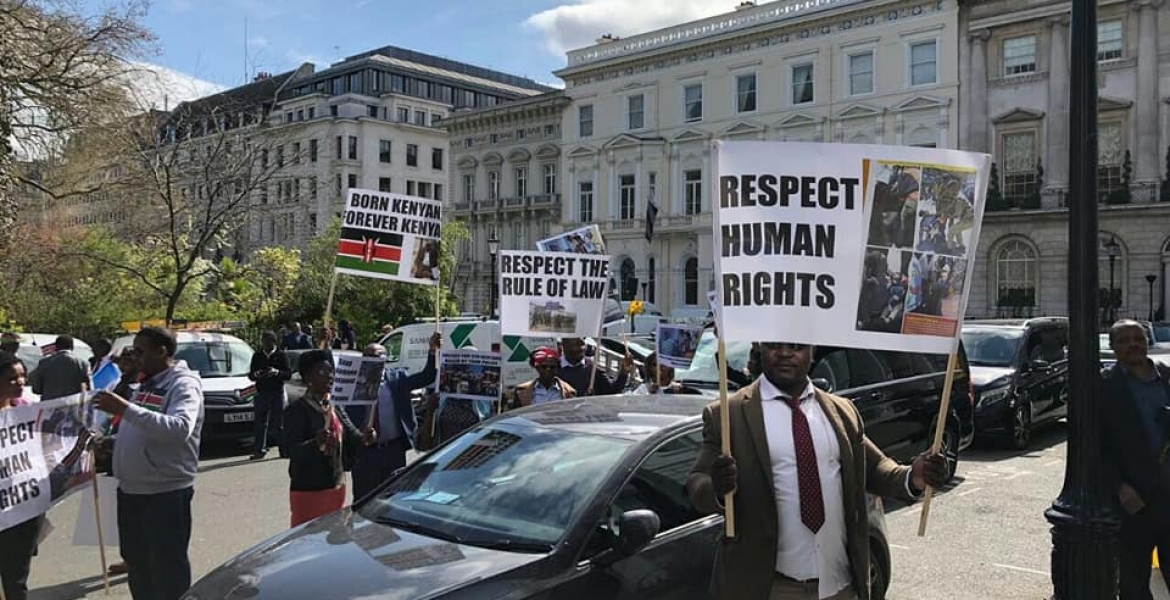 A section of Kenyans living in London, United Kingdom held a demonstration outside Chatham House, where President Kenyatta delivered a talk on Tuesday.
The President issued an address at the house associated with tenets of democracy, addressing a number of issues including his plan for Kenya in his final term and last month handshake with Opposition leader Raila Odinga.
Carrying placards written "respect human rights" and "respect rule of law", the demonstrators accused Kenyatta of abuse of human rights, ignoring rule of law and mismanaging the economy.
Last year, another group affiliated to Jubilee held a similar protest when National Super Alliance (Nasa) leader Raila Odinga also gave a lecture at the same venue. 
Speaking at Chatham House, Kenyatta assured Kenyans abroad that they will be allowed to vote during the 2022 general elections.
"By 2022, all mechanisms will be put in place to ensure that the entire Diaspora (population) will be able to participate in the general election," said President Kenyatta, who was responding to a question by an accountant living in the United Kingdom.
He also talked about the political implication of his handshake with Opposition leader Raila Odinga. "It is a Kenyan agenda that we [Government] hope to deliver [development and a conducive environment for business] to the people; and we acknowledge that we cannot do it on our own; we need each other. We should not keep our people engaged in politics 24 hours," he said, responding to a question from an audience member.