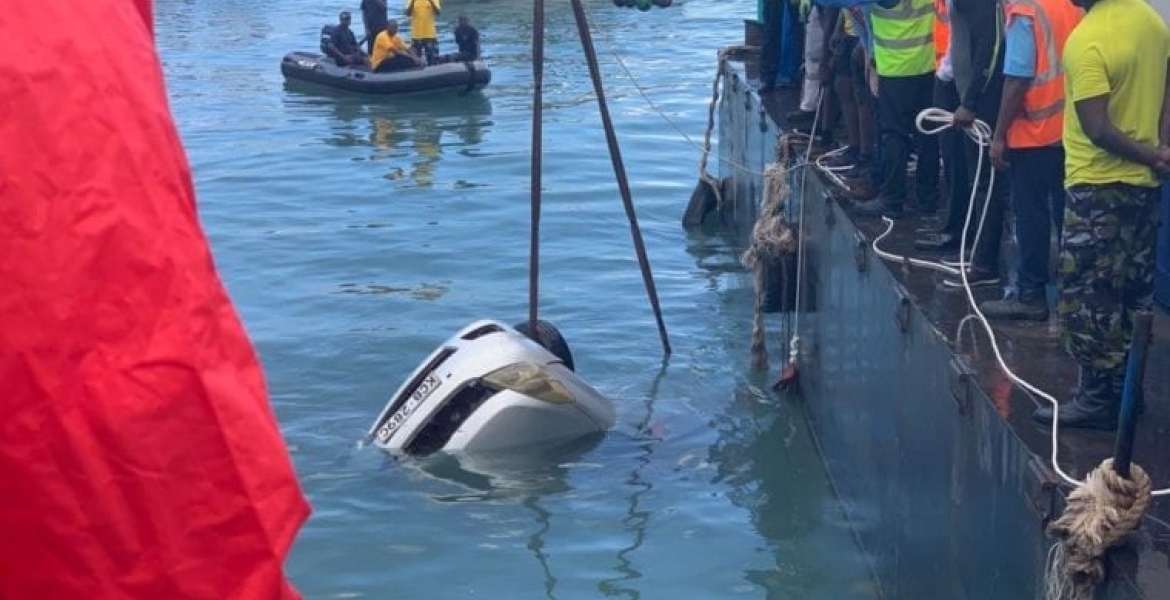 The vehicle that reversed from a ferry and plunged into the Indian Ocean 13 days ago with a Kenyan woman and her daughter on board was on Friday afternoon pulled out of the Likoni channel.
The car bearing registration number KCB 289C was retrieved from the ocean by Kenya Navy personnel a few minutes past 4 pm with the bodies of the two still inside.
A crane was used to pull the car out of the water as Red Cross officials prepared to take the bodies of 35-year-old Mariam Kigenda and her 4-year-old daughter Amanda Mutheu to the mortuary.
John Wambua, the husband of Mariam and other family members witnessed the entire exercise from the shores of the ocean. They have been camping at the scene since the accident happened on September 29th.
Detectives from Directorate of Criminal Investigations (DCI) were also present as the car was pulled out, according to Citizen Digital. The officers are conducting investigations into the incident.
The retrieval of the car came two days after government spokesperson Cyrus Oguna announced it had been sighted with the help of technological equipment.
He said the car could not be removed immediately due to channel traffic, huge ocean currents and scheduled docking of ships.
The operation was carried out jointly by divers from Kenya Navy, Kenya Ferry Services Ltd, Kenya Ports Authority, Kenya Coast Guard Service and Kenya Marine and Fisheries Research Institute. 
Private divers from South African company, Sub Sea Services also assisted the government agencies to recover the two bodies.