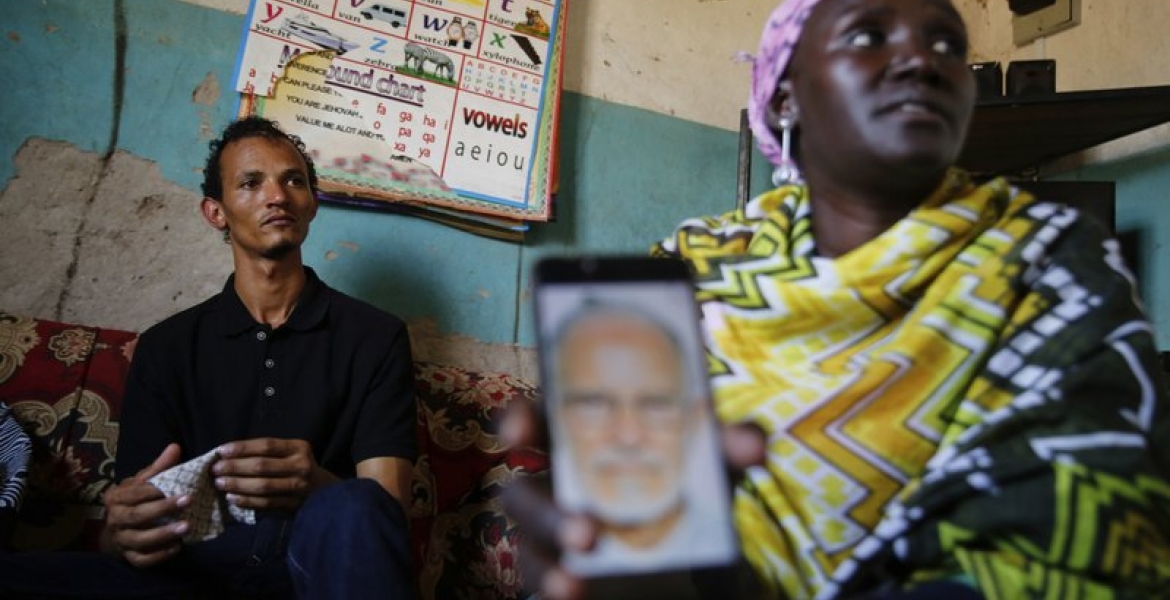 Gerald Erebon Sits with his aunt Scolastica Losirkale as she holds a phone with a photo of Rev. Lacchin [Photo/AP]
The Vatican is investigating claims by a Kenyan man that his biological father is an Italian priest.
Gerald Erebon says his birth certificate lists a black Kenyan man as his biological father, but states that he [Erebon] is light-skinned, tall with curly hair, and looks nowhere close to the main listed as his father, who is dark-skinned. He also says his mother is dark-skinned as well, and are his siblings. He says this has made him feel like an outcast his entire life.
"According to my birth certificate, it is like I am living a wrong life… I just want to have my identity, my history," Erebon recently told the Associated Press.
Erebon says word around his remote village in Archer's Post, Samburu is that his biological father is Rev Mario Lacchin, an 83-year-old Italian priest who ministered in Erebon's village in the 1980s. It s believed Rev. Lacchin impregnated Erebon's late mother, Sabina Losirkale, when she was 16 years old. Rev. Lacchin, who was in his early 50s at the time, has refuted the claims, but has refused to take a paternity test.
The Vatican has opened an investigation after Erebon's claim was brought to its attention in May by Vincent Doyle, an advocate for children fathered by priests.
Sabina's sister, Scolastica Losirkale, says she recalls seeing Sabina and Rev. Lacchin hugging. She also says some nights Sabina would come home crying, and other nights she would not come home at all.
"I think Father Mario was taking advantage of my sister. He bribed her with gifts, food, clothes. He was even buying us books. My sister used to come with books, pens, all we needed," Scolastica says.
Scolastica says that soon after, Sabina became pregnant with Erebon. Rev. Lacchin was quietly transferred from Archer's Post. "
The people of Archer's knew it was Father Mario. The people knew that the priest was responsible. Because even the boy — he resembled the priest when he was born," said Alfred-Edukan Loote, who taught Erebon in primary school.
The Associated Press reached out to Rev Lacchin for comment but he did not respond to their email, text messages, and phone calls.
Erebon says he wants the truth to come out. He also says he wants Rev. Lacchin to help him and his two children obtain Italian citizenship. "I just want to have my identity, my history, so that my children can also have what they really are: their heritage, history and everything," Erebon tells the Associated Press.