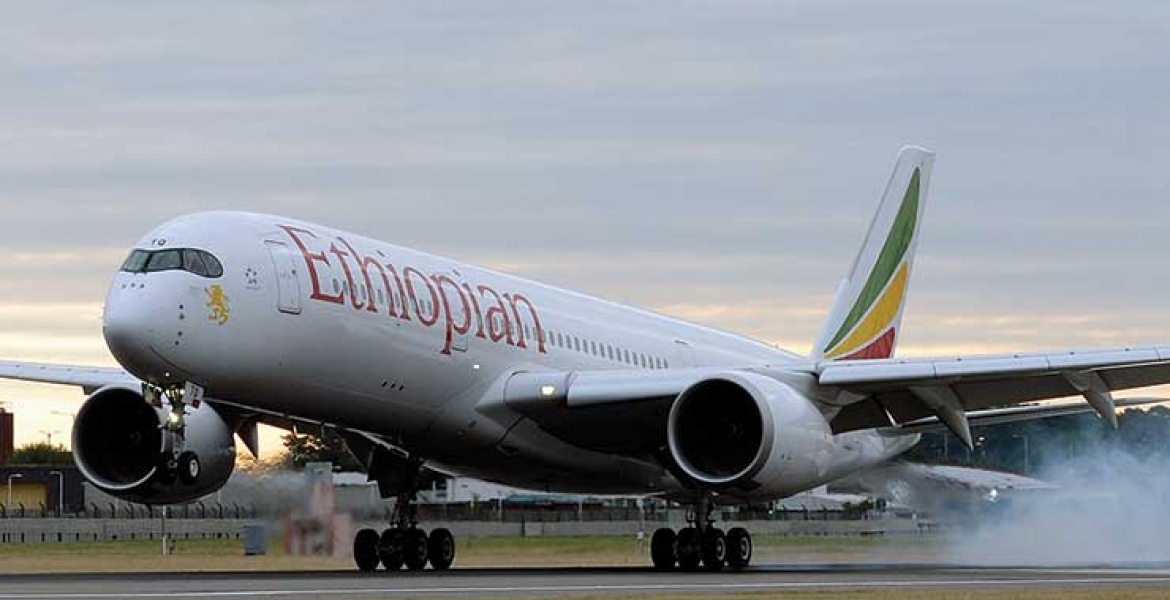 Ethiopian Airlines has launched direct flights from Africa to Houston, Texas part of its efforts to spread its services across major cities in the world.
The giant airline will operate three frequencies weekly from Lome, Togo, to Houston using the 270-capacity Boeing 787 Dreamliner aircraft, according to Ethiopian Chief Executive Officer Tewolde Gabrielmariam. The route, code-sharing with Togo's ASKY Airlines, will be operated on Mondays, Wednesdays and Saturdays.
Speaking at the launch of the inaugural flight held at the George Bush International Airport in Houston on December 16th, Gabrielmariam said this is the airline's 127th destination in the world. He added that Ethiopian is now the largest airline in Africa with a fleet of 130 aircraft.
''This is also a very important connection for East Africa, South Africa, and Central Africa and also a very important connection to West Africa. This is the only direct connection to West Africa because we are using our second half in Lome for West Africa to connect passengers to the entire West and Central Africa."
"The connectivity that we have established is beyond Lome as we have set out to serve our esteemed customers. It is the fastest and shortest in the history of the aviation industry," said Gabrielmariam.
At a brief ceremony before the flight took off in Lome, Ethiopian Airlines Vice-President Rahel Assefail, said: "Ethiopian Airlines is happy to connect more cities in America to Africa because of the connection between West Africa and Houston. We, as a company, decided to route the airlines from Lome, West Africa, instead of home base in Addis Ababa. We hope this will increase the relationship between Africa and America."
Houston Airport Executive Director, Mario Daiz, said the historic flight would improve connectivity between Africa and Houston and contribute about $100 million into the US economy annually.
"Houston is now officially reconnected to the African continent through the efforts of Ethiopian Airlines to make business seamless for international travelers and others in the corporate world. Through the flight to Houston, Ethiopian Airlines is creating unity among people of diverse groups, promoting culture and strengthening values," he noted.
 "This route will not only save time, but it will also provide job opportunities then inject multi-million dollars into the Houston economy," he added.
Some of the passengers on the maiden flight expressed their excitement over the launch of the new route.
Obinna Oruche, a Houston-based Nigerian medical doctor, said: "I have been in the US for 10 years but try to visit Nigeria once in a year. This inaugural flight is a big deal and relief considering the hassles of traveling from Houston to Addis Ababa, which is 16 hours. With this, we don't have to fly from Addis to Nigeria, which takes another four to six hours sometimes. With Lome is 12 hours. So the business move is good. I want to commend the Ethiopian Airlines management for this initiative. It has been a pleasant experience for me. The plane is clean, neat. The hostesses are good. They had this permanent smiles on their faces. I will be flying them more often."
Wese Obiabaka, stated: "I didn't know it was an inaugural flight. I just found out online. I am lucky to have flown the airline and it is my first time flying the airline. I have two kids and it is the only flight that we found that has the shortest time. Others have longer waiting periods like 11 hours. But this is short and we opted for it. It is epic. The experience so far has been wonderful. It is an airbus. I like air hostesses. They are free; not tight-fisted. They are going to enjoy Nigerian patronage because Houston is like an extension of Lagos."
An Ethiopian, Solomon Tamrat, noted: "This is my first time in the (United) States and it is a good experience for me. The airline is good. The service is good. And being an Ethiopian, I can say Ethiopian Airlines is me and I will continue to fly it."