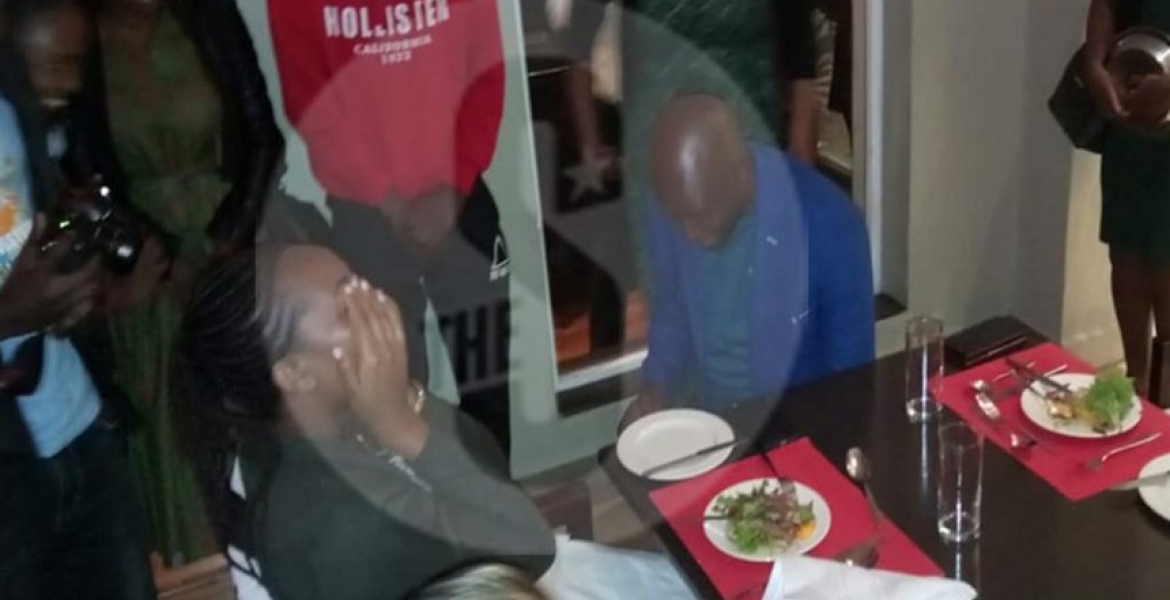 NTV news anchor Dennis Okari has proposed to his new girlfriend three years after he separated with former wife, K24 news presenter Betty Kyalo.
An online video shows Okari proposing to his new partner - identified as Naomi Joy - at an engagement party held at Eka Hotel in Nairobi this past Saturday.
"What I am going to say is not scripted or rehearsed but it is coming from the bottom of my heart. I have no written speech. I never planned for this but what I know is that this day was ordained by God to be around these lovely people," an emotional Okari says while handing an engagement ring to Ms. Naomi.
The investigative journalist describes his wife as a loving and God fearing woman and is prepared to spend the rest of his life with her.
"The answer that I will get today will be etched in my memories for as long as I live.
I will love you with all the wisdom that God will give me and not just to love you but also to love Him as well and to serve His people," he continues.
"I can't wait to do life with you, and I can't wait to start the journey if only I get the answer that I am expecting. So before all these lovely people, family, friends and our parents here. This ring is just a symbol of my commitments to the covenant that we are going to make in one of these fine days. So I want to ask you, Naomi Joy, with everything that I have and everything that I am will you marry me?" he poses, to which Joy replies, "Yes."
Reports indicate Okari settled Naomi's dowry in a secret event held in Ukambani in October last year.
Okari separated with Ms. Kyalo in October 2015, just six months after their much-publicized wedding ceremony.
In a past interview, Betty said their divorce was fuelled by Okari's decision to join a religious group that engaged in "practices she could not fathom."
On his part, Okari has evaded questions on why he ended his relationship with Kyalo despite having a daughter together.
"Maybe I will speak about it in future when God allows me," he said in an interview last year.