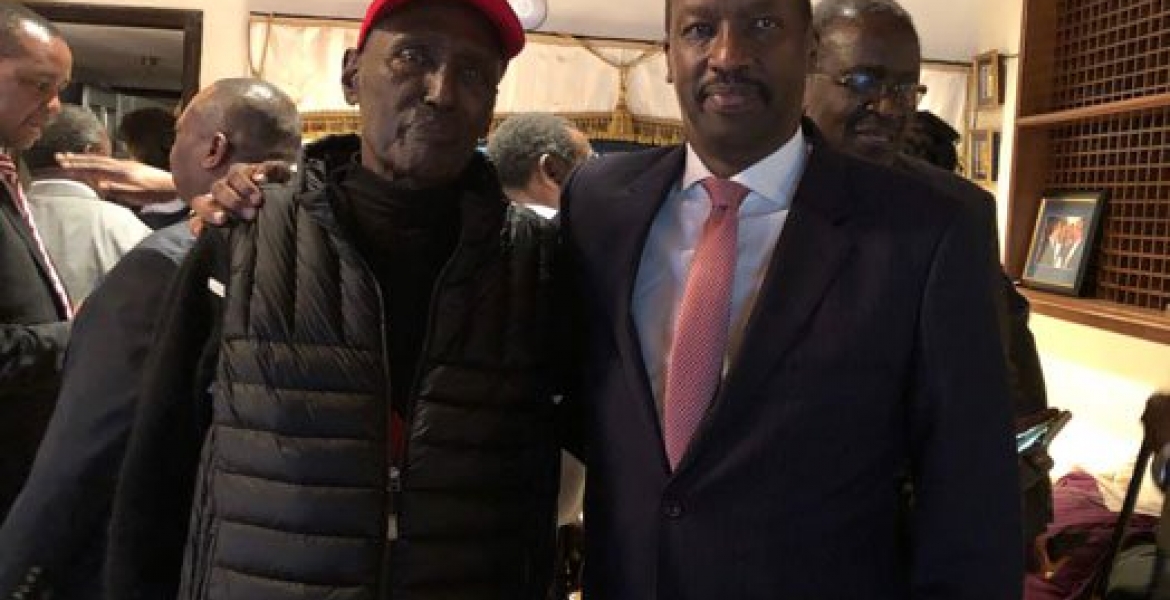 A Photo of a seemingly weak Kenyan business magnate Chris Kirubi, who was flown to the United States in November last year for treatment has surfaced online.
A photo widely circulated on social media shows the billionaire (pictured with national chairman of Kenya National Chamber of Commerce and Industry (KNCCI), Kiprono Kitony) looking frail but jovial.
It is not clear where and when the photo was captured.
His illness was first made public by Centum CEO James Mworia in a memo sent to the staff. Mworia said the business mogul had traveled to the US for treatment, but did not reveal what he was suffering from.
However, sources have intimated that the tycoon was diagnosed with cancer. Here is how Kenyans on Twitter reacted to the photo:
@DavidOsiany: I know that with #NairobiRains one wld feel terrible that Chris Kirubi built his Two Rivers Mall on a Wetland. However, death & pain are tragedies we shouldn't even wish our worst enemies. I pray that CK regains his full health, reflects abt the past & rights all wrongs. Godspeed
Atitwa@AtitwaGmail said: Money is not everything.People are. How  you live on earth and exit the earth is determined by how you related to people around you.Chris Kirubi had money and never cared about a well knit family and the ill wealth created can't give good health and peace."
@_ericndemange tweeted: "Chris kirubi seems more unwell. God who heal & forgive should visit Chris on his bed & touch his condition for good. Diseases are not part of our life/body cos our body is the Temple of Almighty God.
Jesus take the wheel to kirubi."
Duncan Makori noted :"Money cannot buy life. Look at Chris Kirubi!"
@JMKTV commented: "Wishing Chris Kirubi all of the best. He is one of my role models. His business acumen in media and real estate is unchallenged. A leader Kenya needs to live for a long time. God bless him."
@EtalePhilip: Attacking someone in his/her time of pain is QUITE inhuman. Our Morales have really decayed and we sound uncouth even when we ought to empathise with someone. Get well soon Chris Kirubi.