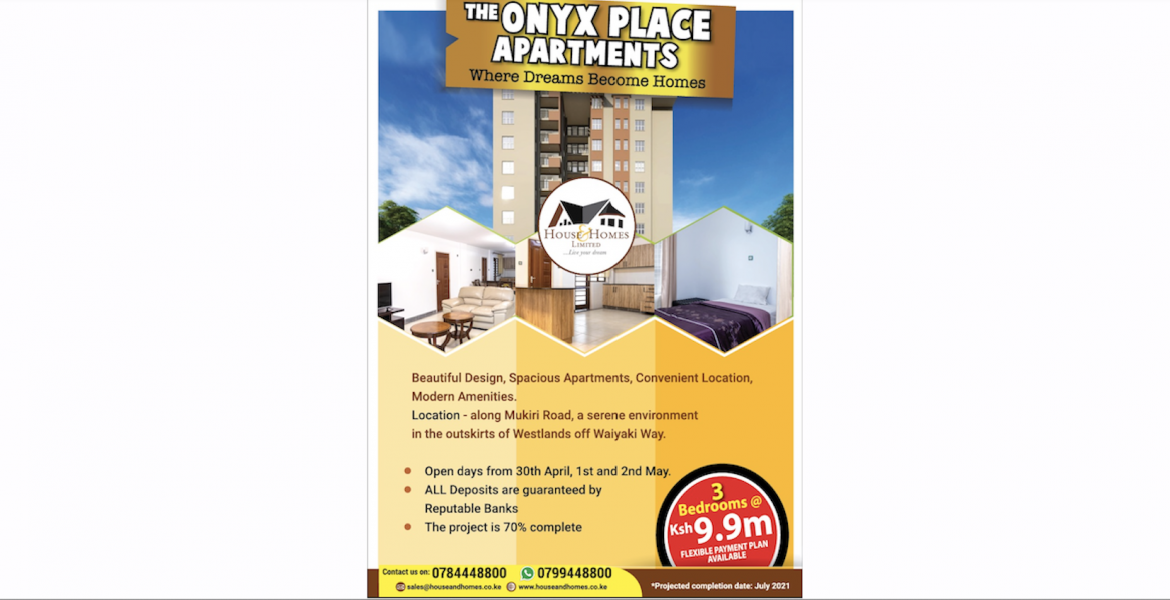 House and Homes Limited are the developers behind The Onyx Place Apartments. We are the pioneers of deposits guaranteed by reputable banks.
The Onyx Place Apartments is the latest development around Waiyaki Way off Mukiri Road. The area which is well known to most real estate investors as a leafy suburb area; is shaping up, with our development well placed to offer any family a serene environment and an attitude of appreciation. The Onyx Place Apartments shall highly revolutionize the whole set up, with the apartments having modern facilities catering for the upper middle-class family around the region. Whether buying to live in or to rent out you shall all feel at home and have a sense of belonging.
In regards to the whole area and location dynamics we have done all prerequisite property analysis and ensured that the investors are well taken care of with no hindrance to amenity provision or degradation. We as a team have ensured that the investors shall not lack any amenity due to zoning of the area code or planning issues as the area is suitable for high end apartments such as The Onyx Place Apartments. Purchasers who buy into the development shall get a share in the Estate Management Company and they shall have total control of the Estate decisions; thus ensuring that each resident's voice is heard and acted upon. The location being a leafy suburb area is sure to offer the residents a fine ambiance filled with peace and tranquility.
The Onyx Place is located off Waiyaki Way on Mukiri Road, with an urban feel and natural ambiance for those who appreciate a lifestyle of quality and comfort. The project consists of 64 units sitting on a 3/4 acre of land. The apartments consist of 3 bedroom without an SQ, with a plinth area of 135 Sqm (1453.13sqft) and 3 bedroom with an SQ, with a plinth area of 145 Sqm (1560.77sqft).
Amenities
Two allocated parking slots per unit, and Ample visitors parking
Playing area for the children
Borehole with fresh water and solar water heating
Direct connection to sewer line
CCTV and electric fence
Introductory Price
Type 1 - Three (3) Bedroom with DSQ Ksh. 10.45 M
Type 2 - Three (3) Bedroom without DSQ Ksh. 9.9 M
Invest in The Onyx Place Apartments, where ALL deposits are guaranteed by reputable local Banks
To invest