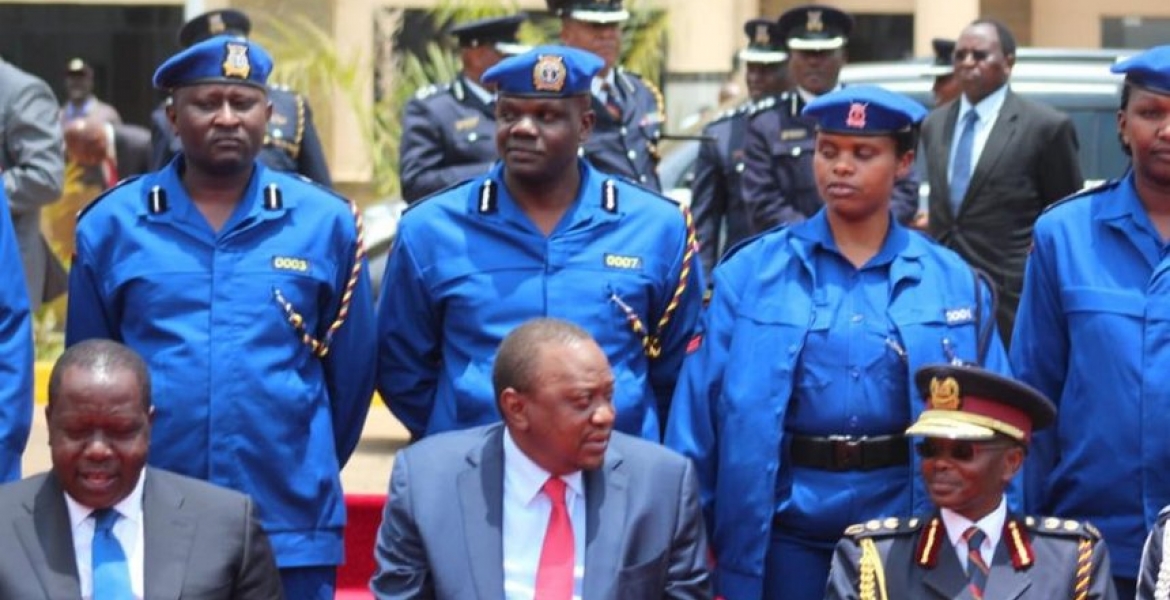 Kenyan social media users have criticised the new police uniform for the General Duty officers unveiled by President Uhuru Kenyatta on Thursday.
The General Duty Police was formed after the Kenya Police Service and the Administration Police (AP) Units were merged. The new uniform consists of persian-blue shirt/blouse, trousers and beret.
"It's important for everybody and especially the police officers to know that the Kenyan people are funding these changes so that the police can serve the people better," President Uhuru Kenyatta said.
However, a section of Kenyans online were unimpressed by the uniform's color and design with some saying it looked "dull and old fashioned."
@OliverMathenge tweeted: "The new Kenya Police uniform is actually very ugly. Ama ni mimi tu?"
@Lansbrown said: " Cannot allow a Kenya Police with such an ugly uniform to arrest me. A policeman dressed like a plumber."
Lawyer @DonaldBKipkorir noted: " The Uniforms for our newly unified Kenya Police is Ugly, Dull , Old fashioned & Uninspiring ... The Beret is worse ... They look like Salvation Army Band ... Police Uniform must be one that shows fitness & inspires fear ... Here, we were conned ."
@Asmali77 remarked: "The #PoliceReforms also increased the pocket sizes for the police uniform."
@MOmuttaha observed: " Compare and contrast the design and colour in New Police uniform and those for Rwandans . Ni wapi tulikosea??"
@KiprutoFestusKE noted: "Is increasing the size of the pocket a Reform Smh."
@errycar10 said:"Ladies and gentlemen, introducing China police - Kenya branch. Next week all Kenya Police officers will learn Chinese." 
@TheParrotKE: "I am told the new Kenya Police uniforms are part of the Chinese Loans. Next President Uhuru Kenyatta will paint our officers yellow to complete the transformation of Kenya Zing Chu police!"
@leemakwiny said: "Police reforms can not be possible with that ugly uniform. Police reforms is not uniform. We must retain the old uniform. it's good."