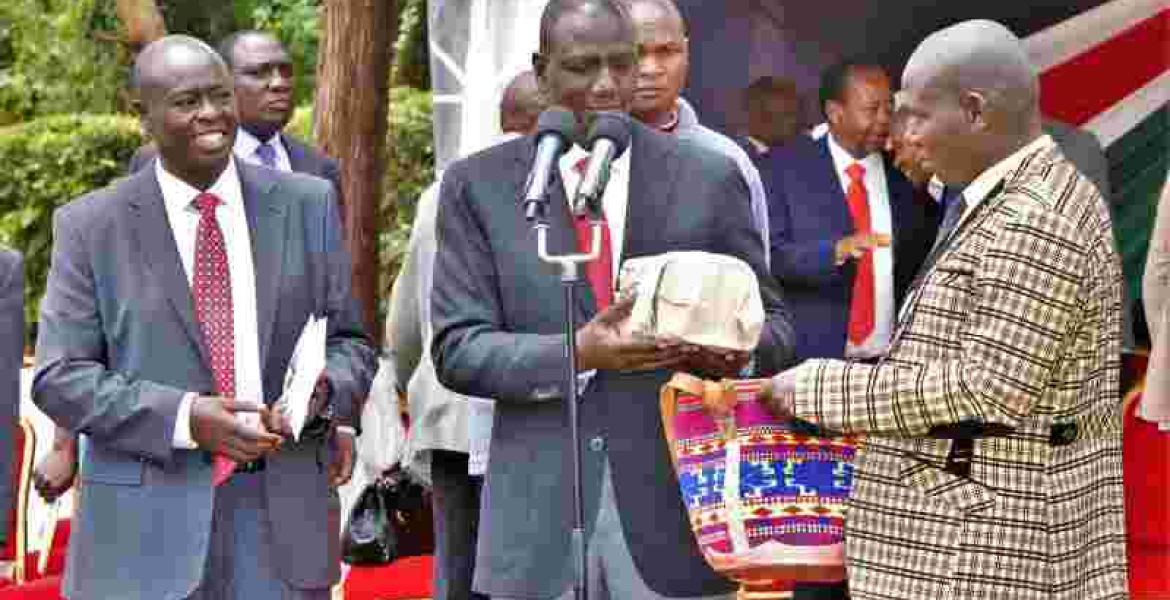 DP William Ruto gives his donation of Sh2 million that included Sh1 million from president Uhuru Kenyatta during a fundraiser for the purchase of a bus for PCEA Rititi women's guild in Nyeri on Sunday. [Mose Sammy, Standard]
Deputy President William Ruto has dismissed talk of a split in Jubilee government, saying his relationship with President Uhuru Kenyatta was intact.
Ruto, who spoke on Sunday at Presbyterian Church of East Africa (PCEA) Mathaithi in Nyeri County, said the purported rift in Jubilee Party was a creation of the media.
Without singling out a particular media report, the Deputy President blamed the media for perpetrating reports of a fallout in jubilee.
"We do not have time for petty political squabbles, our priority now is uniting Kenyans and developing the country. Most of what you are reading in the media is propaganda," Mr Ruto said.
Ruto was accompanied by a host of Jubilee Party MPs Valley as he wound up a tour of Mt Kenya region that has taken him to four counties since Friday.
He has been in Murang'a, Kirinyaga, Meru and Nyeri rooting for the president's Big 4 Agenda of affordable housing, universal healthcare, manufacturing and food security.
Speaking in Nyeri yesterday, Ruto announced that the government was keen on creating jobs by pushing for value addition of coffee and tea.
"Besides giving subsidies, we have agreed with the counties that we are going to give priority to value addition of coffee and tea so that farmers can get a significant income," he said.
The government, he said, has allocated Sh1 billion for subsidised fertilizer that will be distributed to coffee farmers countrywide similar to what has been done for their counterparts in wheat and maize growing areas.
Gatundu South MP Moses Kuria joined Ruto in accusing the media of concocting stories of discord in Jubilee.
We may not take any legal action against the media but we are telling them is that what they are doing is not a service to this nation," Kuria said.  - Courtesy The Standard