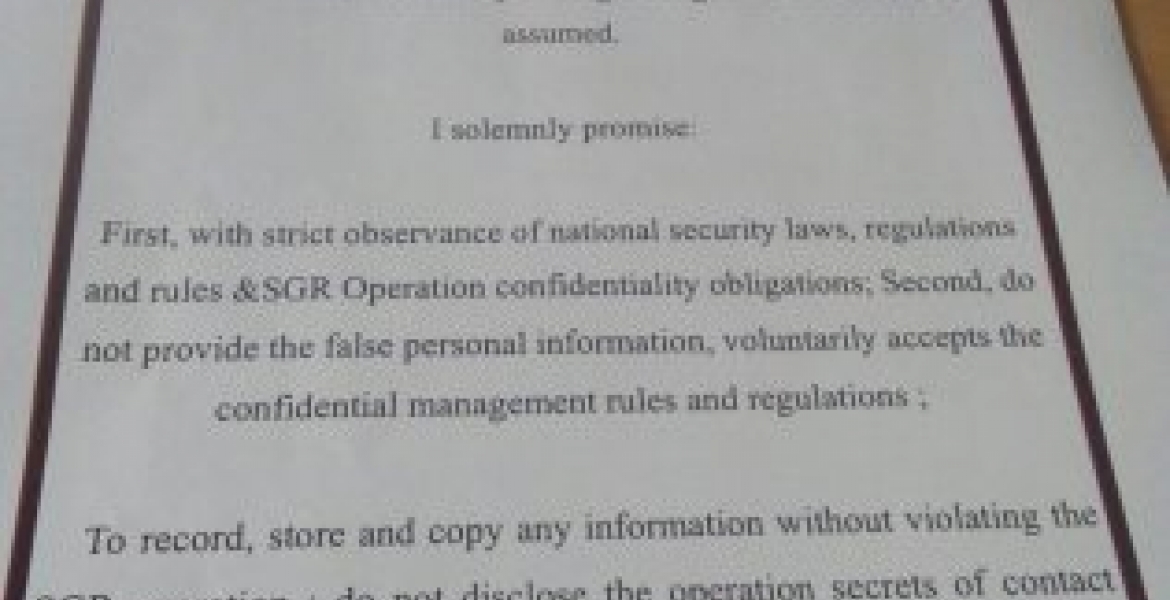 Chinese bosses running the Standard Gauge Railway (SGR) have reportedly drafted a code of secrecy at work following a local media exposé on how Kenyan employees are harassed,  mistreated and racially discriminated against.
The Standard Digital reports that China Road and Bridge Corporation (CRBC) is now forcing Kenyan staff to sign a secrecy agreement barring them from taking photos and videos or posting them on social media.
The binding document also forbids the employees from sharing any pictures or videos taken at work with any media outlets.
"One should not post negative articles or writings or videos or photos on social media or Facebook or YouTube and etc involving SGR operations," part of the secrecy document reads.
Investigations by The Standard exposed the harsh conditions Kenyans working at the SGR are put through; including discrimination, racism, and harassment by the Chinese staff.
For instance, Kenyan staff are reportedly not allowed to share dining tables with their Chinese counterparts in the rail's cafeteria.
"Racism is so real here. There is an unwritten rule of where you need to sit. You cannot just join the Chinese table," an assistant locomotive driver is quoted as saying.
Kenyans who were hired with a minimum of diploma to be trained as professional locomotive drivers were allegedly assigned menial jobs.
"We just sit at the back and watch. There is no actual transfer of skills that is happening here," an assistant locomotive driver who has been with the SGR for over a year said.
Electronic equipment at the train are also programmed in Chinese, making it impossible for locals to progress beyond menial jobs. This is despite being recruited as technicians, engineers, and drivers to take over the operation of the line after five years.
Speaking during a media briefing at the Kenyatta International Convention Centre (KICC) on Wednesday, government spokesperson Eric Kiraithe appeared to shift the blame on the Kenyan workers for the mistreatment by the foreigners.
"I am not saying any worker should be discriminated and humiliated in the work place but we must all appreciate that the operations of a modern train is a profession that calls for military standard discipline."
"Inward looking, haki yetu (our right) centered personalities have no place in this kind of profession, [not now or in the future]. They are the first crop of Kenyans employed on this project and the culture they entrench will determine whether in less that 10 years we shall depend on them," he said.