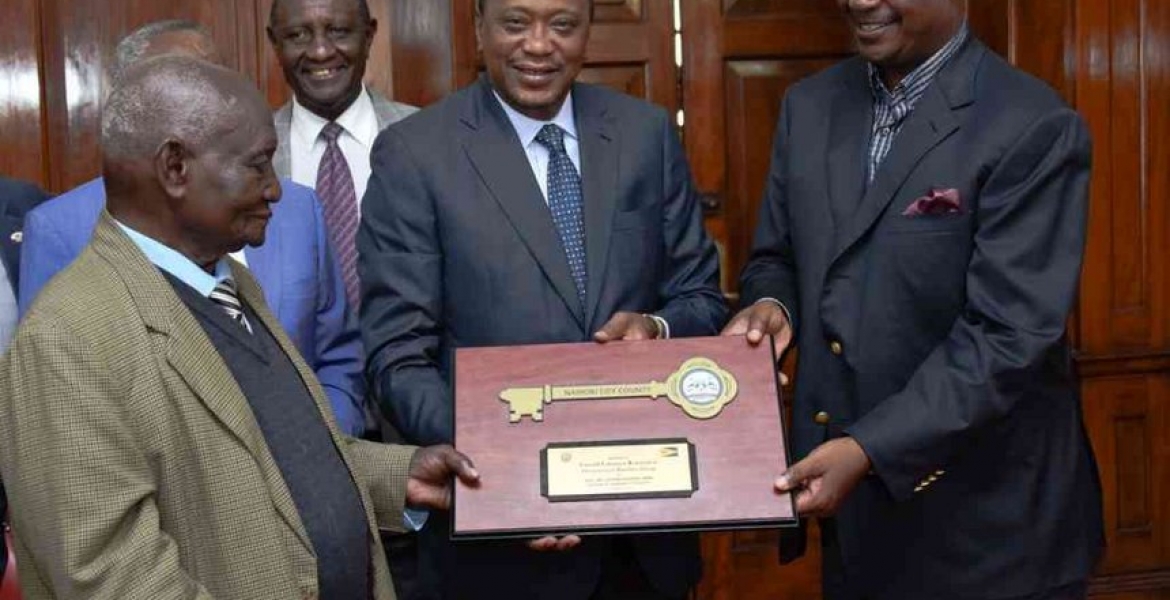 President Uhuru Kenyatta and Nairobi Governor Evans Kidero on Saturday honored pioneer businessman Gerald Gikonyo with 'Keys to the City'.
The ceremony was held at State House, Nairobi to honor the chairman and founding member of the multi-billion shilling Rwathia Group, a conglomerate of numerous companies that has employed over 100,000 Kenyans.
Mr Gikonyo, who hails from Rwathia in Murang'a County, ventured into business in 1931 in Nairobi, having arrived in the city just a few years prior. He started off with a vegetable hawking business and with the savings from that business and partnership with a friend he managed to open a hotel in Majengo, followed by a second one in Eastleigh. 
Being an African during that colonial period, Mr Gikonyo, now 104 years old, was relegated to investing in the Eastlands area of Nairobi. After independence Mr Gikonyo and his partners expanded their empire, which today is composed of at least 50 businesses. Some of their businesses in downtown Nairobi include Magomano Hotel, New Kinangop Hotel, Timboroa Hotel, Alfa Hotel. The group also own Rwathia Distributors.
His early fortune would seen Mr Gikonyo become the first African to own a car in Kenya, which he says he co-bought with a friend for Sh300.
In honoring Mr Gikonyo, President Uhuru said " Mzee Gikonyo and his generation are the ones who changed Nairobi from being a city of wazungu to a city of Africans." He said the history of such men and women must never been forgotten, and urged the younger generation to learn the value of hard work and determination from the man.
Kidero held a similar ceremony for Mr  Gikonyo on April 6th at City Hall.
With the Keys to the City honor , Mr Gikonyo will enjoy benefits such as free parking for his fleet of vehicles and have a street named after him.