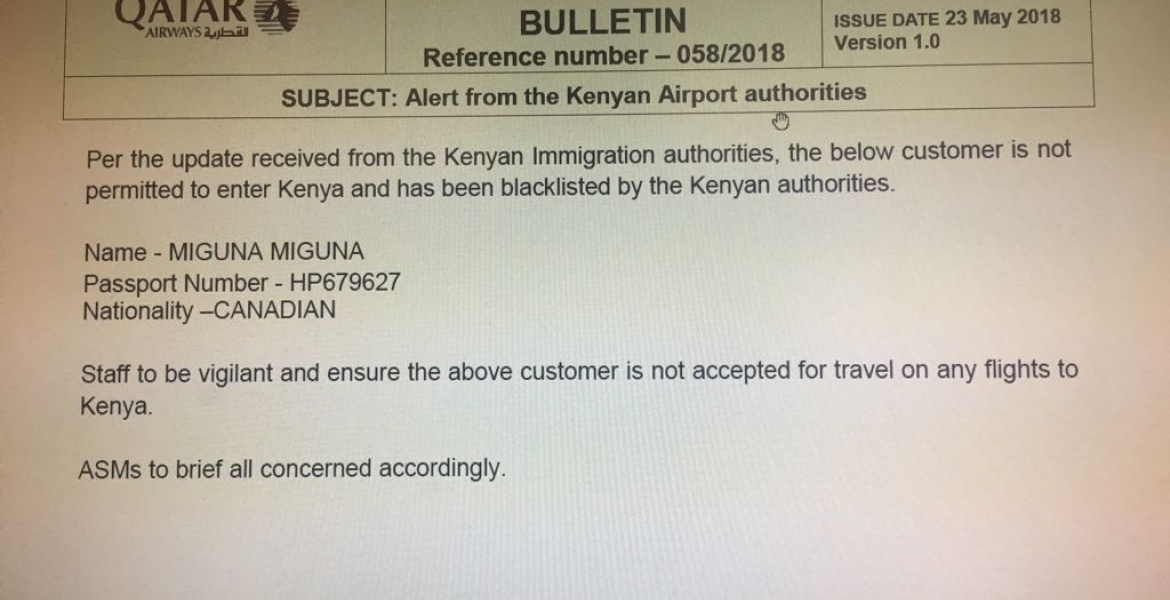 Self-declared National Resistance Movement (NRM) general Miguna Miguna has reportedly been placed on a blacklist circulated to international airlines that operate in Kenya.
An image allegedly from the Qatar Airways indicated that the Immigration authorities issued the order on Wednesday, May 23rd.
The order comes barely a week after the fiery lawyer was nominated as Nairobi Deputy Governor by Governor Mike Sonko. The position fell vacant after the resignation of former holder Polycarp Igathe.
" Per the update received from the Kenyan Immigration authorities, the below customer is not permitted to enter Kenya and has been blacklisted by the Kenyan authorities, " the notice reads and goes further to state Miguna's name and passport number.
"Staff to be vigilant and ensure the above customer is not accepted to travel on nay flights to Kenya," the notice by Qatar Airways further reads.
Miguna was scheduled to return to Kenya on May 16th, but cancelled the trip citing Immigration Department's refusal to issue him with a Kenyan passport as ordered by the court.
"I was determined to arrive home on schedule, however, just before my departure, I reluctantly cancelled my flight to Nairobi and postponed my next arrival date," said Miguna.
"In view of the refusal by the Department of Immigration to issue me with a valid Kenyan passport and facilitate my unconditional re-entry into Kenya as ordered by the High Court and formally requested by the Kenya National Commission for Human Rights on my behalf, and on advice from legal counsel, I have instructed my advocates to immediately bring to the attention of the court the continued willful contempt of its orders."
Miguna said he would announce his new return date after the court issues further directions in the citizenship saga. The State has insisted that Miguna is a Canadian national and must apply afresh for him to regain his Kenyan citizenship.