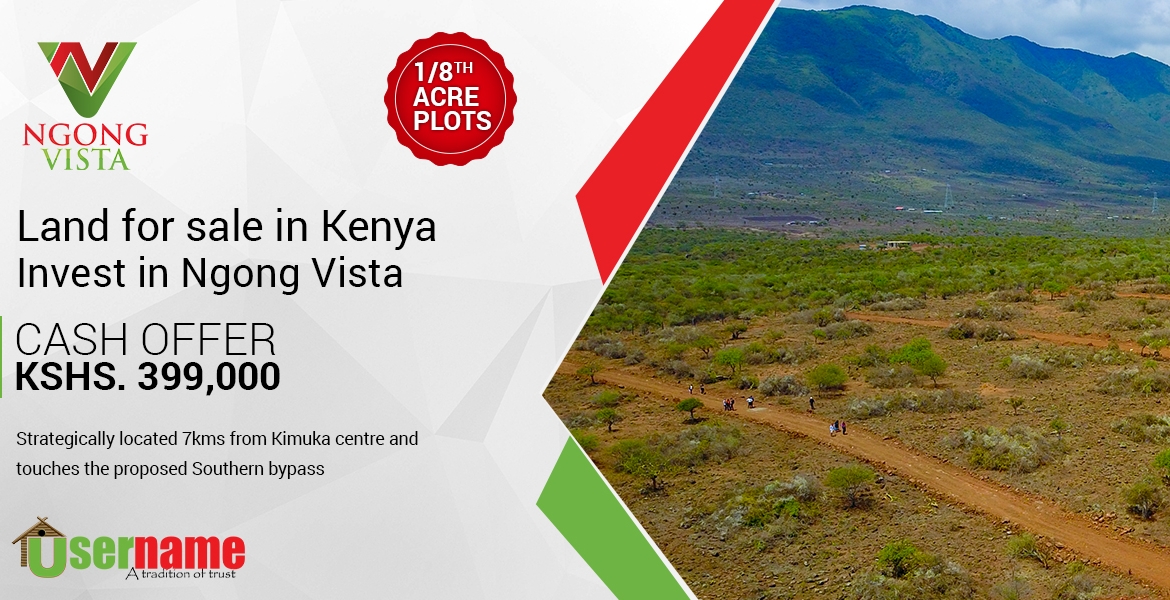 Ngong Vista is a well-selected, advantageous and unique opportunity presented to astute investors. An investment opportunity that has been worth waiting for.
Username Investment introduces Ngong Vista, an affordable property located in an area that had the highest land appreciation rate in 2017 and the prices are set to increase further due to continued infrastructural growth in the area. Ngong closed 2017 at an average price of Kshs.18.9 million an acre, up from Kshs. 10.3 million at the close of 2012, recording the highest growth in 2017, at 12.9 percent according to County Land Prices Report.
Despite the high cost of land in Ngong, Username Investment Ngong Vista, a strategic and valued added 50x100 (an eighth of an acre) plot at an affordable price of only Kshs. 399,000, which comes with a natural breeze and views to enjoy together with your family and friends.
Ngong Vista is the perfect choice for you to invest now as returns on these plots is assured due to the appreciating rate of this area. More so, Username Investment has been keen on delivering on the promise of title delivery, you will therefore get your title after 6-10 Months, hustle-free, you will not need to do the paper work, the amount paid is all inclusive and no other hidden charges. As has always been with Username, you will get additional value by investing at Ngong Vista as the access roads are graded, an estate gate put up for free, a common area to be shared by all investors and fencing of the whole project.
Location.
Ngong Vista is located 7km from Kimuka Centre along the proposed greater southern bypass. Ngong-Suswa road was recently commissioned for tarmacking and work is ongoing. Nairobi- Ngong road is also undergoing expansion making the area easily accessible. This is barely 40km from Nairobi CBD.
Soil Type - Red soil, the gradient is good for agriculture and construction
Value Additions
Perimeter fence
Estate gate
Graded access roads
 Introductory Prices (per 1/8th acre)
Cash Investors: Kshs. 399,000 only (Kshs. 40,000 deposit, balance within 30 days)
An Installment option for up to 6 months is also available as follows:
3 months: Kshs. 423,000
6 months: Kshs. 446,000
Special Offer: We are giving an offer of buy 10 plots get 1 plot free.
Title Transfer: The project has freehold title deed (The registration of title deed takes between 6-10 months upon completion of payment.)
 
NB: The price is all inclusive i.e. legal fees, stamp duty and title transfer fees included with no hidden charges.
For more information, contact Username on: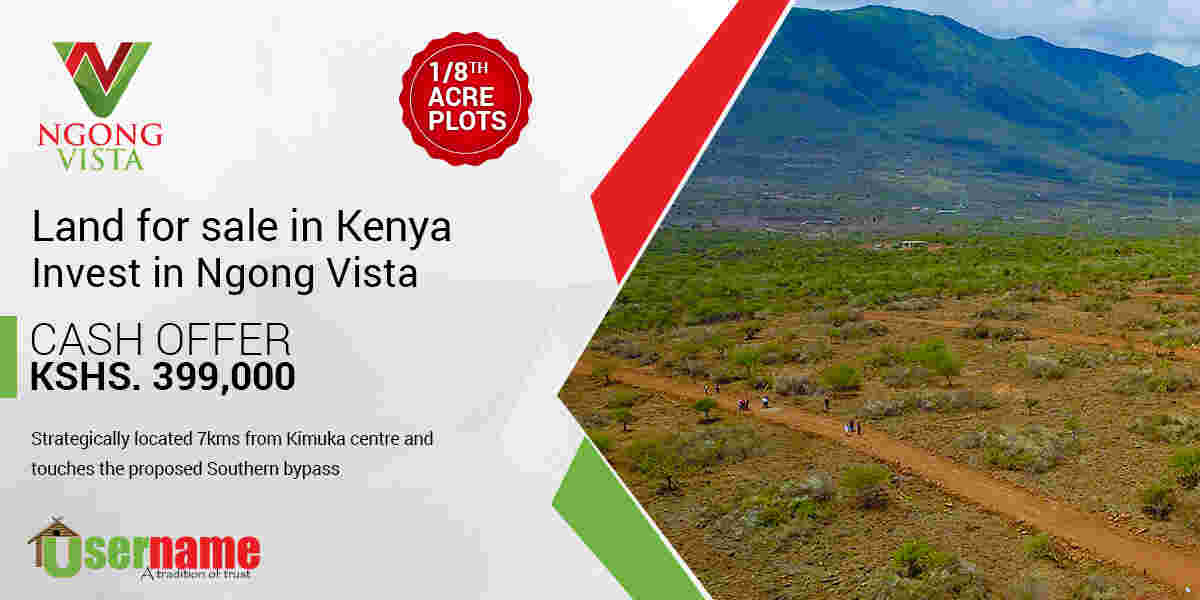 Website: https://usernameproperties.com/property/ngong-vista