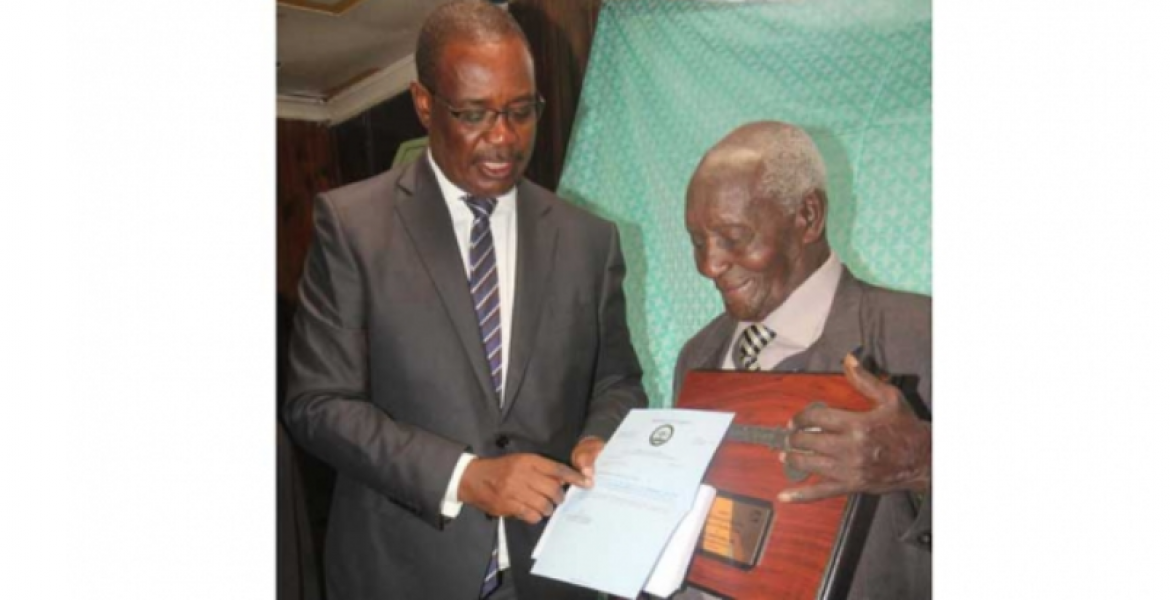 Nairobi tycoon Mr. Gerald Gikonyo was on Thursday honored with Keys to the City by Nairobi Governor Evans Kidero.  
Mr. Gikonyo, 104 years old, is a pioneering businessman in Nairobi and co-founder of Rwathia Group of Companies, which owns a conglomerate of about tens of businesses in downtown Nairobi such as Magomano Hotel, New Kinangop Hotel, Timboroa Hotel, Alfa Hotel, and Rwathia Distributors.
Mr Gikonyo, who grew up in Rwathia, Murang'a County, says he started off as a farm worker at a coffee plantation at Mathari Catholic Mission in Nyeri, with a meager salary of Sh4. With savings from that job he started buying and selling goats, later saving enough to move to Nairobi in the mid 1920s where he got a job at Kenya Planters' Cooperative Union (KPCU), earning Sh20 per month.
He would eventually quit employment and venture into business in 1931, first as a hawker selling vegetables and then in the hotel business. He along with a few village mates invested Sh3,000 in a hotel in Majengo, Nairobi in 1947 and a few years later opened a second one in Eastleigh. When the state of emergency was declared in 1952, Mr Gikonyo and his partners were among those detained at Manyani, leading to the collapse of the Rwathia group they had worked so hard to build.
After the partners were released from detention and Kenya gained independence, they re-launched Rwathia Group and built the business again from the ground up. Today the conglomerate owns about 50 businesses in Nairobi mainly in real estate and employs thousands of Kenyans.
The father of 26 has mentored many successful businessmen in the country, including Equity Group Chairman Peter Munga who started off as an employee at one of Mr Gikonyo's businesses.
With the Keys to the City honor on Thursday, Mr Gikonyo will enjoy benefits such as free parking for his fleet of vehicles and a street named after him. "This is a token of appreciation to honor your work in this county. With this key, you can move freely within Nairobi County. You are also exempted from paying the city-county parking fees for your fleet of vehicles," Dr Kidero said.