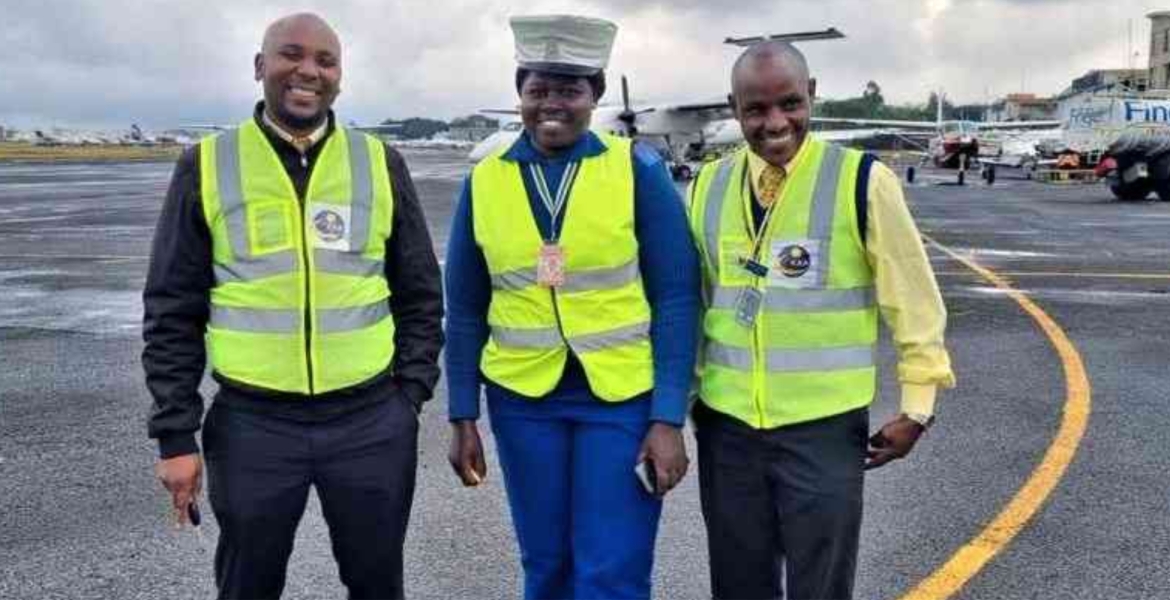 Two Kenya Airports Authority (KAA) employees and a police officer stationed at Wilson Airport have earned praise after returning a bag containing over Sh2.4 million, phones and an iPad to UK tourists.
The tourists had left their bag at the airport's arrival section a few weeks ago when Joseph Kabangi, Martin Kamau, and Brajeliner Fikiri found it and kept it at their office before calling the owners to collect it.
Kabangi is a security supervisor at the baggage collection area at Wilson Airport, Kamau is a security staff while Fikiri is a policewoman who controls motorists arriving to pick up travelers.
"I can remember it was early last month there was a passenger who came and they were transferring their bags from their trolley to the tourist van and one of the passengers somehow forgot his bag…it was a small brown bag," said Kabangi.
Kabangi said Kamau and Fikiri helped him to screen the bag to ensure there were no explosives or any prohibited items. On further search, they discovered the bag contained cash in dollars and Kenya shillings, phones, an iPad and cards.
"We had got his contacts and we called him and he found us in the office, he identified the bag and said the bag was his. If he had not turned up that day we would have booked it in the OB and then we keep it in our safe custody," Kabangi added.
The bag belonged to Benson Nickolson, a British citizen who was on a three-week vacation in Kenya and Tanzania in the company of his family. Besides cash, the bag also had some valuable regalia given to him by his late grandmother.
"I developed temporal insanity as it appeared we had no hopes of recovering the bags." "I was in charge of all the resources and finances, so I had a substantial amount of cash and plastic money in form of cards that facilitated our movements and comforts," Benson said on social media.
"Without any CCTV, I could not comprehend how my bag with such valuable items could still be found and that the owner was called to collect it. My brother lost a tenth of that [amount] in South Africa where they have a robust CCTV system. Therefore, it is not about systems, it is the human factor, the people, the staff who are the greatest asset. In my country, this is not possible to recover. Only in Kenya, I can assure you."
"Our next holiday was scheduled to another country but we have since reviewed to come back to Kenya due to the experience we got from this official and his team," he added.
Kenya Airports Authority management said the three will be rewarded for their kind gesture.