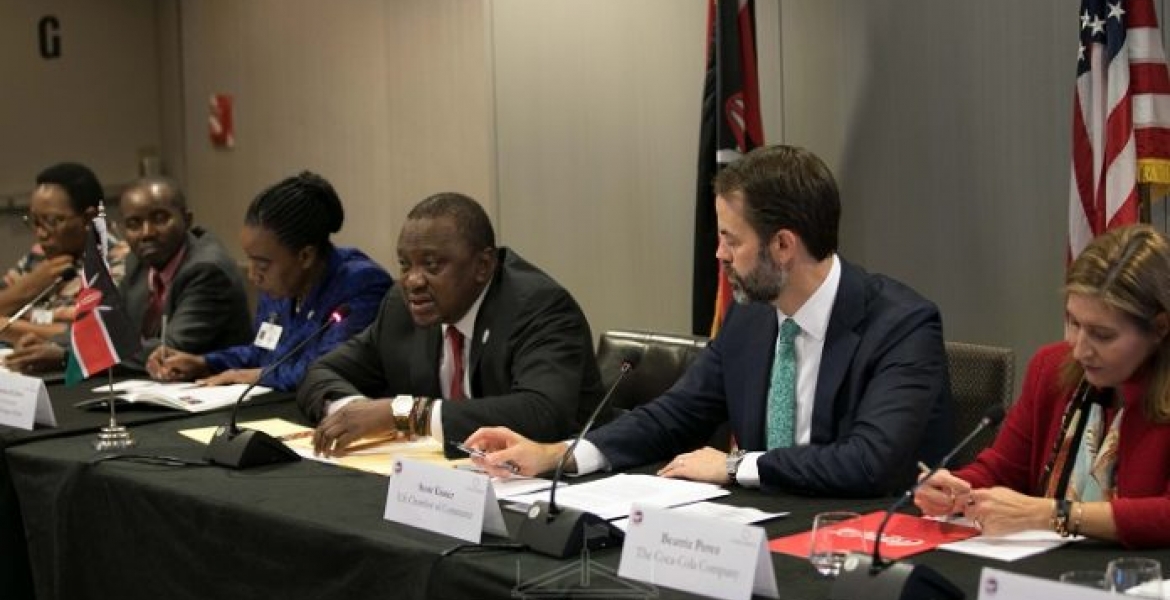 President Kenyatta on Tuesday urged US investors to consider Kenya as their investment destination. 
Kenyatta, who spoke at a forum hosted by the American Chamber of Commerce and attended by top executives from leading US multi-nationals, said Kenya has exciting investment opportunities for US companies.
He mentioned his administration's Big Four Agenda, particularly manufacturing, as one of the key areas US companies can invest in.
"The sector (manufacturing) presents major opportunities for local and foreign investors in areas such as agro-processing through value addition in key-value chains such as textiles and leather, the maritime sector, construction, iron and steel, oil and gas," Kenyatta noted.
Uhuru further said Kenya is seeking sustainable business partnerships with American corporations.
 "As we deepen the relationship between Kenya and the United States, it is partnerships with corporations such as the ones you represent, which drive and sustain the relationship." 
Kenyatta also invited the US business executives to invest in food security, affordable housing, universal health coverage (UHC), tourism, blue economy, ICT and infrastructure, saying the sectors have huge investment potential.
Kenyatta said he was happy that a number of American companies had set up business in Kenya following his meeting with them last year.
"I am very pleased to note that since my engagement with the business community this time last year, a number of (American) companies have entered the Kenyan market and opened offices in Kenya," he said.
"We seek to ensure that only will your businesses thrive but that you will contribute to Kenya's development through job creation, resource and technology transfer."
"…in Kenya, you will find a vibrant economy growing at about 6 percent per year, a labor force that is well educated and entrepreneurial, a supportive business investment environment and a good transport and ICT infrastructure," the President stated.
Uhuru is in New York for the 74th session of the United Nations General Assembly.