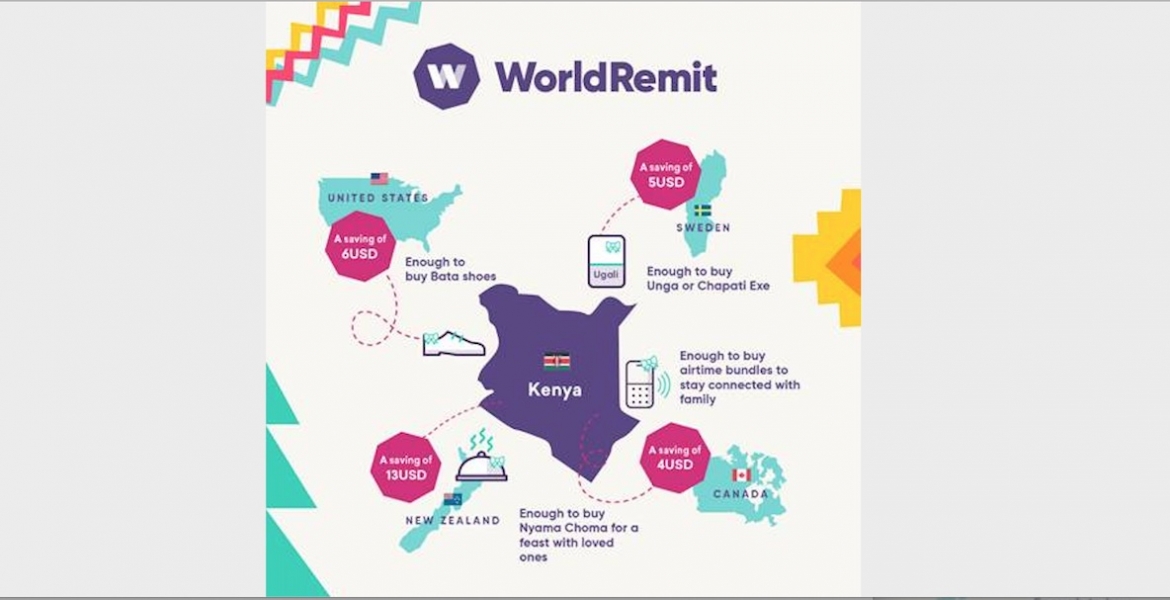 New research from WorldRemit reveals that the Kenyan diaspora could be losing as much as $13 every time they send money home this festive season due to the high cost of traditional remittance channels. Despite the widespread adoption of digital money transfer services in Kenya, many Kenyans in the diaspora are still using traditional offline channels to send money home.
 
Last year, Kenyans living abroad sent home $2 billion and the run up to Christmas is always one of the busiest times to send money. New data from WorldRemit reveals that, by switching from traditional offline money transfer services to lower cost digital channels, thousands of Kenyans could receive an extra Christmas present this year.
 
The savings were highest when sending from New Zealand to Kenya, with an average saving of $13* - enough to buy Nyama Choma for a feast with loved ones.
Transaction costs are only part of the story and a significant challenge at this time of year is travelling to an agent during opening hours. With two thirds of the Kenyan diaspora living in Europe, the United States and Canada, hundreds of thousands could be facing near freezing temperatures unnecessarily to travel to an agent to pay in money.
 
Back home, their family and friends would also incur unnecessary costs and inconvenience to collect money sent through traditional channels.
 
"Most Kenyans in the diaspora send money home several times a month. When it costs around  $4 to make a return trip from somewhere like Machakos to Nairobi, the costs of collecting money through traditional channels really add up," notes Sharon Kinyanjui, Head of East Africa at WorldRemit.
 
Those using digital services to send money home are helping to eliminate such inconvenience and cost for their loved ones. 90% of those sending to Kenya via WorldRemit's digital money transfer service are now opting to send money directly to a mobile money account removing the travel costs for both the sender and the recipient.
 
"Now you send money from abroad straight to a mobile money account, there's no need to travel to an agent every time they need to collect the funds or to pay someone else a share to do so. With transfers to mobile money, our customers can put their money right into the hands of their loved ones at Christmas," adds Sharon Kinyanjui.
 
Savings on travel alone during the festive season could be enough to buy a goat or Bata shoes for the family.
 
A recent poll by WorldRemit revealed that eight out of ten people have found that switching to digital channels has made money transfer simpler not just for the senders, but also for their recipients. However, the majority of global remittance flows are still going through informal channels.
 
Companies like WorldRemit are working hard to help more people to move to more cost-effective and convenient money transfer methods. The incentives on offer for existing customers who refer a friend to WorldRemit could be enough to buy a basic smartphone in Kenya.
 
Sharon Kinyanjui, Head of East Africa at WorldRemit, said:"Sending money is an important way for many people spending Christmas away from home to connect with their loved ones and play a part in the festivities back home even when they can't be there in person. Yet, taking time out of work to travel to agents to send and receive money, can make Christmas a time of stress rather than joy. "
 
"By enabling our customers to send money abroad in a few taps from their phones, we can ensure that more of their hard-earned cash goes straight into the hands of friends and family this Christmas, freeing up time for both senders and recipients to relax and enjoy the festive period."
 
For more information, visithttps://www.worldremit.com/en/kenya and for more details on the benefits of the Refer-a-friend programme visit,https://www.worldremit.com/en/refer-a-friend or search "WorldRemit Refer a Friend".
Sponsored Content
- By WorldRemit
About WorldRemit
WorldRemit is changing the way people send money.
 
It's easy – just open the app or visit the website – no more agents, no more queues, no more time wasted
Transfers to most countries are instant – send money like an instant message.
Send money anytime with award-winning customer service team available to help 24/7
85,000 5-star reviews for our app
More ways to receive (Mobile Money, bank transfer, cash pickup, and mobile airtime top-up).
Available in over 50 countries and more than 145+ destinations.
Backed by Accel Partners and TCV – investors in Facebook, Spotify, Netflix and Slack. 
WorldRemit's global headquarters are in London, UK with offices in the United States, Canada, South Africa, Singapore, the Philippines, Japan, Australia and New Zealand.