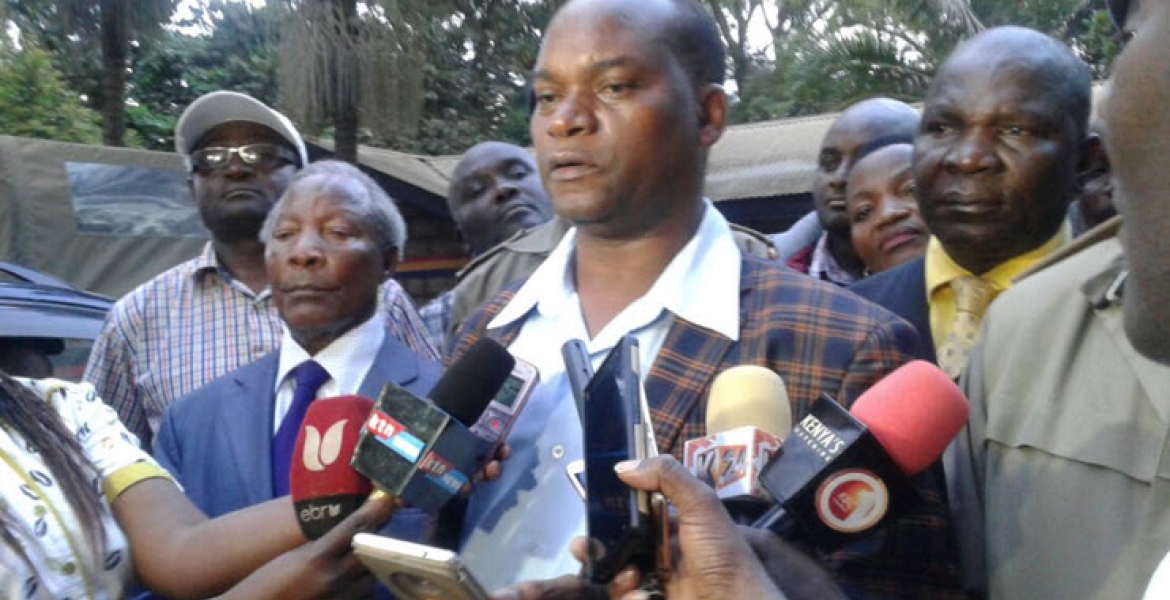 Kirinyaga Deputy Governor Peter Ndambiri speaking to the media [Photo/Courtesy]
A prison warder working at Nyandarua prisons has been arrested in connection to the explicit viral video of Kirinyaga Deputy Governor Peter Ndambiri.
The warder was reportedly arrested after he arrived at Wang'uru Police Station in Mwea to report an accident, but officers at the station took him in as he had been declared wanted.
Reports indicate that the prison warder is the one of the men captured in the footage assaulting the Deputy Governor.
Officers at the Wang'uru police station said the warder admitted to committing the offence. One of the officer told Citizen Digital that the warder was wearing the same clothes he had on during the time of the incident.
On Wednesday, Ndambiri recorded a statement at Thika police station over the incident. Speaking to the press a day after the video emerged, Ndambiri said that he was set up by fraudsters who demanded Sh5 million for them not to release the video to the public.
"There is a group of gangsters targeting politicians and individuals they think have money in this country. The purpose of these gangsters is extortion and I am such a victim," said Ndambiri.
"I was set up by crooks who took me through a very agonizing moment and right now what matters to me most is about my family and the people of Kirinyaga who look unto me for guidance and leadership."
He said the incident happened in Thika town last weekend, where he was captured by gangsters, who forced him into a guest room with the said woman. He says that the cons forced them to strip naked as they filmed the incident to show that he had been busted sleeping with someone's wife.
"This is an episode that has brought a lot of shame but it has happened when people fall victims to gangsters. Anyone can fall victim and find themselves in a situation for purposes of extortion. I thank God that I am alive because these gangsters would have either killed me if I failed to comply to their demands. For me to save my neck I had to comply," stated Ndambiri.
"I do not know the woman nor do I have a relationship with her, I was set up after I refused to part with Sh5 million," said Ndambiri.