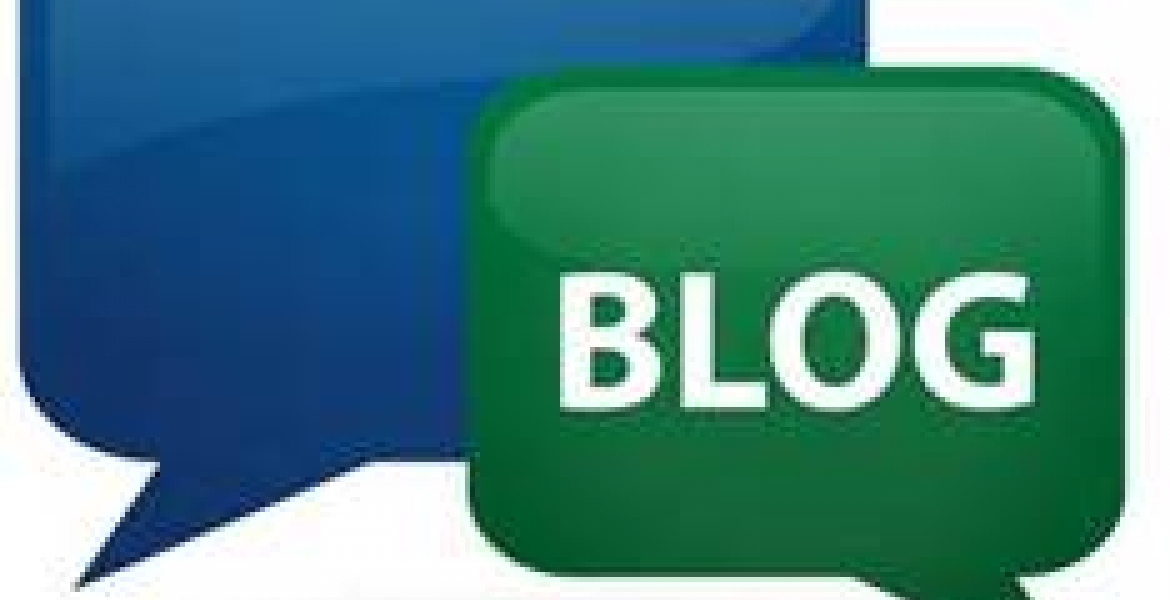 For the fourth time, Raila is running for the top seat in Kenya for which the winner will be decided on August 8, 2017. Analysis of the total registered voters by region shows that President Uhuru Kenyatta will garner 51.22% of the vote against Raila Odinga's 42.98%. The balance of 5.8% will be shared by the other candidates running for President.
Table 1 below estimates that Uhuru will get 10.04 million votes compared to Raila's 8.43 million. The other candidates running for President are estimated to receive 1.14 million or approximately 5.8% of all votes. Examination of the voting regions indicates that Uhuru will dominate in Central (at 90%), Rift Valley (at 75%), and the North Eastern (at 60%); the three regions carry 8.06 million or 41.1% of all votes. Raila, on the other hand is expected to dominate two regions; Nyanza (at 90%) and Eastern (at 65%). Nyanza and Eastern regions carry 5.65 million or 28.8% of all votes. Votes from the remaining regions which include Coast, Western, Nairobi, Diaspora and prisons are estimated to be a 50/50 split between Uhuru and Raila.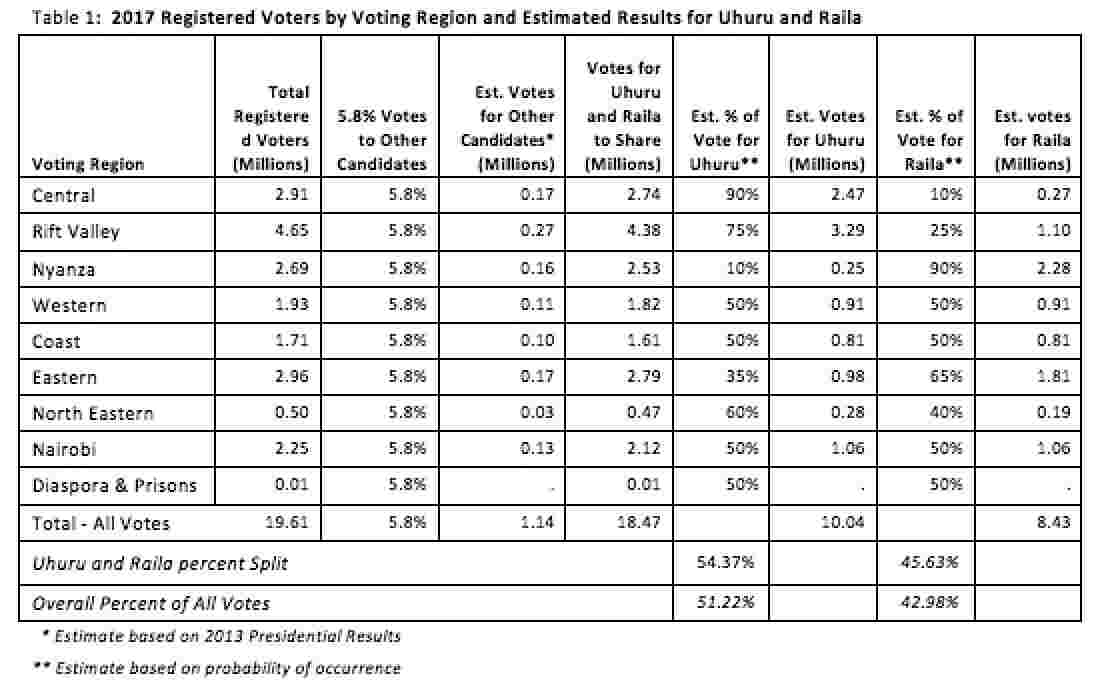 Odds Against Raila's Electability
Previous runs by Raila Odinga for President in 1997, 2007, and 2013 were unsuccessful. As such, it is unclear why Raila still thinks he can prevail during the fourth attempt. Some of the odds working against Raila's electability include: the fact that he is 72 years old; lacks tangible development record; participated in the unsuccessful 1982 coup de'tat; exemplifies radical activism; has political ideologies favoring social democracy; and has exercised dictatorial tendencies in the Luoland on who gets elected in every Orange Democratic Movement (ODM) position from the Governors to the MCAs.
Raila's Development Record
On March 03, 2012, in Ugenya constituency, Raila Odinga's older brother Oburu Odinga said: "The issue of my brother (Raila Odinga) should not arise in this campaign because I just want to bring development to this county". Oburu Odinga's quote is clear testimony that even Raila's own siblings acknowledge that their brother Raila is lacking on development; that is why Oburu decided to distance himself from his own brother.
Raila's record as the Member of Parliament (MP) of Lang'ata where he served for 20 years is marginal at best. His tenure as MP only provided grim and hopelessness as crime, poverty and disease continued to constrict his constituents especially in the slums of Kibera and Kismayo. During Raila's term as Prime Minister of Kenya which ran between year 2007 to 2013, not much development was accomplished partly due to Raila's interference with the structures Kibaki had put in place between year 2002 and 2007.
NASA's Flagbearer – How Strategic was it?
The question is whether NASA made a grave mistake of nominating Raila as the party's flagbearer. Was Raila fronted in order to satisfy his big ego or was it out of fear of disintegration of NASA if he was marginalized? Did NASA embrace Raila because the coalition outfit was hopeless in finding a better suited candidate? And why was Kalonzo selected as Raila's running mate? Would NASA have been better off if either Isaac Ruto, Moses Wetangula or Musalia Mudavadi was agreed on as the running mates? It is likely these questions will be answered after August 8, 2017.
Raila/Kalonzo duo is the same combination that competed, and was beaten by Uhuru/Ruto in 2017. Therefore, 2017 is nothing new but a rematch of 2013. problem for the Raila/Kalonzo duo is that their fortunes since 2013 have been diminishing. Raila and Kalonzo have been busy engaging the nation with demonstrations against the IEBC, filing cases challenging the established systems, playing divisive politics, inciting their followers with hopes they would turn against the government, et cetera. They have consistently challenged and disagreed with the structures of Jubilee administration, but have failed to offer viable alternatives. To the contrary, the fortunes for Uhuru/Ruto have exponentially expanded partly because Uhuru and Ruto have indiscriminately engaged the nation with major development projects. To put it mildly, the calculus for the NASA team has been flat or declining while that of the Jubilee team has had significant upticks. If someone beats you in a 100-meter dash, and the same person beats you again, would you expect different results the next time around?
CORD/NASA "Nusu Mkate" Theatrics
On January 04, 2014, CORD leaders declared to explore various avenues including rigging the August 8, 2017 general elections to oust Jubilee from power. Cord declared Raila will win the Presidency in 2017 by hook or crook. Following this declaration were the 2016 protest witnessed in Nairobi and elsewhere targeted at ousting and disbanding the same IEBC. Mind you, in large part IEBC was constituted by Raila himself when he was part of the Coalition Government.
Let it also be remembered that Raila was in the driving seat in the creation of IEBC that was next to impossible to remove; and to honor his MOU with the Muslim community, Raila ensured IEBC was disproportionately staffed with Muslim commissioners. One can only assume that, Raila expected "his" IEBC to guarantee he became the next President of Kenya in 2013. When that failed to materialize, he began labeling the IEBC commissioners as bad people and accusing the commissioners of mismanagement of the polls which eventually led to their forced resignations and reconstitution of the sitting IEBC.
NASA wants "Nusu Mkate" at all costs; and that is the basis of all the theatrics Kenya has witnessed over the recent past including protests against IEBC, threats to boycott the elections, filing multiple cases against reconstituted IEBC, accusing the military, cabinet secretaries and police as agents of rigging, et cetera. NASA hopes that one of the theatrics will bear fruit and help them into the government through the back door. Unfortunately, the message from Jubilee has been loud and clear; no "Nusu Mkate".
To conclude, unless something magical happens in the next few days, the numbers have spoken. Uhuru and Ruto will be in office for another five (5) years. By 2022, Raila's odds of winning the Presidency will be quite slim if not completely absent. He will be 78 years old which literally means it is time for opposition to seriously consider succession planning and begin grooming the youth in preparation for 2022.
By Paddy Mwembu, Los Angeles, California | mwembu@yahoo.com