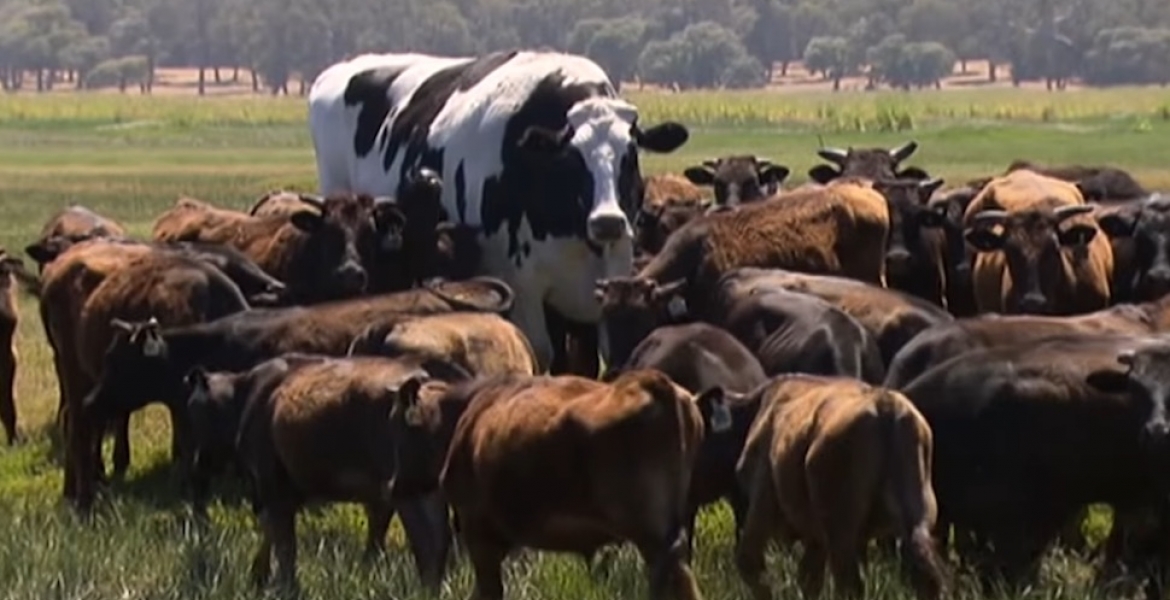 A photo of a giant Australia cow has left global online users mesmerized after it went viral on social media on Wednesday.
The steer named Knickers stands 1.94 metres (6ft 4in), just 0.08 metres shy of the 2.02 metres world record held by Bellino, a steer who lives in Italy. 
The Holstein Friesian breed weighs 1,400kilos (1.4 tonnes) and is reported to be the biggest steer in Australia.
Its owner ,Geoff Pearson, who has a 3000-acre farm in Myalup, south of Perth says his phone has been ringing every 10 minutes after a story of seven-year-old Knickers was first published on Wednesday morning.
"It's out of control. I didn't expect it to go as far as it has. I've been called every 10 minutes since four o'clock this morning."
Several global news outlets including BBC, CNN, USA Today and the Daily Mirror on Wednesday carried a story about the giant cow.
An internet user @chrissyteigen says: "Damn that is one huge cow. this is why I buy internet on flights. I almost saw that 6 hours after you guys did."
@JamColley tweets:" Every so often you come across a story that makes you think « damn, that's a big cow ."
@HannahThoburn notes:" I could stare at this picture of Knickers the Overgrown Australian Steer all day long.
Pearson says he tried to sell him last month to meat processors, but they rejected him saying he's too large for the abattoir.
"He's too big for the chain, he's out of spec, he'd be too heavy for the machines and he'd probably actually be hanging on the floor, so there would be contamination issues, and his cuts of meat would be too large," Pearson says.
He adds: "He just hangs around, he's part of the furniture. Obviously he's gained some stardom – that's changed his identity a little bit. We'll have to see what happens with that."