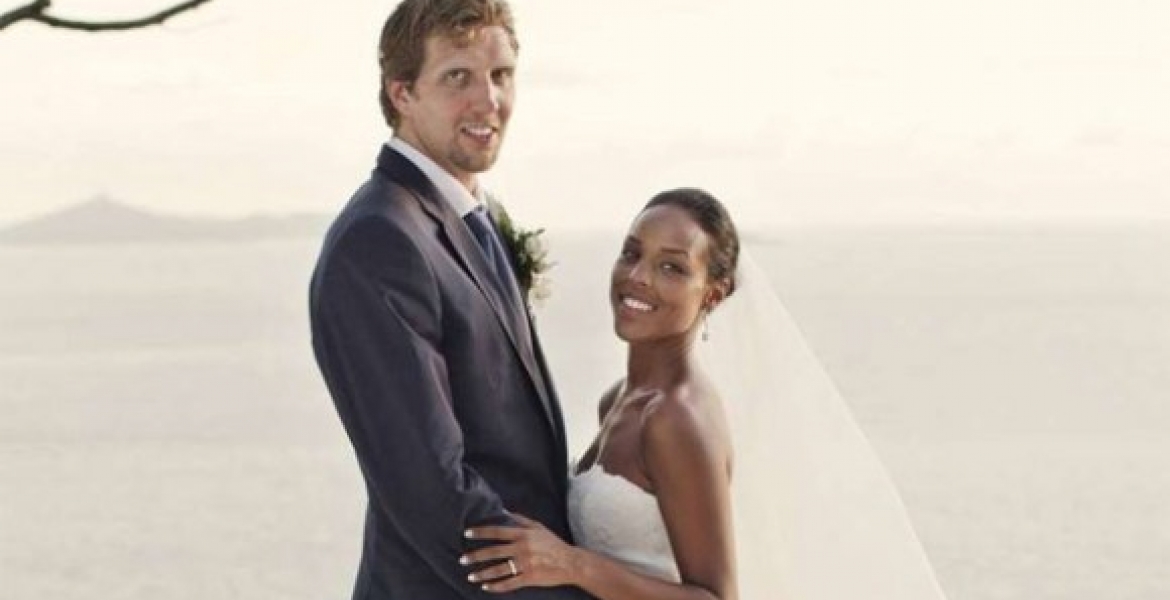 Dirk Nowitzki, who plays for the Dallas Mavericks in the National Basketball Association (NBA) recently talked about his familial connections to Kenya.
In 2012, the German-born Dirk Nowitzki tied the knot with his Kenyan-Swedish fiancée in a Kenyan traditional wedding, which he says marked the beginning of their beautiful union.
He narrates how he was made pick out his fiancee, Jessica from a parade of women, all donned in the same regalia. Dirk said her unique scent and height enabled him to pull her out, an ocassion that remains parmanently stuck in his mind to date.
"I guess it's one of the traditions. If you get it wrong, you got to pay the parents a goat or something. I was lucky I smelled her to find the right one. But that was just an experience that I'll never forget."
He revealed how he enjoyed a party thrown after the wedding, fully clad in traditional clothing, with the photos of the occassion on his hands.
"Her mom threw a wedding party and that's where some of those photos came from where I had the outfit on with a hat on," Nowitzki, who loves Kenyan barbecue and stews, said.
"It was a special experience. I've never, obviously, been a part of anything like that, the dances, the whole experience, the tradition of a wedding down there.
"It's different. You have to cut a goat. Lots of symbols, all the different things. They really threw us a really traditional Kenyan wedding."
The two in February 2010 at a charity event for the Sports for Education and Economic Development (SEED) Project in Dallas and started dating.
Jessica Olsson is the daughter of a Kenyan mother and a Swedish father. Her mother hails from Nanyuki, Laikipia County, but she was raised in Sweden together with her two younger twin brothers, Martin and Marcus who both play soccer in England.
She is currently the associate director of Dallas' Goss-Michael Foundation Art Gallery.
Asked what he loves about his wife, Dirk he said ,"First, she's got to be attractive. That's obviously part of it. And I think we just clicked intellectually. She likes art, she likes sports, she grew up around sports. We both love tennis and we love to travel. We both love kids and family."
The couple first appeared in public at the red carpet at The ESPYS awards causing public attention and Twitter busted after they kissed when he won an award during the televised show. He says they have never experienced any negative racial comments.
"Everybody that's met my wife has said she's great with me. So I haven't heard any of that to my face. I'm sure there are some people that think of it to themselves," he says.
Having spent time with his in-laws in Nanyuki, Dirk can pronounce words like cucu, nyama choma and poa perfectly and says Kenya is his second home. He visits Kenyan in-laws at least once a year.
Speaking while attending the NBA game in South Africa last week, Dirk said he has passed by Nanyuki at his in-laws where he tayed for a week.
"We came to Kenya to see cucu ," he says pronouncing the Kikuyu name for grandmother perfectly.
"We just came straight from Kenya (to South Africa), my wife has a lot of family from there, uncles, aunts… we were there for over a week traveling."
"Last year we were in Mombasa, we have been basically all over the place. I love the diverse nature that is in Kenya, be it in Nairobi or the Mount Kenya region which is very cold right now," he says.
With a number of accolades to his name including Most Valuable Player and International Basketball Federation Europe Player of the Year, Dirk became the first non-American player to scoop the Naismith Legacy Award on December 10, 2012 and also is Maverick's leading scorer.
He is currently listed as the sixth highest scorer in NBA history having made over 30,000 points through his 20-year career.