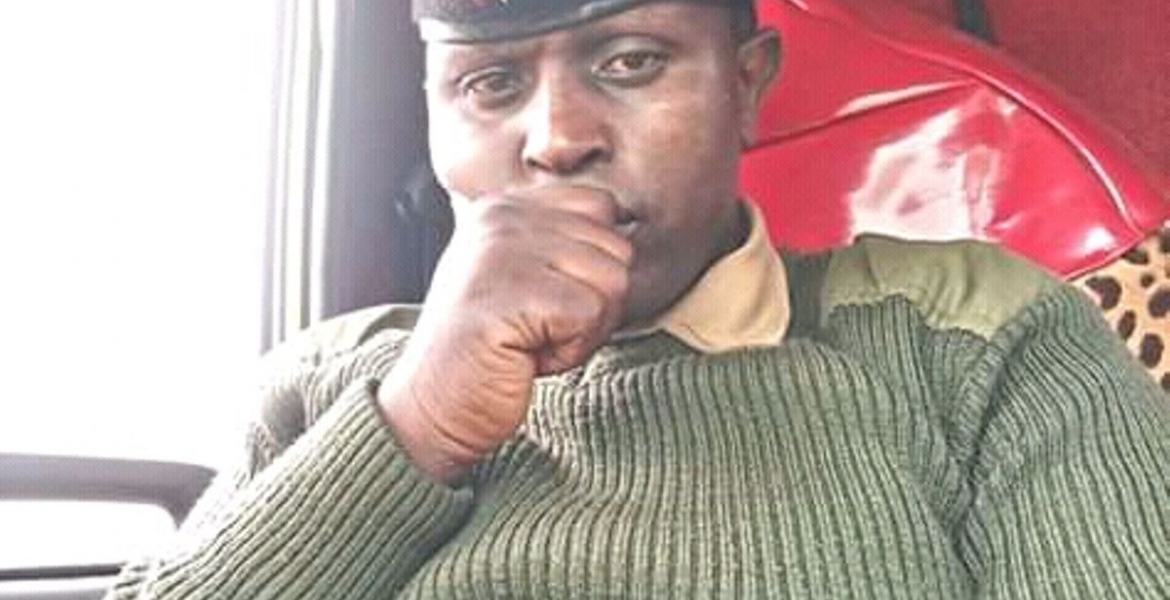 Kenyans online have urged Inspector General of Police Hillary Mutyambai and the government to quickly address the problems facing a police officer who has made worrying posts on Facebook in the past few weeks.
Apollo Kioria, a cop posted in Murang'a, took to social media to speak about his tribulations after he reportedly got injured in the line of duty.
On his Facebook page, an evidently distressed Kioria narrated the genesis of his current situation, which has left him with thoughts of committing suicide.
On May 16th May, Apollo posted the following message on Facebook;
"Dear Kenyans, I am an administration police officer F/n 229066 in distress. I share briefly my present and previous predicaments having depleted all internal mechanisms.
I was critically injured I the line of duty. In the healing process, was allegedly transferred right from a wheelchair. The attempts to follow up my compensation on the injuries was severely frustrated and stopped midway.
I have survived 9months without salary yet I'm still in the service. A senior police Officer further impounded my scooter two weeks ago that I use for mobility and is still holding it at central police station Nairobi with no preferred charges.
I am a dad of two kids and one is breastfeeding.
Now sincerely pleads for intervention and rescue from this torments. Thanks be blessed."
Kioria later went ahead to write a letter on Facebook addressed to President Kenyatta, hoping to capture his attention.
He wrote: "Your Excellency,
I write to bring to your attention my present predicaments and also of the mental anguish that I'm going through at this moment.
I joined the service in the year 2006 and seconded to the Rapid deployment unit in the year 2008
I was further redeployed to the Late Hon Michuki Residence with the contingent of other officers for security and patrol.
Having grown up in the area I was marked by some elements sympathetic to the sect. I was later transferred to the very area that led to simultaneous attacks between the year 2013-2016. While recupurating, my salary was unlawfully stopped but later reinstated and arrears paid with subsequent attachment at Jogoo house Legal Office only to be ordered back to Muranga.
Your excellency the compensation that was meant for the injuries was stopped midway and my salary was suspended again 9mnths ago causing immense pain and suffering.
I'm a registered person living with disabilities and the scooter that I use for mobility was impounded at the central police station with no preferred charges to-date.kindly note that I have a young family that entirely depends on me.
Lastly, your excellency, I have not paid rent to shelter my family. I have not paid school fees either for my little daughter. We are sleeping hungry. We have stopped thinking.
Apollo Kioria
F/n 229066
Apollo.kioria@gmail.com."
He made another post requesting Kenyans of good will to help him raise funds for treatment.
"Dear Kenyans,
In the past few weeks I have expressed myself and further divulging to you on how my well-being has suffered detriment
However, I am thankful to God almighty,and to you my dear brothers and sisters for the untold support, encouragment, and prayers.
I was critically injured in the line of duty.So badly that I was discharged on wheelchair. I was later readmitted and surgical nails inserted as corrective measures .
Barely four months and in my healing process I was charged for allegedly being absent from work and willfully disobedience to lawful oders.a surcharge from the erstwhile supervisor forfeited 21000 from my payslip.I was transferred as the punishment.
Threats from mungiki thugs led to human intervention from two Godly senior officers.One a human resource director Mr P. Ndirima and the second Senior Officer and Police Commissioner Mrs Karanja( full of humanity and a heart for the service ) and who is also the head of Legal affairs APs . Through a memo to the deputy Inspector General ( AP's) my salary that was unlawfully stopped was reinstated immediately with arrears.I was also attached at Jogoo House .Only to be ordered back to Muranga on unclear circumstances.
X-rays for now reveals broken screws and a migrated nails a condition that has beencausing some very painful moments.The medical specialist has recommended removal.
My salary was stopped 9months ago and therefore no longer covered by the insurance scheme that caters for surgery. Attempts to have my problem addressed has fallen on deaf ears and the scooter that I use for mobility to avoid the painful strain was impounded at central police station three weeks ago for now.
I do hereby request for your support on medical funds drive that I may proceed with my treatment . I'm required to pay 100,000ksh as a deposit and some further estimated budget of 200,000 in the first four days. Paybill 615281
Account your name."
His latest social media post suggests he is thinking of taking away his own life. 
"Just incase I die fighting for my rights, family kindly burry me not in Muranga ..i don't belong there and to my dear friends my posts Will remain active . At Langata cemetery don't bring flowers instead go back to feed my hungry street families."