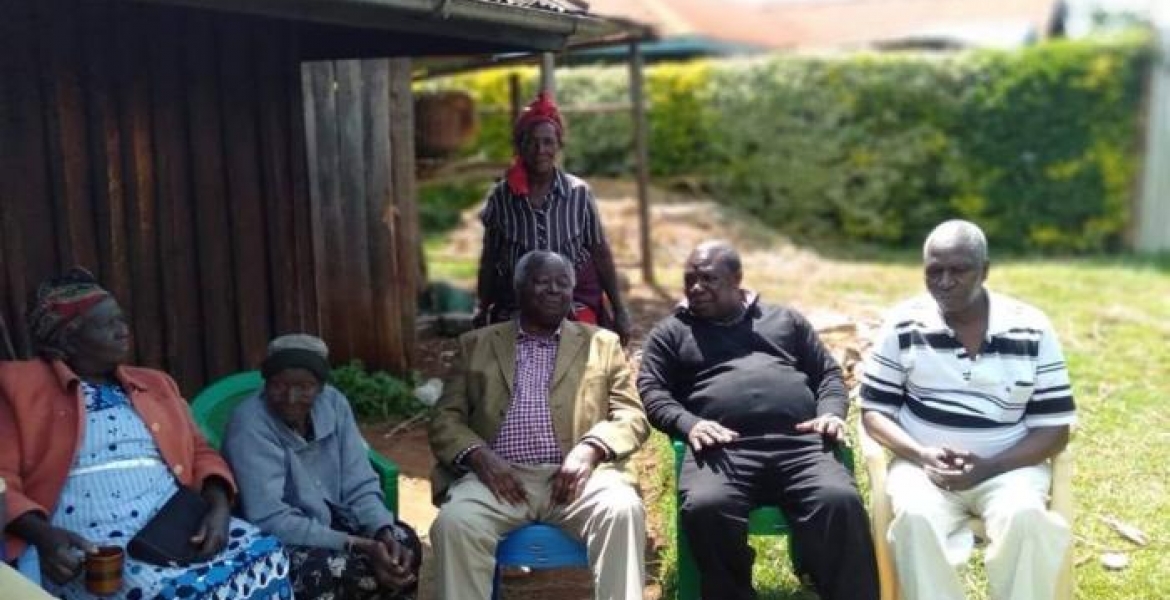 A photo of retired President Mwai Kibaki's visit to his sister's home in Othaya, Nyeri County on Christmas Day has surfaced online, leaving Kenyans on social media reacting.
In the photo, Kibaki is seen seated outside his sister's compound together with his sister and others believed to be members of the family.
However, it's the state of his sister's home that has captured the eye of many Kenyans online, with majority questioning why she appeared to live in poverty while his brother is one of the wealthiest men in the country.
Owing to her brother's stature, Kenyans on social media expected she would be living in a big and modern house, but the photo shows she lives in a simple wooden structure with an old roof.
Here are some of the reactions from Kenyans online; 
One user says: "The only thing I noticed from former president Mwai Kibaki's visit to her sister for Christmas is how poor her sister is. Yet some idiots are still singing how their tribes' mate must be president hoping it will make them richer."
Joseph Njoroge notes: "Hiyo ni boma ya sister ya mtu alikuwa President...??? Hii economy ya kibaki nayo ni wanna."
Peter Kimondo notes: "The sister to Kibaki is the mother to Laikipia Governor."
Moses Njuki says: "I repeat. I cannot allow him beyond the gate. How many cars were in his fleet?"
Eunice Njoki comments: "Aaai .... It's not right that his sister is living like that while he has been floating in money all his adult life. 
I am not impressed he ought to have helped her out."
Eric Nyamu writes: "Yani the blood sister is living in poverty? that's so bad."
Edward Sonye says: "Hakuwahi kujengea dada yake angaa chumba decent? Wah, hata mimi nitatembelea dada yangu for new year celebrations."
MinSonia NyarAnyango says: "Heeheh I can't be a president or former president yet my sister lives at such a place. Nitamjengea nyumba apende asipende."
Joseph Karanja notes: "There are families who do not like to spend what they have in their power. Now how people live is none of your business.... Don't everyone see, how they are happy? You can't be evaluated by a house ,but by what you are worth .Kibaki is ok , if the sister and others had big mansions, you could have said he was corrupt. Wewe una sema Kibaki ni bure , tuonyeshe vile umesaidia ndugu zako ?"
Governor Wetu notes:"Mnapiga makelele hapa na labda huyu mama ndiye landlady wako huko Nairobi. You never know."
Faith Sparks says: "People are funny mnaona poverty wapi ama mlikuwa mnataka muone fence ya pesa mjue hakuna poverty? Kila mtu ajitaftie kifyake.. ala!!!!"
Carol Peter Praise writes:"Umbeya nayo....n may b hio nyumba ya mbao mnaona ni makazi ya chakula.(granary)."