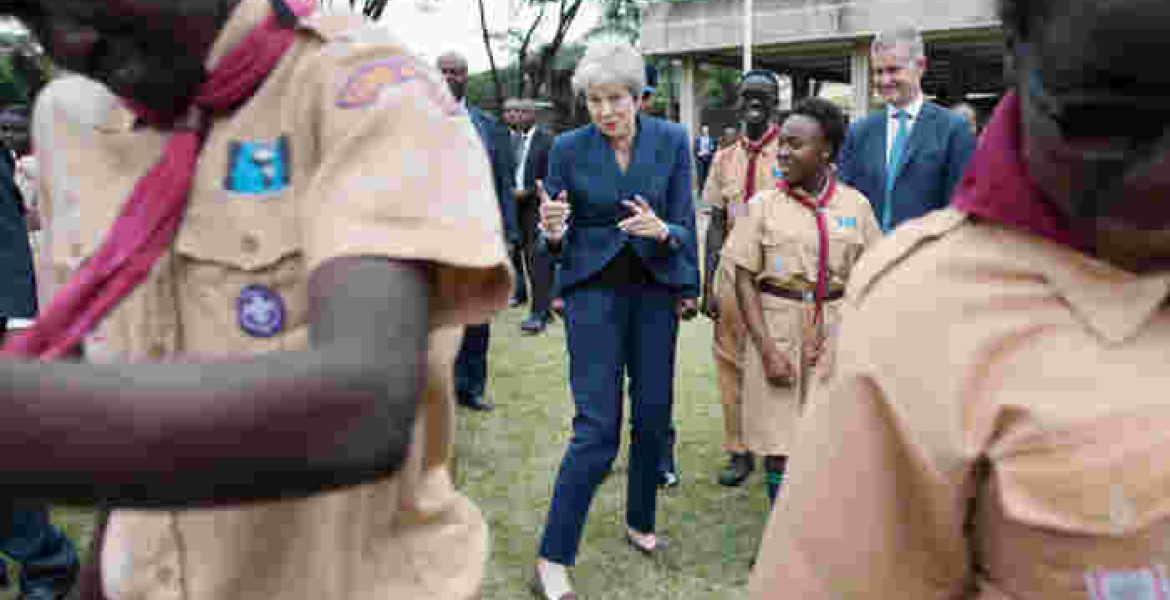 A video of British Prime Minister Theresa May showing her dancing skills during her visit to Kenya on Thursday has elicited mixed reactions from social media users in the United Kingdom.
Online users in the UK were split about how good their head of government is when it comes to dancing, with a majority saying she is awful.
May had visited the United Nations offices in Nairobi to speak about plastics and meet scouts when she joined youngsters in dancing to jaunty music played by the band.
British media personality Joe Swash hilariously asked his counterparts live on air to imitate May's dance moves.
Joe stated: "Talking of talented people, let's talk Theresa May. We've seen her dancing earlier. I've figured out the formula. Everyone stand up."
As they assembled to imitate May's moves, Joe added: "So basically, you've got to imagine that you're on a farm and you're picking fruit. Let's just some music going…now pick some apples, now pick some grapes."
A Twitter user by the name Robert Davidson noted: "Good luck to her. Throw yourself at it knowing you'll make a bit of prune of yourself in front of the worlds media or sit on sidelines looking aloof. I say right decision @theresa_may - who cares what the haters say strut your funky stuff."
@Memusi_Matt tweeted: "I do this every time i am in Kenya...and I look as bad (ok worse) than this. Culture expects it. Well done for being able to laugh at yourself."
@StephenHance1 said: "Having been drawn into embarrassing dance moves in Kenya myself, my sympathies are with the PM."
@AmandaClip noted: "She's dreadful but I applaud her for just going for it. Why shouldn't she?"
@bluejohnsen posted: 'Please please stop. National shame!"