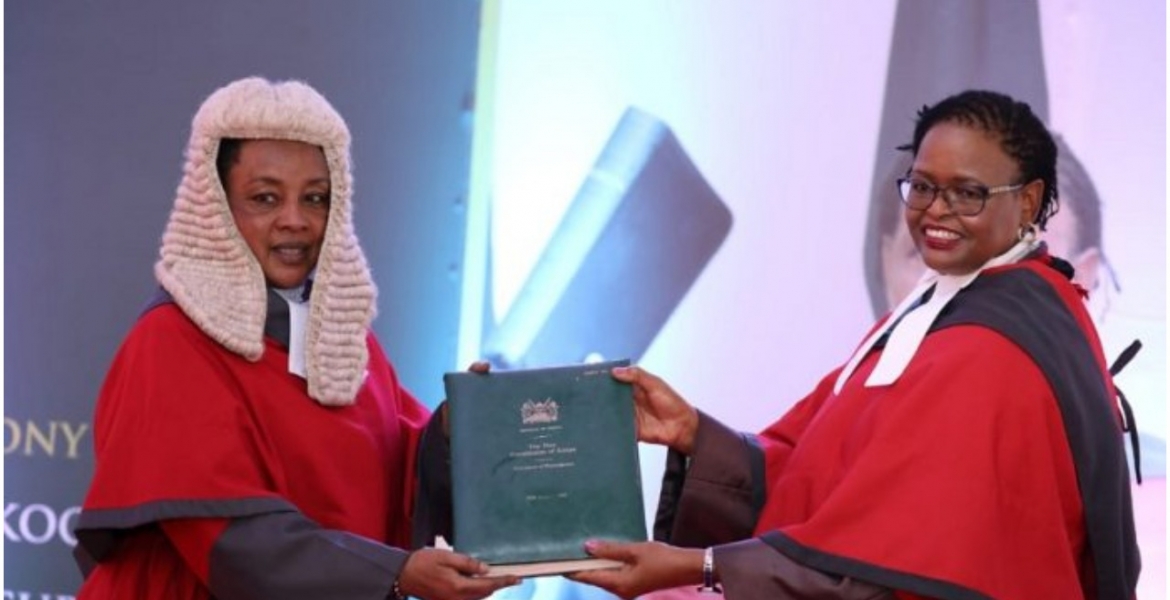 Chief Justice Martha Koome has officially assumed office following her swearing-in on Friday.
Acting Chief Justice Philomena Mwilu handed over Instruments of Power to Koome during an assumption of office ceremony held at the Supreme Court building on Monday.
Koome pledged to work closely with the other two arms of government and all stakeholders.
She also promised to ensure that no case remains in the corridors of justice for longer than three years.
"This is a target that is possible to achieve if we all embraced a case management system and the multi-door approaches that are now available to us such as the court users committees, court-annexed mediation, small claims court, and alternative justice system," said Koome.
She added: "When everybody becomes an agent and champion for justice, I believe this country will start looking for our own indigenous solutions that lead to reconciliation and peace.  Moreover, many will avoid   violence, conflict, and other pitfalls or black spots that lead to endless court cases."
Koome further pledged to embrace the use of technology, starting with the expansion of the e-filing service.
Koome, who was sworn in at State House on Friday, becomes the first woman to hold the Chief Justice post in Kenya's history.
The 61-year-old was nominated to the position by the Judicial Service Commission (JSC), beating nine other candidates who were interviewed.
She has 33 years of experience in legal practice and previously served as a judge of the Appeals Court, where she headed the Criminal Division.
She holds a Master of Laws from the University of London, a Bachelor of Laws from the University of Nairobi, and a Post Graduate Diploma in Law from the Kenya School of Law.