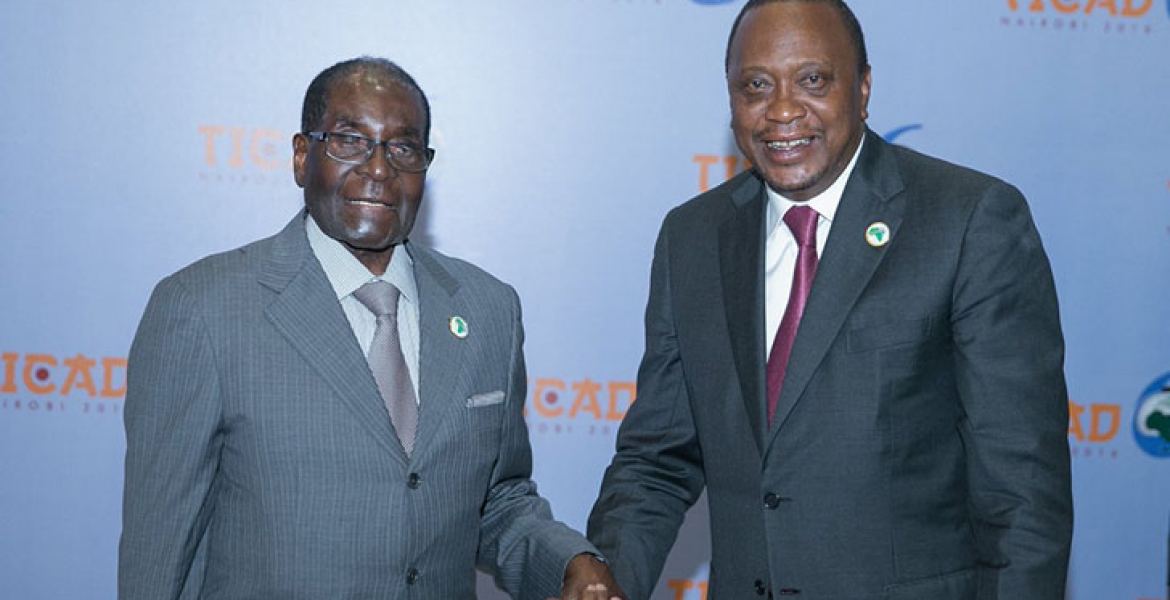 President Kenyatta has ordered Kenyan flag hoisted at half-mast in honor of late Zimbabwean President Robert Mugabe.
In a statement on Friday, State House said Kenyan flag will fly half-mast from Saturday until Monday.
"The flag of the Republic of Kenya shall be flown at half-mast at State House, all public buildings and grounds, military posts, naval stations, and naval vessels," the statement read.
Kenyatta said the move is a mark of respect for the memory of an African hero and friend of Kenya who will be remembered as a shining beacon of Africa's liberation struggle.
Uhuru further said Kenya and Zimbabwe enjoy strong cordial relations linked to the shared struggle against colonialism.
"Throughout his tenure as President, H. E. Mugabe maintained close relationships with Kenya, visiting Kenya on several occasions, the last such occasion was during TICAD VI in 2016," President Kenyatta said.
The 95-year-old former politician passed away on Friday at a hospital in Singapore, where he has been since he was ousted from power in late 2017.
His death was announced by current Zimbabwe President Emmerson Mnangagwa, who described Mugabe as an icon of liberation and a pan-Africanist.
"It is with the utmost sadness that I announce the passing on of Zimbabwe's founding father and former President, Cde (comrade) Robert Mugabe," President Mnangagwa said in a statement on Twitter.
"Cde Mugabe was an icon of liberation, a pan-Africanist who dedicated his life to the emancipation and empowerment of his people. His contribution to the history of our nation and continent will never be forgotten. May his soul rest in eternal peace," he added.
Mugabe served as President of the South African nation from 1980 to 2017, when he was ousted from power in a bloodless military coup. 
He leaves behind his wife, Grace and four children; Bona, Robert Junior, Chatunga and Michael. Mugabe was previously married to Sally Mugabe.