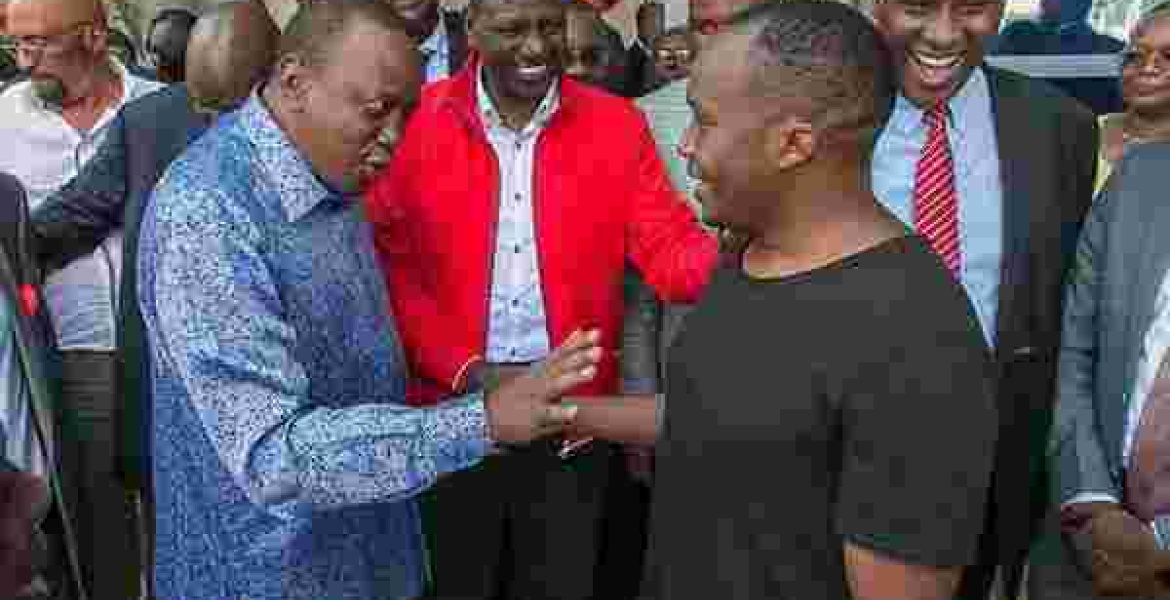 President Kenyatta has slammed Starehe MP Charles Kanyi Njagua alias 'Jaguar' for threatening to evict Tanzanians and other foreigners operating shops in Nairobi.
Speaking in Tanzania on Friday, Kenyatta described the youthful Jubilee MP as a non-visionary leader whose thinking is limited to "village politics."
Kenyatta, who is on a two-day private visit to Tanzanian President John Magufuli's rural home in Chato, assured Tanzanians living in Kenya 
of their security and that of their property.
"You know some politicians are speaking first even before thinking. You'll find somebody's thoughts are only centered around the village he was born and brought up in; he thinks that the world begins and ends with his village," said Kenyatta while addressing residents of Chato.
"You're hearing some of them yapping about inexistent conflicts. How can you tell a Tanzanian that he or she cannot do business in Kenya? How can you tell a Tanzanian that he or she cannot walk freely in Kenya? How can you tell a Tanzanian that he cannot look for a wife in Kenya? Is that even possible?" posed the Head of State.
"At the same time, you cannot stop a Kenyan from visiting Tanzania or doing business in Tanzania. You cannot stop a Kenyan from seducing a woman living in Chato. That is East Africa we want; not East Africa run by people who have small brains; and are guided by backward thinking, tribalism, and stupidity," added Kenyatta.
He further noted that he wants to leave behind a united East Africa before retiring in 2022.
"We are neighbors; we speak one language, share borders and are closely-knitted. So, when somebody tries to cause divisions between us, will he or she really manage? He or she cannot!
"As leaders, we have ensured that we have gotten rid of any kind of barriers that risk stopping our people from trading with each other and intermarrying," he said.
Jaguar was arrested a day after making the remarks and was charged with incitement to violence. He was released on Sh500, 000 cash bail on Wednesday.
His remarks forced Tanzania to summon Kenya's High Commissioner to Dar es Salaam Dan Kazungu for an explanation but the government quickly moved in to prevent a possible diplomatic row with her neighbor.