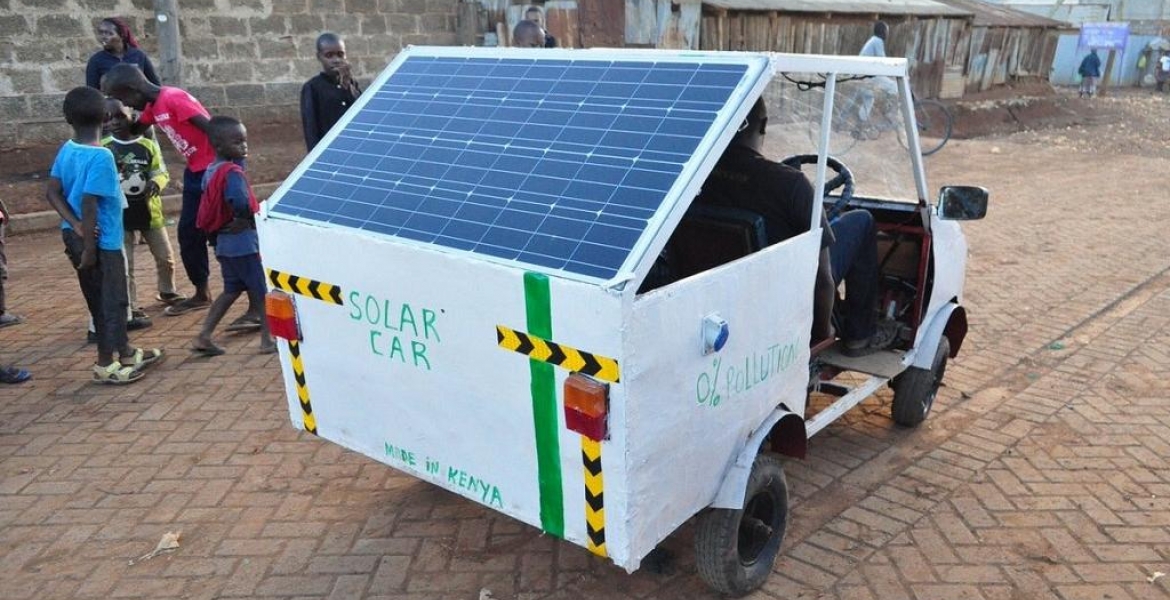 A Kenyan student has earned praise from online users after he developed a car that runs on solar energy.
30-year-old Samuel Karumbo, who studies at Kitale polytechnic, Trans Nzoia County developed the solar-powered two-seat four-wheeler, which he says can cover about 50 km when fully charged. Karumbo said that while growing up, he badly dreamed of owning a car, but a cost effective one.
 "I admired owning a car and since I did not have enough money to buy one, I just sat down and remembered that I am an innovator. That is when I thought of coming up with a unique car, a solar-powered car that does not require any fuel," he told a local media at small garage in the heart of Langas Estate, Eldoret Town.
"The solar car is taking advantage of the panels that collect the rays from the sun then convert them into electronic energy then the electronic energy will be stored in the batteries then you can use the energy from the battery to drive the wheel," explained Karumbo who is studying a diploma in Electrical Installation at Kitale Technical Polytechnic. 
He further explains that the machine largely depends on gravity when on descend and has a motor, which acts as a generator for producing energy for later use. 
"The car which weighs approximately 120 kilograms has three solar panels to propel it. The solar panels have a total of 260 watts which is a lot of energy," he added. 
He says he would like the government to support him in his endeavour of creating awareness and reaching out to people to adopt clean energy. "One of the mitigating interventions that the country should put in place is to promote investments that work towards attaining the goal of using 100% renewable energy from sources such as solar, geothermal, tidal waves, the wind and even municipal waste as opposed to using fossil fuel generated power," explained Karumbo.
 "My dream is that one day the government will support me put up a big workshop so that I can be able to manufacture more solar cars and sell them to Kenyans so that we can get rid of fuel emissions on our roads that has great effect to our environment," he said.
He says he spent approximately Sh125, 000 to assemble the entire car and has since received interest from some buyers.