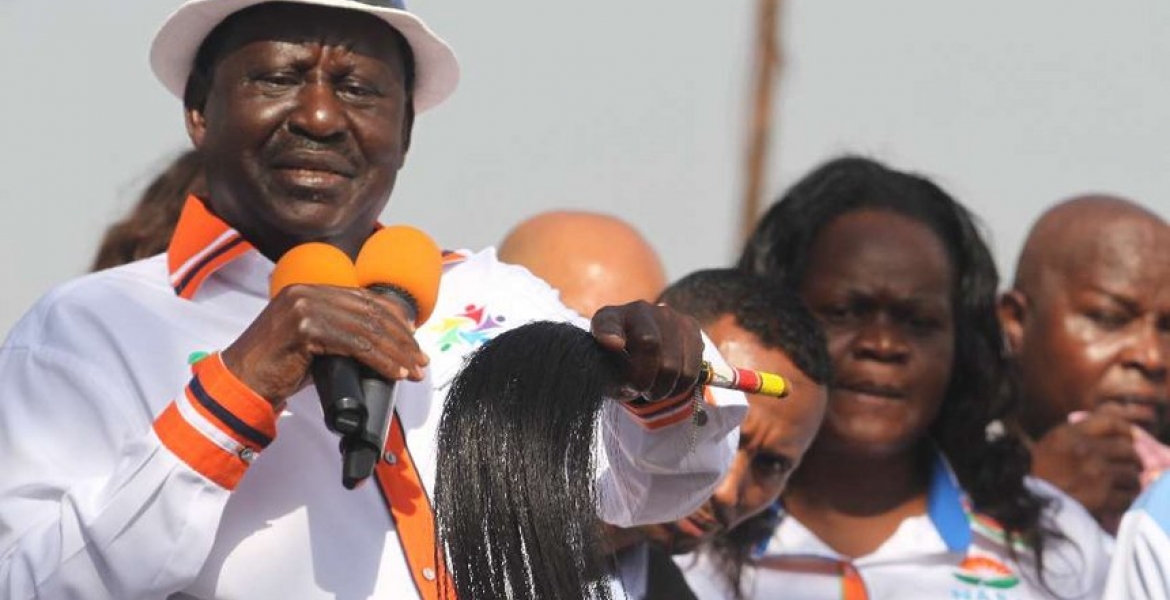 Opposition leader Raila Odinga has hit out at his rival President Uhuru Kenyatta describing him as desperate and an unworthy opponent, who is banking on election losers to help him garner votes.
Odinga, who took his campaigns to Kakamega County on Sunday dismissed western Kenya leaders who decamped to Jubilee, terming their impact inconsequential.
He termed the leaders led by Vihiga Governor Moses Akaranga, former MPs Paul Otuoma (Funyula), Ababu Namwamba (Budalang'i) and Alfred Khangati (Kanduyi) as selfish men who are out to fill their bellies.
"Wewe ulisimama na ukashindwa halafu unaambia Uhuru utampea 100 per cent. Kama wewe mwenyewe hukupata hata 30 per cent, hii kura utatoa wapi ?"
(You were defeated in the election and now you tell Uhuru you will get him 100 per cent votes. If you did not even get 30 per cent, where will this come from?)
"Wenye walianguka chini wanatoroka...wamepeleka matumbo huko, wao ni tumbocrats. Shame on them, Shame," he said.
(They failed and ran away...have only taken their stomaches to Jubilee..they are 'tumbocrats')
The Orange Party leader further hit out at President Uhuru on the recent rant on the judiciary, adding that his words are dangerous and could divide Kenyans.
"The Office of the President seeks to unify citizens. The tone in which the President is speaking is likely to divide Kenyans," said Raila.
He reiterated his commitment to taking part in the repeat election, but only if the playing ground was levelled by reforming the electoral commission.
He further discredited the proposed amendments on electoral laws by Jubilee and lauded the Anglican church for coming out strongly against the changes.
"We are very encouraged by the position taken by the Anglican Church on the proposed amendments to the electoral laws.
"It is important for Kenyans to stand up and defend the truth," Mr Odinga.
The former Prime Minister said time to send President Uhuru home was ripe.
Bungoma Senator Moses Wetang'ula who accompanied Raila said they would use any means to ensure the laws by Jubilee are not passed.
"The only language the Jubilee administration understands is mass demonstrations, and we are prepared to mobilise our supporters to turn up in the streets for mass action," he said.