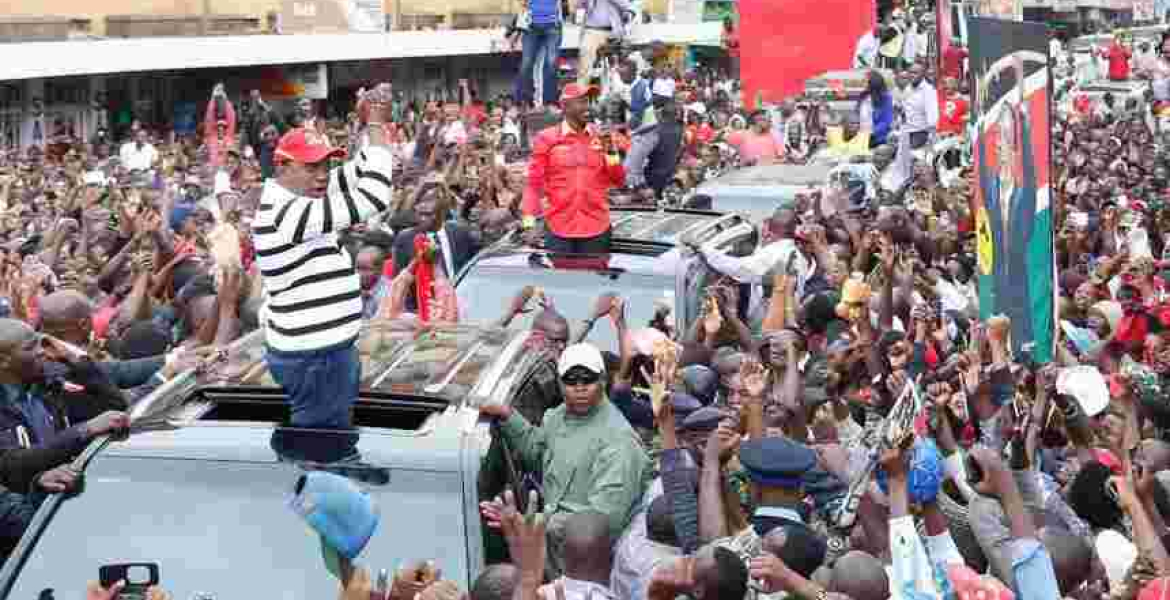 President Uhuru Kenyatta and his deputy William Ruto have declared that they will not entertain opposition coalition National Super Alliance's calls to disband the Independent Electoral and Boundaries Commission ahead of a repeat poll ordered by the Supreme Court.
Speaking on a campaign trail to Nakuru County on Saturday evening, the two vowed that removal of electoral commission will not happen under their watch.
"The Supreme court cannot determine who rules this country, we will have no grand coalition and the election will be conducted by IEBC, we will not have the Opposition playing around with us over disbandment of IEBC," DP Ruto said.
"There is no way that Jubilee won majority seats in MCAs, MPs, Senators, Governors and Women representatives then tell us we did not win the Presidential seat, how possible is that?" Ruto posed.
Ruto lashed out at the Supreme Court for its decision to nullify August 8th election and exuded confidence that Jubilee will win the repeat poll.
"We are not going to succumb to pressure from the Courts, we won the election fair and square. The Supreme court has had their day, ours is coming and we will scrutinize everything. We respect the rule of law but we are not stupid. We will have the election is 60 days and they better be prepared," Ruto stated.
President Uhuru Kenyatta said that Jubilee will not allow the removal of the electoral commission and insisted that IEBC will hold the fresh election.
" Nawaonya, wasidhubutu kugusa IEBC, kama hawataki uchaguzi waache kutusumbua," Uhuru warned.
"It is the same IEBC which managed the election of all MPs and Governors as well as MCAs including those from the Opposition but they have not complained. Now that we are preparing for fresh presidential elections, they are telling us IEBC will not manage the elections They should stop playing with us, we are not children,"he added.
"IEBC will conduct the election and that is it. We do not know about that other party we are being told to wait for, there is nothing like that and we are not jokers also," Kenyatta said.