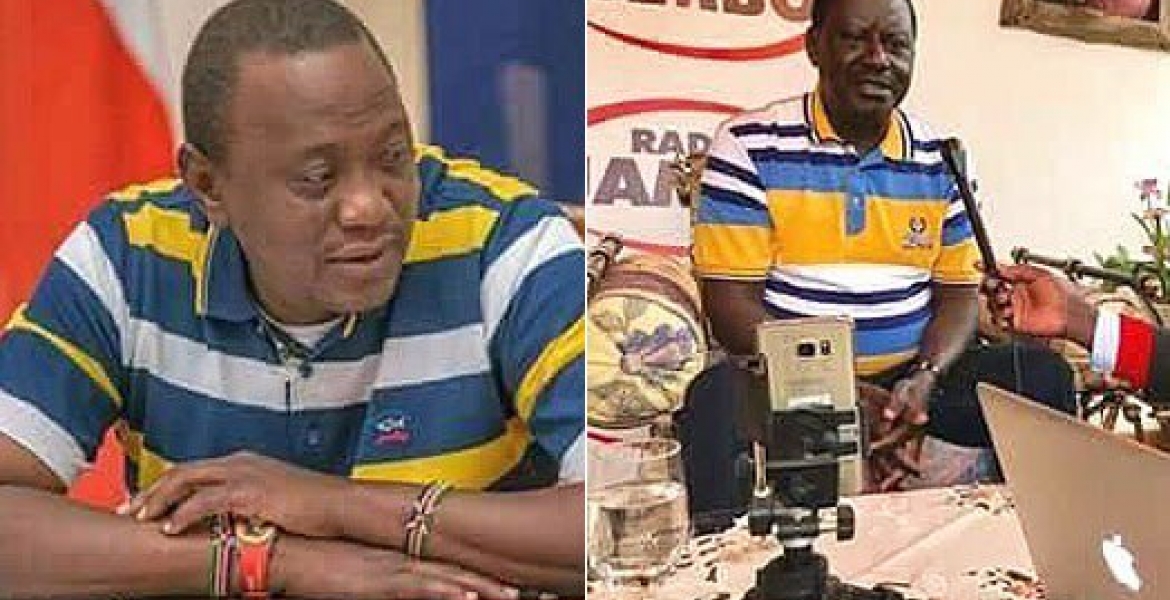 Kenyans on Social Media stormed National Super Alliance Raila Odinga's Facebook page on Monday morning questioning why he 'copied' President Uhuru Kenyatta dress code.
During his live chat on Facebook on Sunday morning, President Kenyatta appeared in a unique striped polo t-shirt that had a mix of navy blue, baby yellow and white colors, catching the eye of many Facebook users. Hours later on Monday morning, President Uhuru's main rival in the August 8 General Election Raila Odinga was the guest in a popular morning Radio show aired on Radio Jambo, taking part in a live interview that was broadcasted live on Facebook, but it was not what he said that interested Netizines, what he clad drew their attention.
In a video by Radio Jambo online, the former Prime Minister is seen in a stripped polo-shirt with a mix of light blue, navy blue, orange and white, nearly identical to that of President Uhuru Kenyatta. These raised a heated debate on the Orange Democratic Movement (ODM) leader, with some calling him a 'copycat' .
Here are some of the reactions"
Charles Wainaina said:, "Bwana Prime Minister, swali langu ni moja tu: Hutu tu-Tshirts twa yellow mnatoa wapi na bwana UK?,".
Emmanuel Kentty said: "Baba hiyo top yako inafanana na ya Uhuru,".
" Joshua you are becoming too much, you a going to low in what you a doing. Copying everything," Patrick Kimutai noted.
" Mhesh Mesh Mbona amevaa t. Shirt yenye uhuru alivaa jana?," Cheruiyot Hish noted.
"Hako ka t-shirt nikama ka uhuru K.mnatutoa wapi tuko very swaggalific," Daniel Njeru said.
Mais Wuod Okuyu said,: "Puahahahhaha this is becoming serious now,copypasting hadi nguo,".
"Can't you choose your own attire, why imitate president uhurus t-shirt,". Peter Kioko Mutua noted. "Copy cat. Eti naskia umeanza kuandika na mkono ya left? Hehehe hehehe," said MartinKiogora.