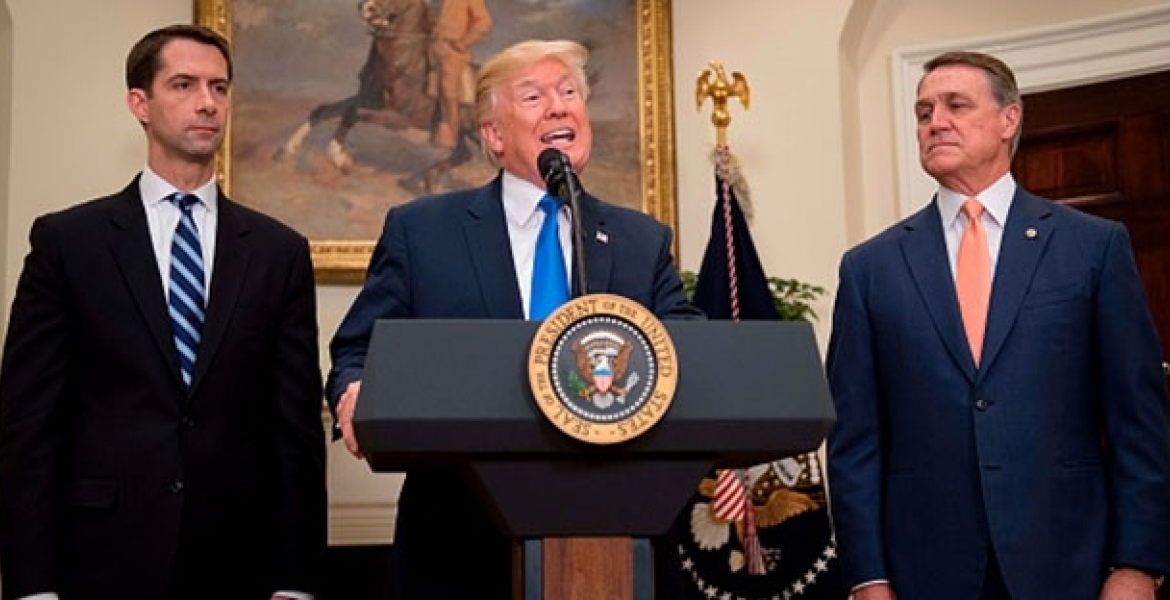 US President Donald Trump unveils the RAISE Act at the White House on Wednesday, accompanied by (left) Republican senators Tom Cotton (AR) and David Perdue (GA)
Kenya is likely to be one of the countries that will be highly hit by President Donald Trump administration's plan to end visa program commonly known as the green card lottery, which has enabled over 17,000 Kenyans to move to the US and gain US citizenship in recent years.
African countries have been leading beneficiaries of the 27-year-old Diversity Immigrant Program by the US, with a total of 22,703 sub-Saharan Africans being among the 52,342 visa lottery winners in 2014. 1,216 Kenyans won entries that year.
Trump lead to Republican senators on Wednesday in announcing a proposal that will establish a "merit-based" US system, where visas will be given on the basis of applicants' job skills.
The proposed RAISE Act would eliminate "the outdated Diversity Visa Lottery System, which serves questionable economic and humanitarian interests." The White House said.
Apart from terminating the lottery, the new legislation will sharply limit other ways of obtaining permanent residency status in the US. The number of green cards issued annually would significantly decrease from more than 1 million to about 500,000 under the means preferred by Trump.
One of the bill's sponsor, Senator Tom Cotton, on Wednesday said that while some may view the current US immigration policy as a "symbol of America's virtue and generosity," he views it as "a symbol we're not committed to working-class Americans, and we need to change that.
For the bill to become law, it will have to pass in both the House and the Senate, where it is expected to face stiff opposition.