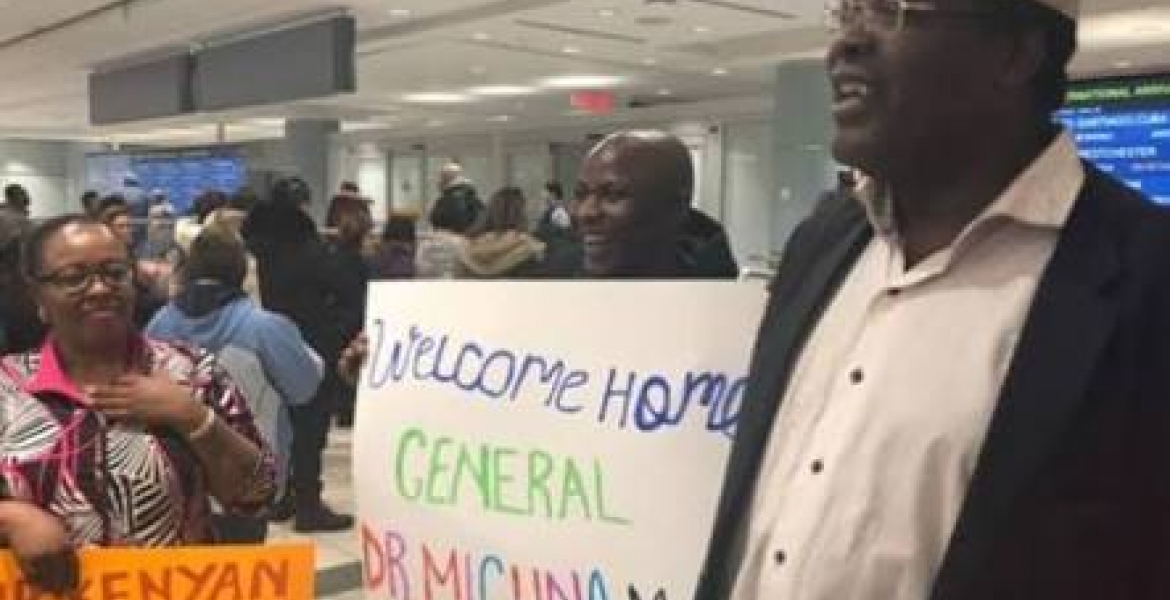 A group of Kenyans living in Canada on Thursday turned up at Toronto International Airport to welcome National Super Alliance's National Resistance Movement (NRM) self-declared general Miguna Miguna.
Upon his arrival, Miguna, who was deported by government from Kenya on Tuesday evening, was presented with a bouquet of flowers by the Kenyans.
"Welcome 'general'! Welcome home," a woman said when she saw him.
"Miguna Miguna, how are you?," a man asked him.
"I am tired," he replied.
"Kenyans are watching you, they want to hear a word from you," Miguna was told.
"No, today I want to go and take a shower, I haven't showered for the last six days, maybe seven. So I need to take a good shower, hug my wife, hug my children, then eat properly. I have not eaten for the last one week and then I can talk about anything else," Mr Miguna answered.
"What would you like to tell Uhuru, Ruto and Matiang'i?," Mr Miguna was asked. He replied, "Come baby, come," eliciting laughter.
He added: "I am solid and we are solid as granite, we are focused as a laser beam and they must be defeated, and they will be defeated. It's just a question of time."
The lawyer was forced into a KLM flight at Jomo Kenyatta International Airport (JKIA) headed to Canada via Amsterdam on Tuesday night.
Interior Ministry said the author had renounced his Kenyan citizenship and acquired Canadian nationality, but Miguna insisted that he is Kenyan, and has never renounced his nationality.