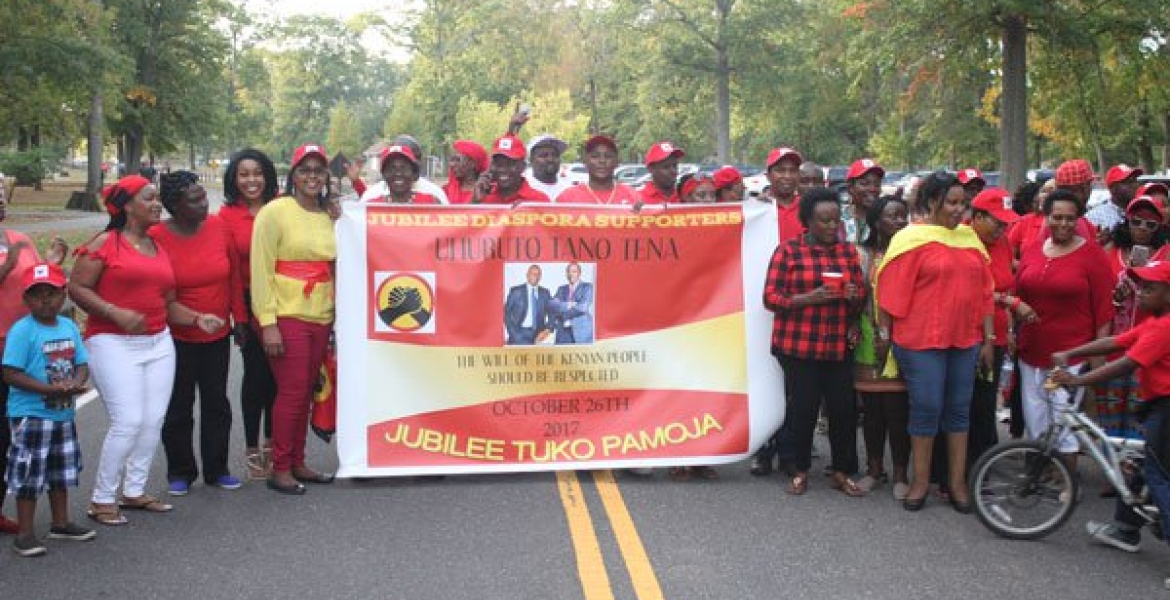 President Uhuru supporters living in the Unites States on Saturday held demonstrations in New Brunswick, New Jersey to counter protests held last week in New York by opposition National Super Alliance (NASA) supporters.
The President's backers dismissed their Nasa counterparts and termed their calls for removal of a section of Independent Electoral and Boundaries Commission officials as hypocritical and selfish.
Speakers at the fairly well attended demo at Johnson Park, New Brunswick, New Jersey, castigated Nasa's calls for the changes in electoral officials, who they have accused of bungling the cancelled August 8th election.
The Jubilee supporters threw their weight behind the proposed amendments on electoral laws being pushed by Jubilee legislators on both houses of Parliament.
"We are holding this rally to show Kenyans and indeed the whole world that the Diaspora support the re-election of President Uhuru Kenyatta," Ms Serah Munyiri, one of the organizers of the demo said on Saturday.
"These Kenyans are here to express their total confidence in the President and his deputy and also urge Kenyans at home who are eligible to vote to show up in large numbers to vote for President Kenyatta."
They asked the opposition to stop mass action against the electoral commission and urged Kenyans back home to maintain peace ahead of the repeat poll scheduled for October 26th.
They commended President Uhuru Kenyatta for preaching peace and unity despite the soaring political temperatures in the country.
John Rutere, a Kenyan living in Connecticut said that Parliament should assert itself and make changes on Elections Act to address ambiguity in election management.
Rutere also accused the judiciary of "overstepping its boundaries" for what he termed as legislating from the bench by dictating how elections ought should be carried out, a function mandated to Parliament.
Munyiri, a resident of New Jersey, called on the the diaspora community to mobilize and reach out to their families and communities back in Kenya to vote President Kenyatta.
Other who spoke during the event include Ms Mary Muturi and Mr David Asige, who heavily criticized Nasa for their empty rhetoric.
"Nasa leaders had been in government for many years yet their communities continue to wallow in deep poverty," Mr Asige said.
They also urged IEBC to hold a credible, free and fair election on October 26th to avoid a constitutional crisis.