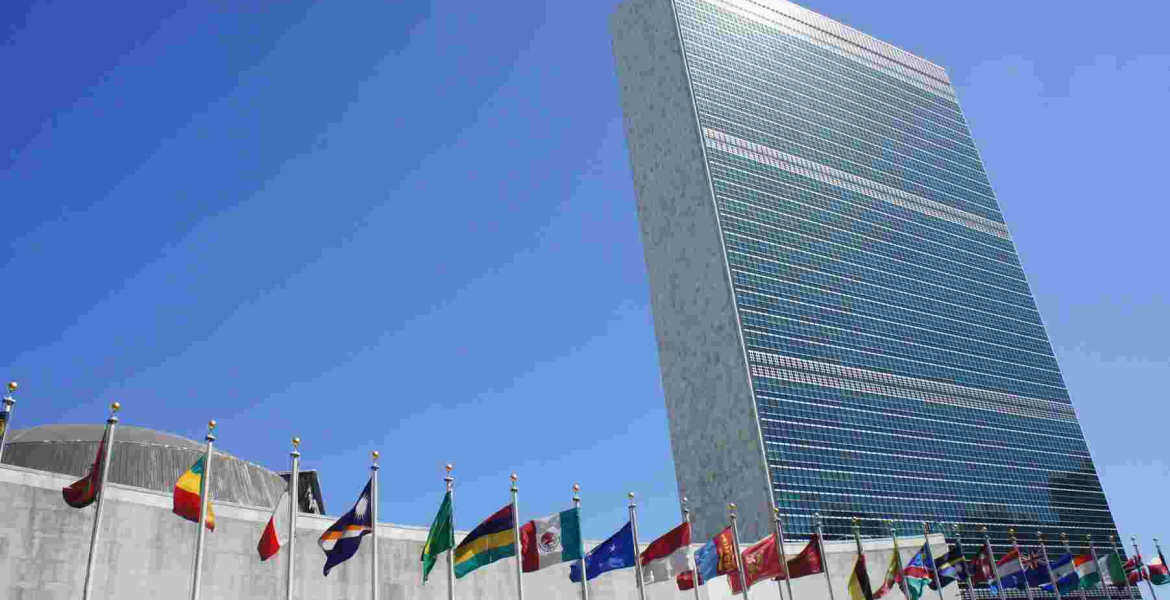 United Nations headquarters in New York
National Super Alliance (Nasa) supporters in the United States are planning to stage a demonstration at the United Nations (UN) headquarters offices in New York on Saturday.
Organizers said that the protests are aimed informing the international community of the events unfolding in Kenya since the nullification of President Uhuru's August 8th victory.
Speaking in Philadelphia, the organizers, led by Dr George Omburo, Amos Atonga and Debra Akello said the recent developments in Kenya since the overturning of the poll was a cause for alarm and the international community needs to intervene as the country prepares for a repeat of the poll scheduled for October 26th.
"Right now you are seeing the government withdraw security details for Mr Raila Odinga and his running mate Kalonzo Musyoka, unleashing Mungiki on innocent demonstrators in the streets of Nairobi and the president himself vilifying and trying to undermine the Judiciary because they ruled against him," they said in a statement.
"The situation in Kenya right now as we speak is very tense and fragile. That's why we are having events this coming Saturday in New York and New Jersey to bring attention to these issues while celebrating the historical ruling that has made Kenya a harbinger of democracy in Africa."
The demos at the UN are slated to begin at 11am and end in the afternoon with the supporters addressing an international press briefing.
They also said the demos will not stop there, after New York, they will then go to New Jersey for the Nasa Diaspora USA Party to be held at Ukranian Hall, 1700 Brooks Blvd, Hillsborough, NJ 08844, from 7pm to 2am.
The New Jersey evening event will also double up as a fundraiser for Nasa campaigns.
Nasa USA supporters further demanded the Kenyan government to immediately re-instate the security detail of Raila Odinga and his running mate Kalonzo Musyoka.
In a statement, supporters of the opposition leader based in the US and Canada said if anything happens to Raila, President Kenyatta's administration would be held accountable.
"A presidential candidate is a president in waiting, he must be protected. That is why we, members of Nasa USA condemn in the strongest terms possible this desperate and ignorant action by the Jubilee administration to withdraw security detail of a leading Kenyan presidential candidate, Mr Raila Odinga and his running mate Mr Kalonzo Musyoka," the statement signed by Mr Jack Ambuka of New Jersey read in part.
"Protecting a presidential candidate is not a new phenomenon that is exclusive to Kenya. It is a precedent set and adhered to by countries in the whole world. Unfortunately, in Kenya, virtually every government decision is made either at the alter of tribe or on the pulpit of political chicanery. No decision is based on objectivity or pragmatic approach. By withdrawing security detail of Raila Odinga and his running mate, the government is in essence telling the duo that it doesn't care what happened to them even if they get assassinated." Mr Ambuka said.
"In fact, withdrawing security is equivalent to inviting and preparing the ground for assassins to carry out their evil responsibility with less or no difficulties at all."
Raila's and Musyoka's bodyguards were withdrawn on Monday evening.
"God forbid something happens to Raila and or Kalonzo, Jubilee administration will bear the blame," they said in a statement.
This comes as NASA plans nationwide protests every Mondays and Fridays in Kenya.