Photos of Jubilee campaign materials printed in China have sparked outrage among Kenyans on social media, with Kenyans questioning why they Jubilee to contract a Chinese firm with the printing instead of offering the task to Kenyans and create employment.
In the photos that went viral on social media, hundreds of Jubilee campaign t-shirts are being made at a  Chinese factory by Chinese workers.
The photos, whose authenticity Mwakilishi.com could not confirm, elicited mixed reactions from Kenyans on social media, with the majority bashing the Jubilee Administration accusing it of creating jobs for the Chinese youth, instead of Kenyan youths.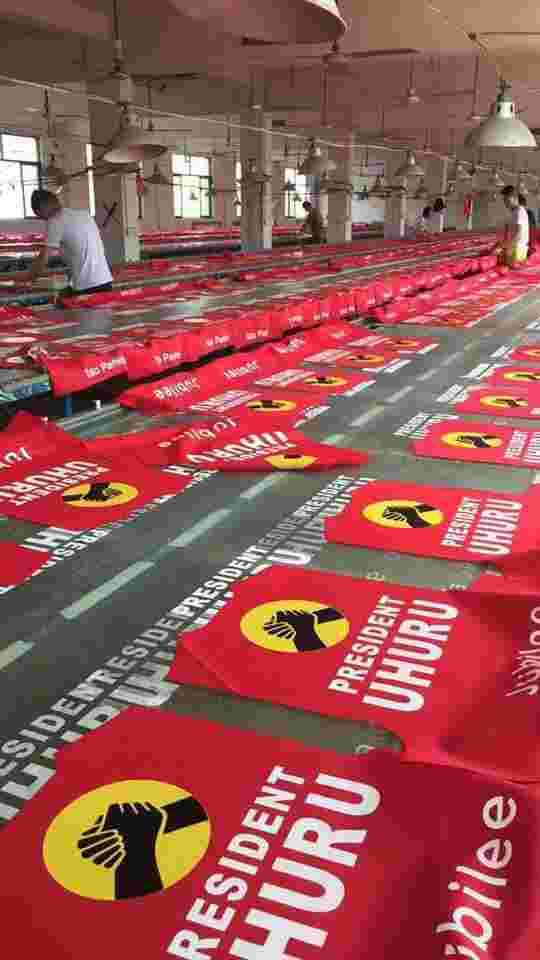 Many argued that many Kenyan small business enterprises would have greatly benefited had the ruling party given the tender to them.
However, a small section defended President Uhuru's party, citing cost as one of the reason why the contracted a foreign firm to make its campaign merchandise.
Here are some of the reactions from Kenyans on Twitter:
@AmboseliMaasai: Jubilee Patriarch, Uhuru Kenyatta, creating 1 million jobs somewhere in China.
@Hello_Titanium: Is this the part of 1 million job that Jubilee promised??? When all jobs are being done in China...u mean Kenyan youth can't print shirts.?
@DaveMcowino: Jubilee government created jobs for the youth in China
@GovernorOchieng: Print t-shirts in China, buy maize from Mexico, import sugar from Uganda and remind us "the economy is flourishing under Jubilee government"
@nyandiga001: Some people are arguing that is cheaper to print Jubilee T-shirts in China than in KE . Who tampered with the Kenyan Economy? Guess