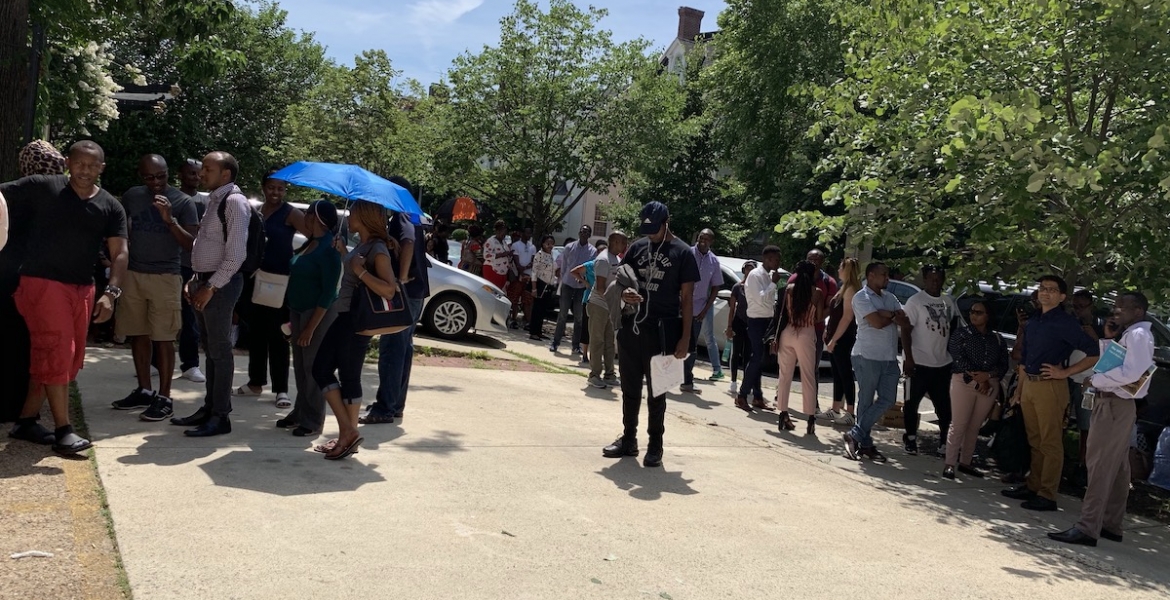 The deadline for Kenyans in the Diaspora to acquire Huduma Namba is two days away, and for many Kenyans living in the United States completing the application process at the Kenya Embassy in Washington, DC has been frustrating.
Kenyans living in various states across the US have rushed to heed to the Kenyan government's call for the Diaspora to acquire Huduma Namba by June 20th, 2019. Those registering for Huduma Namba are required to first complete an online form, download it, and then appear in person for Biometrics capture at their closest Kenyan embassy or consulate.
Several Kenyans resident in the US have reached out to Mwakilishi.com complaining of the inconveniences of traveling long distances to Washington, DC for the registration process, long lines and waits at the Embassy, and last of organization among Embassy staff.
Things are complicated further by Kenyans going to the Embassy to acquire ePassports to beat the deadline of September 1st set by the government for all Kenyans to acquire ePassports. The government announced that non-digital Kenyan passports will cease being valid for travel beginning September 1st. The application process for an ePassport also requires the applicant to visit the Embassy in person for Biometrics capture.
On most days, long lines stretch outside the Embassy in Washington, DC as Kenyans seek either Huduma Namba or ePassports. Some Kenyans have complained of spending up to three days in Washington, DC and incurring huge travel and accommodation costs as they are sometimes forced to stay in Washington for days in order to complete the process.
Dr Paul Mukundi, a resident of Baltimore , Maryland expressed surprise at the chaotic approach at the Embassy during his recent visit to the Embassy. "There were hundreds of people," he told Mwakilishi.com, "and when the embassy cannot anticipate the number of clients they'll have on any day, they should have a what-if plan for any eventuality." Dr Mukundi, who had his wife and two year old son, watched as his son and numerous other kids and babies cried for hours in the scorching heat. Everything was made worse by the fact that there was no clear system in place. Those seeking all types of services made a line that snaked around R street, despite the fact that some of them who required visas and passports were much fewer in number, said Dr Mukundi.
Faith Kavoi, a resident of New Jersey says she travelled to Washington, DC last Friday only to be told her application for an ePassport had been rejected by the system and was told to go back to the Embassy on Monday. Her return on Monday was still fruitful, as she was told to return to the Embassy on yet another day.
"I came to the Embassy on Friday from New Jersey. They told me that my application for my epassport was rejected by their system and that I should come back on Monday. I had to rent a hotel and stay in Washington DC for three days. I came back today Monday and I was told that I have to come another day because they had to consult somebody in Kenya. Finally, a person who had had the same problem advices to apply again and pay again because the embassy officials keep telling you to come back a day or two later, but nothing ever happens.  I have not only paid twice for one epassport but I've also had to spend so much money renting a hotel room," Faith tells Mwakilishi.com.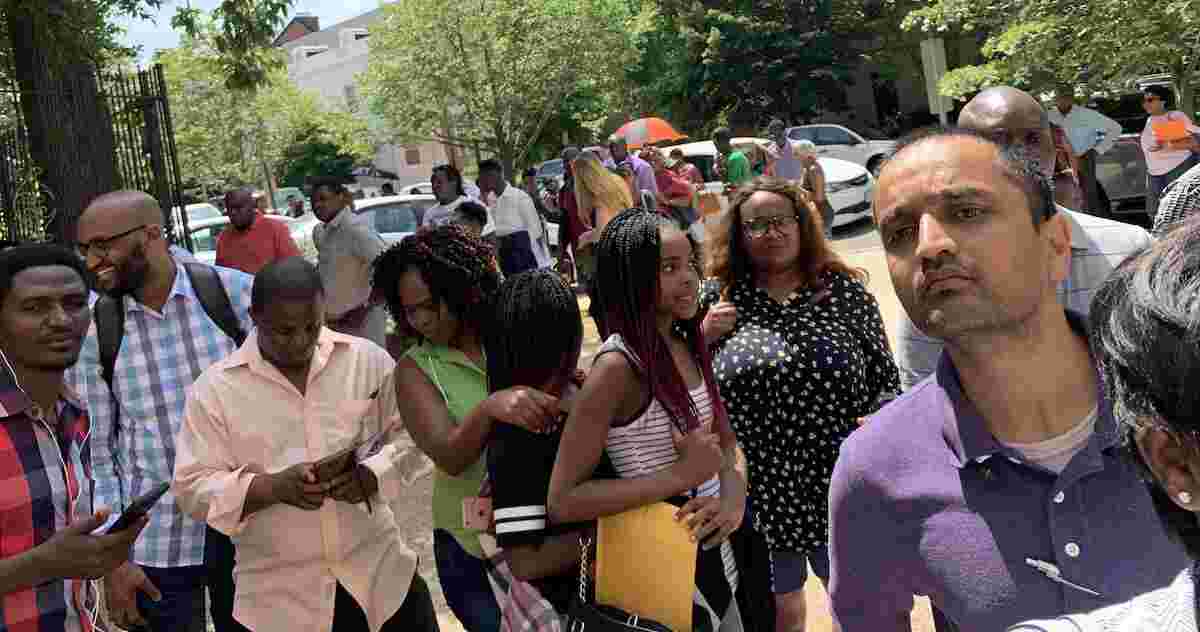 Rev Dr Sammy Kamwenji, who travelled recently all the way from Elkhart, Indiana to acquire Huduma Namba, says the procedure for processing the Huduma number application needs more strategic planning. He says that when he arrived at the Embassy, there were lots of people in the queue who had come very early in morning. "We arrived around 945am and by then the line was already so long. We were finally served around 6pm. We appreciate the diligence of all those who were tirelessly processing the applications. They were very kind and understanding. However more man-power would really help achieve a smooth flow. More processing satellite offices across USA would be of great help to the diaspora community," Rev Dr Kamwenji says.
James Karichu flew with his wife all the way from San Francisco, California to apply for an ePassport, and says they along other people including small children spent an entire day in the scorching sun in the line outside the Embassy. "No one cares about Older parents, women babies crying in the scorching sun. There is no proper information," Karichu tells Mwakilishi.com.