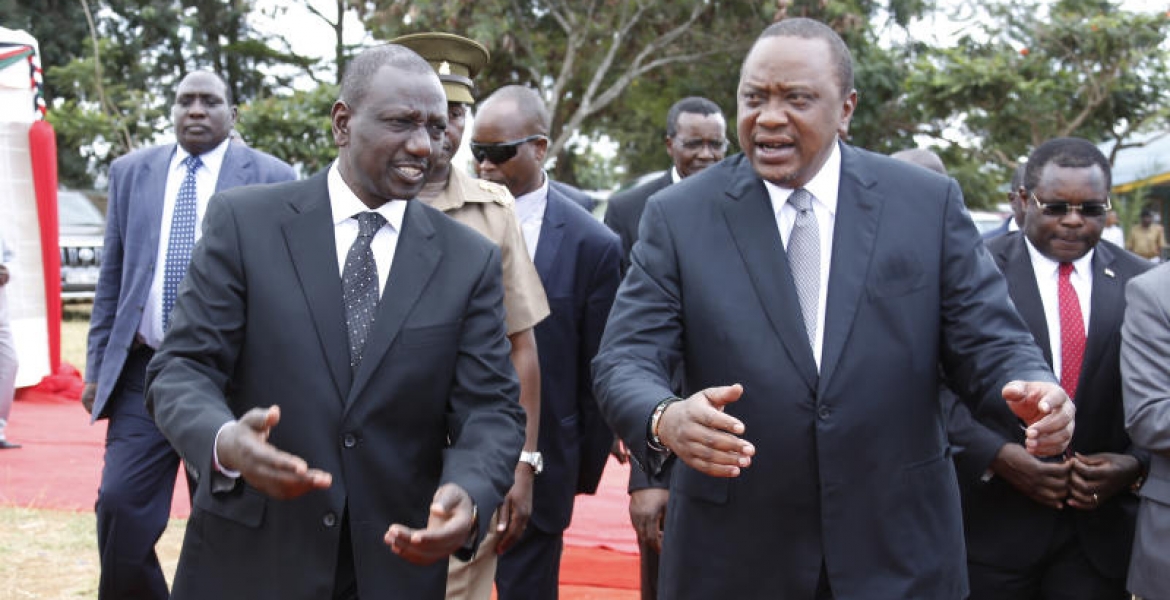 Deputy President William Ruto has come to the defense of President Kenyatta over allegations that he has neglected the Central Kenya region as far as development is concerned.
In a series of tweets through his Twitter handle, Ruto accuses a section of Jubilee members of undermining the party, its leadership, and the President.
Ruto has dismissed claims that Mt. Kenya region has been starved of development projects, echoing President Uhuru's remarks that the Jubilee administration is committed to rolling out projects in all corners of the country.
He has also urged members of Jubilee to use appropriate means to air out their complaints instead of bringing divisions in the party 
"After projects promised for decades became a reality under Jubilee many Kenyans especially Jubilee members understandably are asking us for more. This must be tempered with the reality of what we can afford. No region, community or Kenyan will be left behind now or in future," tweets Ruto.
"Jubilee members must, however, use the appropriate mechanism to channel matters concerning us and avoid the unnecessary negative debate that only undermines the party, the party leadership, and the President."
Gatundu South Member of Parliament Moses Kuria and his Bahati counterpart Kimani Ngunjiri have accused Kenyatta of taking projects to other regions and forgetting his political backyard, which overwhelmingly voted for him in 2013 and 2017 elections.
President Uhuru didn't, however, take their allegations lightly and was forced to fire back, labeling Kuria and Ngunjiri as "washenzi".
"I am not a person who is easily scared… Those going around playing petty politics I want to tell them this. We will not launch development projects based on which region a leader comes from. We want all 45 million Kenyans to benefit, we want all corners of this country to grow," President Kenyatta said while speaking in Mombasa earlier this week.
"We want a country where every single citizen is entitled to development regardless of where the leader comes from. Kwa hivyo hao washenzi waachane na mimi…(Let those fools leave me alone)."