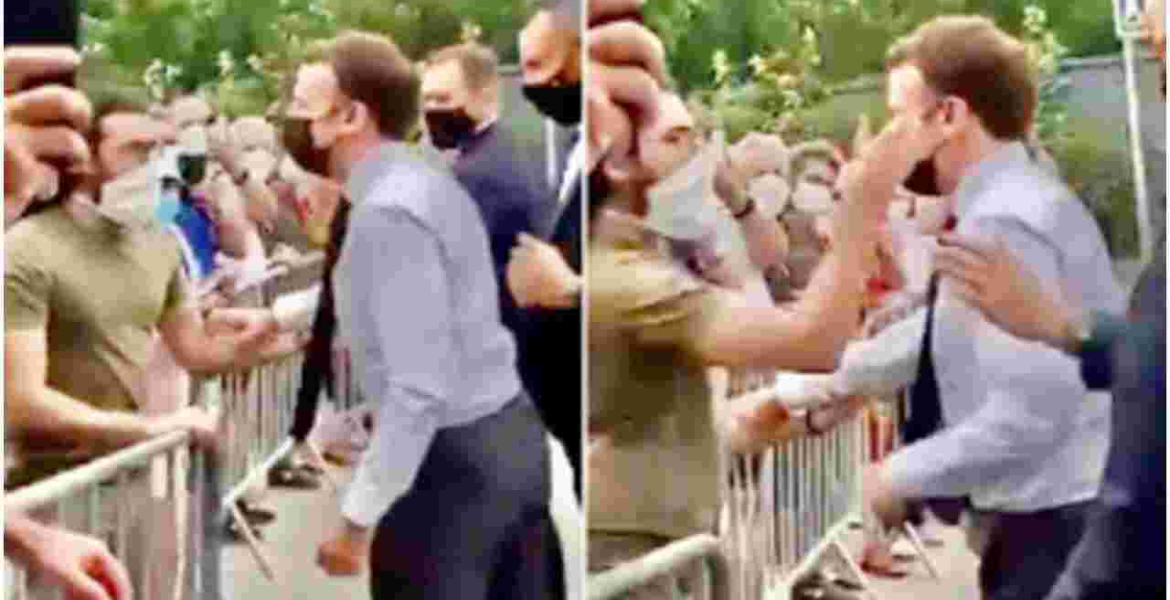 Two people were arrested after French President Emmanuel Macron was slapped by a man in the crowd.
A video clip published by French media shows a man in a green T-shirt, eyeglasses, and a facemask shouting "Down with Macronia" before slapping Macron in the face.
Macron had visited the Drome region to meet restaurateurs and students to talk about how life is returning to normal as the COVID lockdown eases.
In the video, he is seen walking towards a crowd standing behind a metal barrier before reaching out his hand to greet the individual, who then hit him in the face.
🇫🇷 FLASH | En déplacement dans la #Drôme ce mardi dans le cadre de son tour de #France des territoires, Emmanuel #Macron s'est fait violemment gifler, deux personnes ont été interpellées.

(BFM) #MacronGiflé pic.twitter.com/3pjWQt0NAR

— Conflits France (@ConflitsFrance) June 8, 2021
The president's security team responded swiftly to pull the man to the ground and move Macron away.
The suspect was arrested alongside another individual for questioning, according to the regional prefecture.
French Prime Minister Jean Castex condemned the incident, terming it "an affront to democracy."
"Politics can never be violence, verbal aggression, much less physical aggression," Castex told parliament.
Last year, Macron and his wife Brigitte were verbally abused by protesters as they took an impromptu walk through the Tuileries gardens in central Paris.
Macron, who is expected to seek re-election next year, is keen to meet voters in person as the country tries to recover from the COVID-19 pandemic. Polls show that Macron enjoys a slim lead over far-right leader Marine Le Pen.