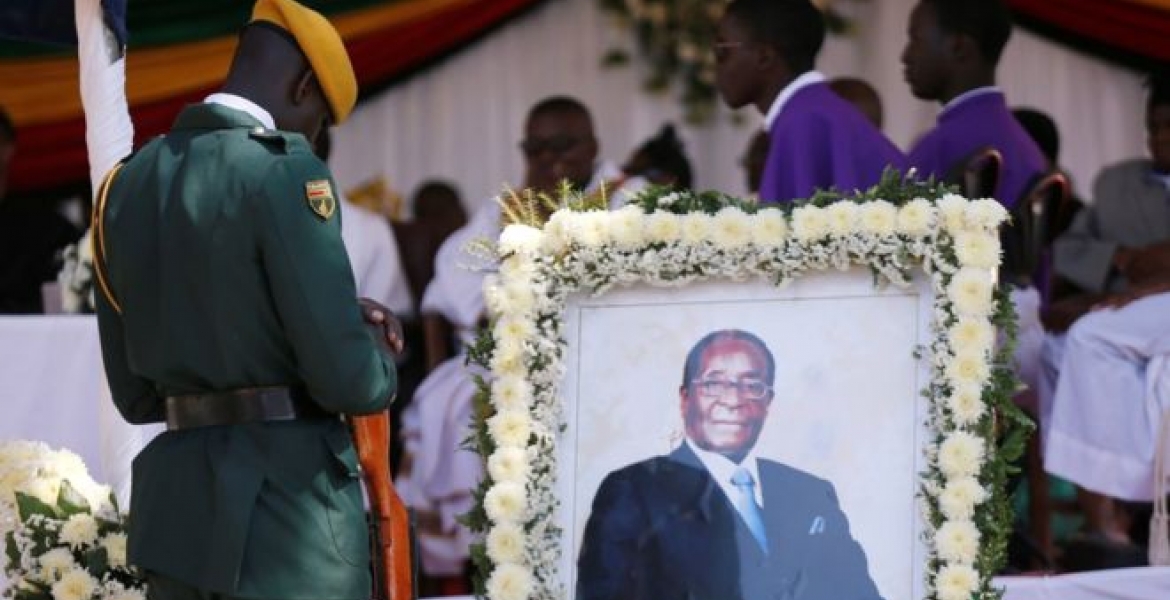 The late former Zimbabwe president Robert Mugabe asked his wife Grace to guard his remains once he passes away to protect them from 'rituals.'
This was revealed by family spokesman Leo Mugabe, the former president's nephew, according to France24. Leo said that Mugabe feared that his body would be used by his opponents for ritualistic purposes and wanted it to be secured after death.
"The original coffin, in which Mugabe's remains were flown from Singapore, was changed," Leo told the Zimbabwe Television Network.
"We wanted a tamper-proof casket because of (the fear of) rituals. Mugabe had told his wife to guard his body once he died for fear it could be used by his opponents for ritualistic purposes," he added.
"People are after his body or his body parts," Leo further noted.
Mugabe, who died aged 95 at a Singapore hospital on September 6th, was buried on Saturday in a concrete cast grave in the courtyard of his rural Kutama home.
Inside the grave, the casket was put in a container and then covered with a maroon lid before heavy rectangular stone blocks matching the shape of the grave were piled on top of the coffin, an AFP photographer who witnessed the burial said.
Initially, the family had agreed to a government-sponsored special mausoleum at the Heroes Acre, an exclusive hilltop shrine set aside for Zimbabwe's ruling elite.
During the burial on Saturday, family members said Mugabe had indicated that when he died he did not want to be interred at the national shrine because he had been "ridiculed".
Mugabe's sister Regina Gata claimed there were people who wanted to conduct traditional rituals, but "we stood firm because Mugabe was a Christian."
Mugabe's burial, which came 22 days after his death, ended weeks of the battle between Mugabe's family, local traditional chiefs and the government over his burial site.