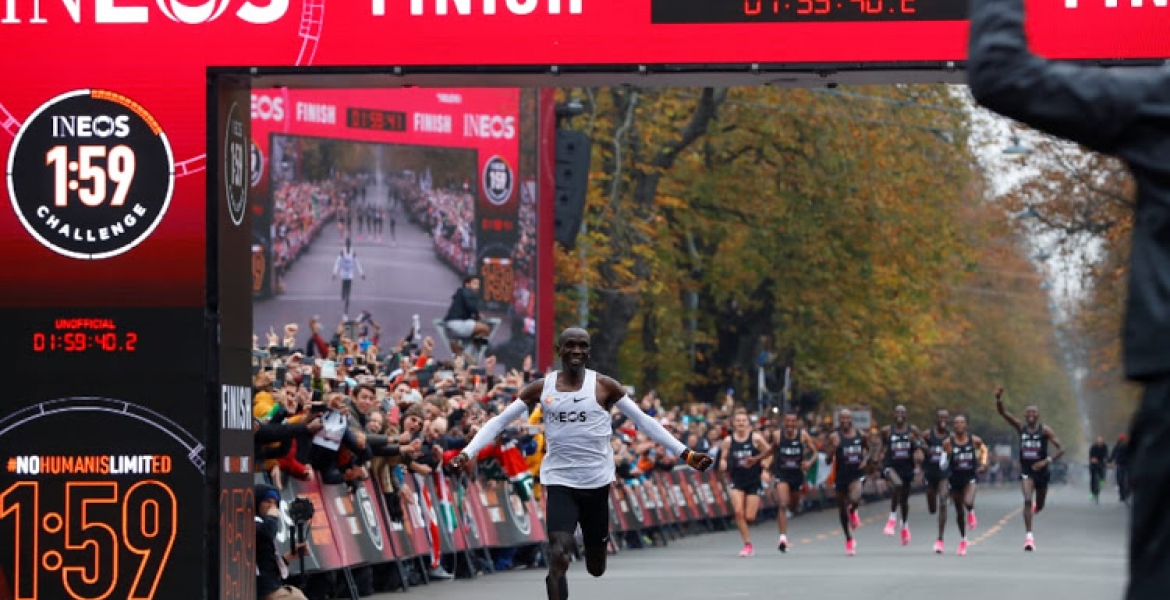 President Kenyatta led the world in lauding Kenya's Eliud Kipchoge for making history as the first athlete to complete a marathon in less than two hours.
The 34-year-old Olympic Champion finished the 42km race in one hour 59 minutes 40 seconds in the INEOS 1:59 Challenge in Vienna, Austria on Saturday.
Kenyatta described Kipchoge's victory as a proud moment for Kenya, adding that he has set precedence for future generations.
"Hearty congratulations Eliud. You've done it, my brother, you've made history and made Kenya super proud while at it. Your win today, against all odds, will inspire tens of future generations to dream big and to aspire for greatness. We celebrate you and wish you God's blessings," Kenyatta said.
Ahead of the Saturday race, Uhuru personally phoned Kipchoge to wish him success.
" I am feeling confident, you are in our prayers… we are praying for you that you will be successful but for us, it is not the success it is the effort that you put in….. Remember you have 46 million of us behind you. Nitakupigia ukimaliza," said Kenyatta during the phone call.
British billionaire and owner of Ineos Company, Jim Ratcliffe, who sponsored the challenge, said: "That last kilometer where he actually accelerated and came through on his own was just superhuman. I can't believe he did it."
Deputy President William Ruto, who flew to Vienna to support the athlete and witness the historic moment, also congratulated Kipchoge for the victory.
 "Your supreme tempo, fatigue-resistance, endurance, compulsion, mental strength, resolve, and tenacity are a manifestation there are no limits when you believe in yourself; undoubtedly the landmark triumph cements Kenya's position in the globe as an athletics powerhouse," Ruto tweeted.
On his part, Orange Democratic Movement (ODM) leader Raila Odinga tweeted: "This is the stuff of history @EliudKipchoge. You captured the imagination of the whole world before this great feat and it will continue for a long time. Congratulations on becoming the first human to run a sub-2-hour marathon. 🇰🇪 is greater because of you!"
GuinnessWorldRecords tweeted: "Huge congratulations to Kenya's @EliudKipchoge - a groundbreaking new record for the fastest marathon distance in 1 hr 59 min 40 sec."
The victory further confirms Kipchoge's status as the greatest marathoner of all time.