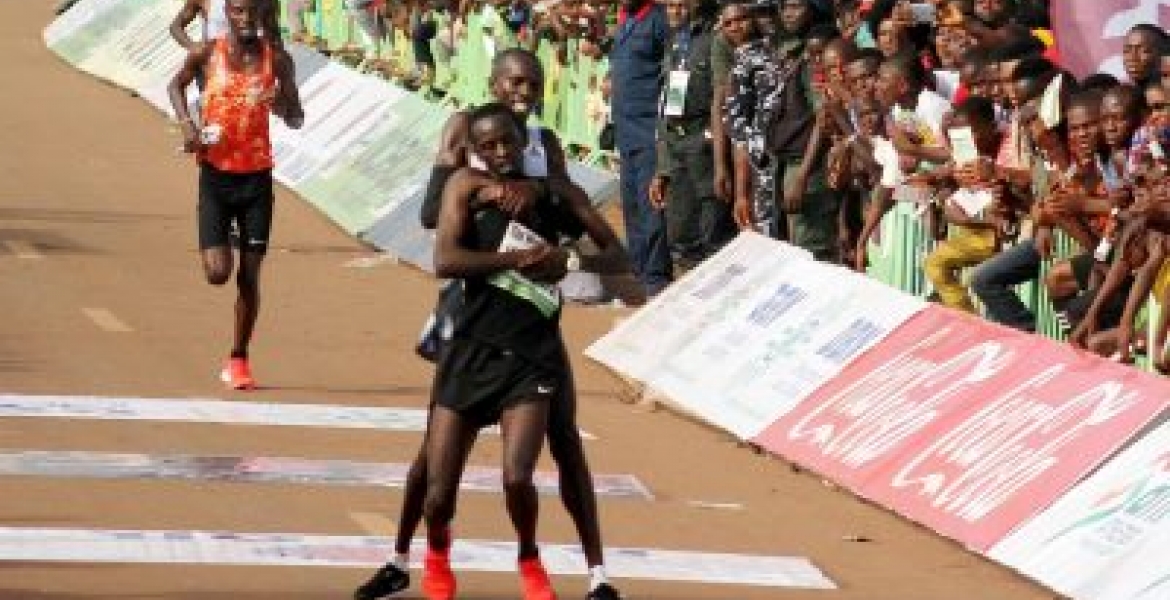 A Kenyan athlete has been rewarded for his rare gesture towards a collapsing competitor during the 2019 edition of the IAAF Silver Label Okpekpe International 10-kilometer race in Nigeria.
Simon Cheprot was fighting to finish first in the race but he stopped to help his compatriot Kenneth Kipkemoi, who collapsed a few meters from the finish line. In the process, Cheprot lost the race, but he does not regret the loss.
"Running is not war; running brings peace, unity, and friendship."
"My dad told me one day, 'When you're walking and you meet a sick person on the road, help him; do not leave him', so that was the first thing that came to my mind when I saw my friend on the ground," Cheprot said after the race.
Although he lost, Cheprot was awarded more than Sh1 million by former Edo State Governor Adams Oshiomole and Deputy Governor of the state, Philip Shaibu for being a "brother's keeper."
Cheprot was the 2016 Okpekpe Race champion and finished second in 2018.
"Simon (Cheprot) may not have fulfilled his ambition of becoming the first athlete (man or woman) to win two Okpekpe titles since 2013 when we began this race, but he came to Okpekpe this year, ran and left as the hero. He did not win any medals but he won hearts.
"While running, his colleague collapsed and on instinct, Simon picked him up; held tight to him and lifted him. That ended his race. But he saved a life. In 2016, Simon came first at Okpekpe; was second last year. Now, in 2019, he won HEARTS: One of our partners gave him $2,000, former Edo state governor, Adams Oshiomole added $3,000 before Edo state's deputy Governor, Philip Shaibu increased the reward from $5000 to $10,000 with an additional $5000. But most of all, everybody hailed his "brother's keeper" attitude."
"This is what is called sportsmanship. Simon gave proper consideration for fairness, ethics, respect, and a sense of fellowship with his competitors. He is our hero, he is the hero of the seventh edition of the race,' said Mike Itemuagbor, promoter of the event.
Dawit Fikadu of Bahrain and Kenya's Sheila Chelangat won the men's and women's respectively.