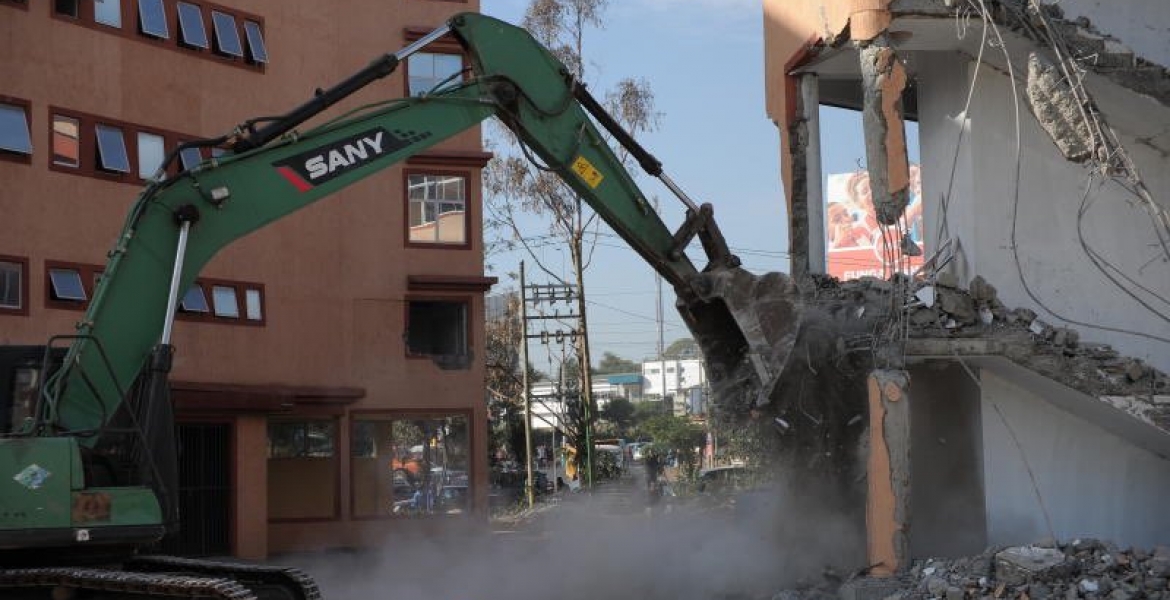 The demolition of illegal buildings in Nairobi is set to resume this week after the National Treasury released funds for the operation.
National Building Inspectorate chairman Moses Nyakiongera says several property owners in the city have refused to bring down condemned structures despite being issued with notices last month. "We are starting with illegal structures in Huruma estate in Nairobi because this is where we have some of the most unsafe buildings," says Nyakiongera as quoted by the Standard.
So far, a multi-agency team consisting of officials from the National Environment Management Authority (Nema), Nairobi County and Nairobi Regeneration Committee have supervised the demolition of several buildings in Nairobi since the exercise was launched in August.
Among the buildings that have been flattened include Nakumatt Ukay, Airgate Mall, Java Restaurant in Kileleshwa, SouthEnd Mall and sections of Hindu religious centre, Visa Oshwal.
In August, President Kenyatta vowed to go after public officers who approved construction of illegal buildings.
"We are not going to just punish those who built. I want to assure you that we are going after all those who issued those permits. Those ones will be prosecuted… Be they county officials, lands officials or NEMA officials, they will be prosecuted because they are equally to fault as those who build," he said.
"If we fail to fight impunity we will not achieve our dreams… A time has come for us to fight impunity, a time has come for every Kenyan to realise no matter how powerful you think you or how much money you have… That will not save you."
Among buildings targeted in the operation include those sitting on riparian land, public land and road reserve as well those that don't meet construction standards.