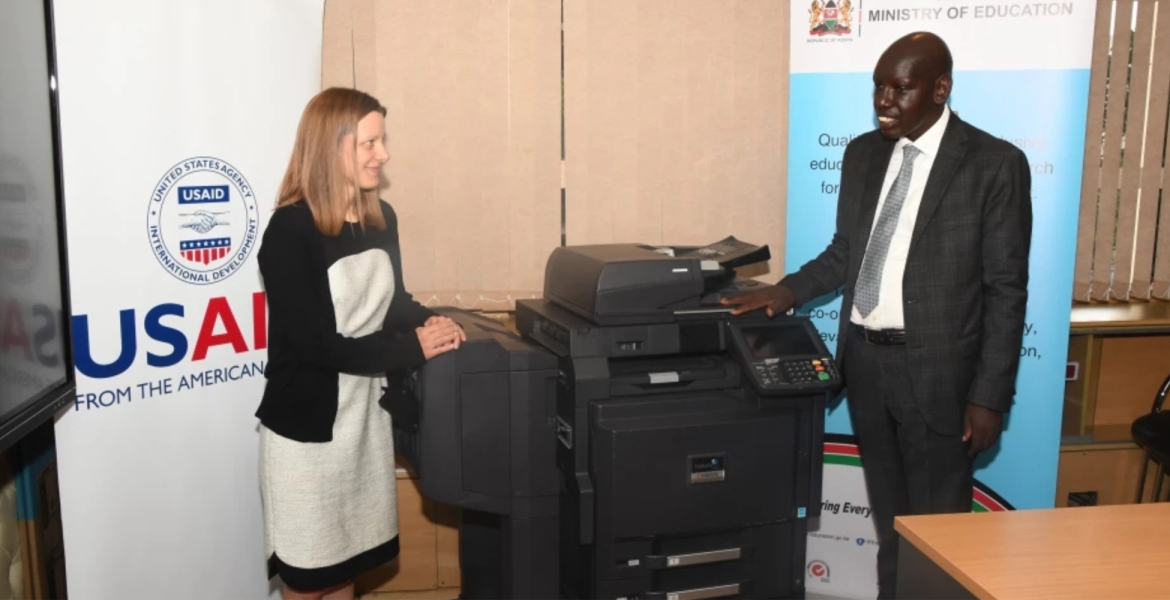 Kenyans on social media have blasted the Ministry of Education for flaunting a photocopier donated by the United States Agency for International Development (USAID).
Through Twitter, the ministry shared photos of Basic Education Principal Secretary Belio Kipsang receiving the 'state-of-the-art' machine from USAID's Amy Pekol, who delivered it to his office.
"The Principal Secretary for the State Department for Basic Education, Dr. Belio Kipsang receives a state of the art photocopier from @USAIDKenya official in charge of Education and Youth Affairs, Ms Amy Pekol, in his office," the ministry captioned the photos.
The ministry commended USAID for its support for the education sector in Kenya, and goals they aim to achieve with their activities in the country.
Social media users reacted to the post, criticizing the ministry for bragging about the 'small' donation.
Senior counsel Ahmednasir Abdullahi tweeted: "USAID is very generous with developing countries and can floss over its generosity...but surely, Kenya doesn't need a photocopier from USAID."
Jamal Abdikadir said: "What is with Printers and photocopiers being donated to Government by donors. What is the true purpose?"
"Would not even allow for any photo session with that kind of donation. Too cheap politics and propaganda unless it is wired," another user said.
Hillary Siongok wrote: "How can the USAID parade a whole PS to receive a photocopier."
Chixue said: "I think CSs and PSs are overdoing this Foreigners photo op. To take a photo receiving a photocopier is demeaning. Were they appointed to take photos with Caucasian 'investors'? They need less photos with Wazungus and more updates on developments."