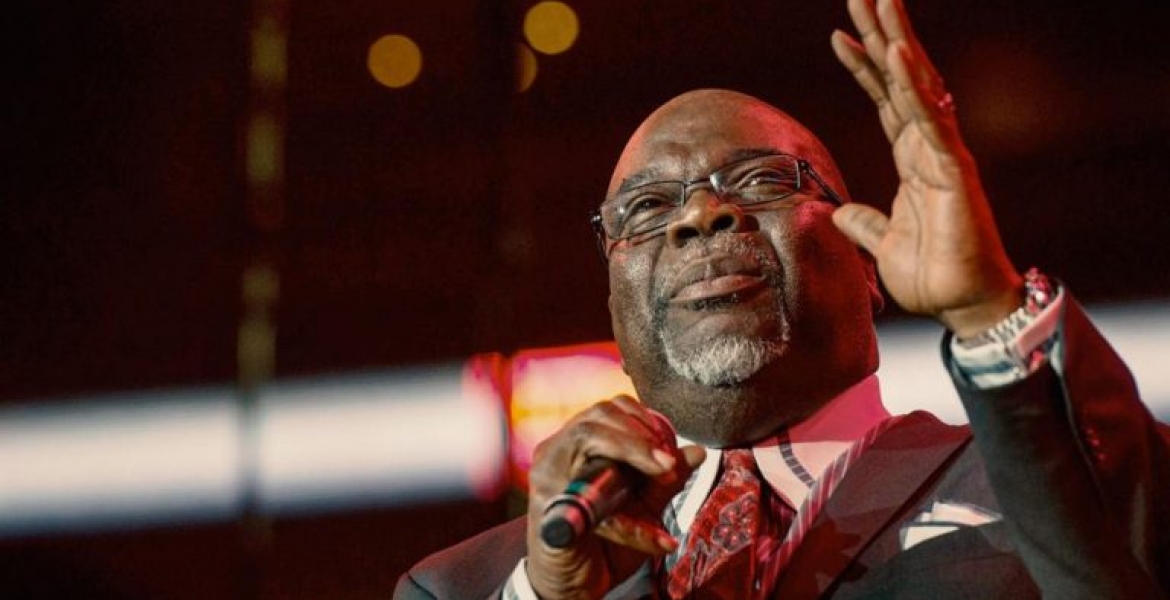 Kenyans have forked out Sh75,000 to have an exclusive dinner with renowned American televangelist Thomas Dexter Jakes Sr. alias TD Jakes in Nairobi.
TD is a guest speaker at SOAR Africa leadership and entrepreneurship summit set to be held at Kasarani Indoor Arena from Friday, September 6th. 
Bishop TD, Econet group chairman Strive Masiyiwa, head of Facebook Africa Nunu Ntshingilia, and KCB CEO Joshua Oigara are among the keynote speakers at the three-day event organized by Kenya Commercial Bank (KCB).
Coordinators of the event said VVIP tickets, which will give holders an exclusive fireside chat and dinner with Bishop TD Jakes at Villa Rosa Kempiski Hotel, have sold out.
"The VVIP tickets have already been sold out but the VIP is still available," Ms. Edna Kiarie from a public relations company contracted for the summit told Daily Nation.
Speaking during a press briefing at Villa Rosa Kempinski Hotel in Nairobi on Thursday, TD Jakes said that he was delighted to be part of the summit, the first of its kind in the region.
"As a CEO of TD Jakes Enterprise, I understand the importance of business, how to do it and how to survive best so as to enhance our lifestyles beyond spirituality," he said.
The summit will bring together leaders in business, government, and academia as well as key decision-makers from the public and private sector to discuss the economic progress of the continent.
A regular ticket is going for Sh25,000 and Sh50,000 for a VIP ticket.
A regular ticket will give attendees non-reserved seating within the conference arena, two bottles of drinking water, two tea breaks, lunch in delegate dome, one soft drink and parking in the general parking zone.
VIP ticket holders will get a table seating in the VIP area during the conference, bottled drinking water on demand, two tea breaks and lunch at the V.I.P dome. 
AVVIP ticket holder will get access to an exclusive dinner and fireside chat with T.D Jakes and Strive Masiyiwa at Kempinski Hotel and enjoy the VIP package at the conference.
TD Jakes, 62, is the pastor of The Potter's House, a non-denominational American mega-church. He is also an author and filmmaker.