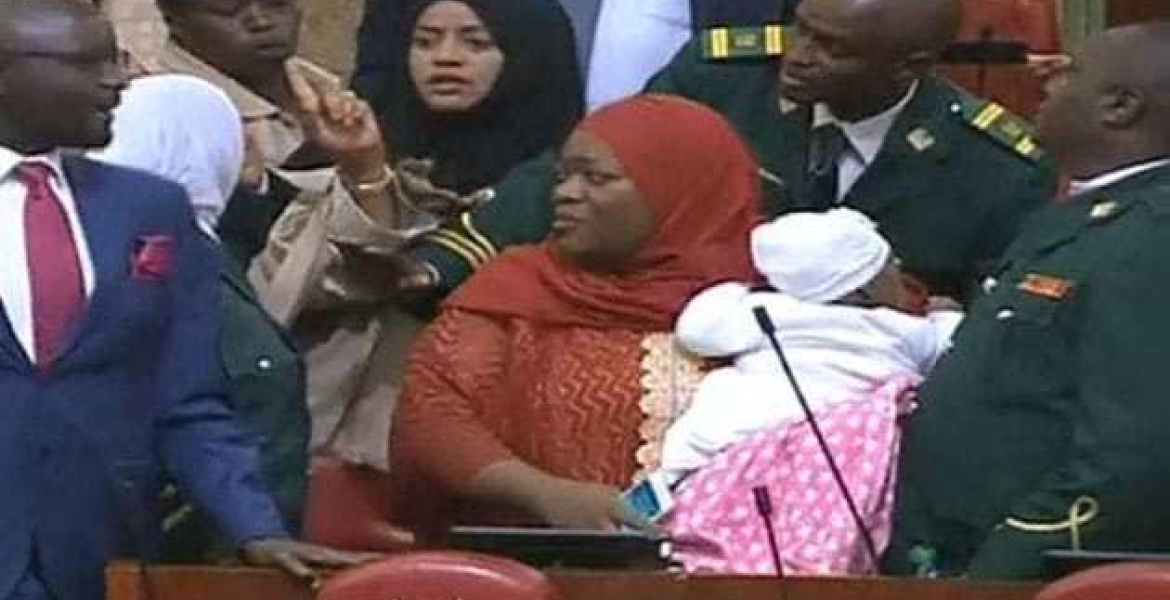 A National Assembly session was on Wednesday morning temporarily interrupted after a female Member of Parliament walked in with her five-month-old baby. 
Kwale Woman Representative Zuleikha Hassan entered the chambers with her infant, prompting members led by Majority Leader Aden Duale to call for her expulsion, arguing that she flouted House standing orders.
"All of us have children, this House has a stranger and it has never happened since 1963," said Duale.
After about 15 minutes of argument, presiding Speaker, Chris Omulele directed the sergeant at arms to throw Ms. Zuleikah and her baby out of the chambers.
Speaker Omulele explained that he had no other choice but to kick her out as her behavior was against the standing orders.
"I had an emergency, I have to come to work, and we have two sessions today a morning and afternoon one. In 2013, the Parliamentary Service Commission passed that we should have a room, a creche where we can breastfeed our child," Ms. Zulekha explained, adding that she had to choose between coming with the baby to work and staying at home.
In a show of solidarity, her female colleagues condemned the speaker for throwing her out, terming the move as barbaric and archaic.