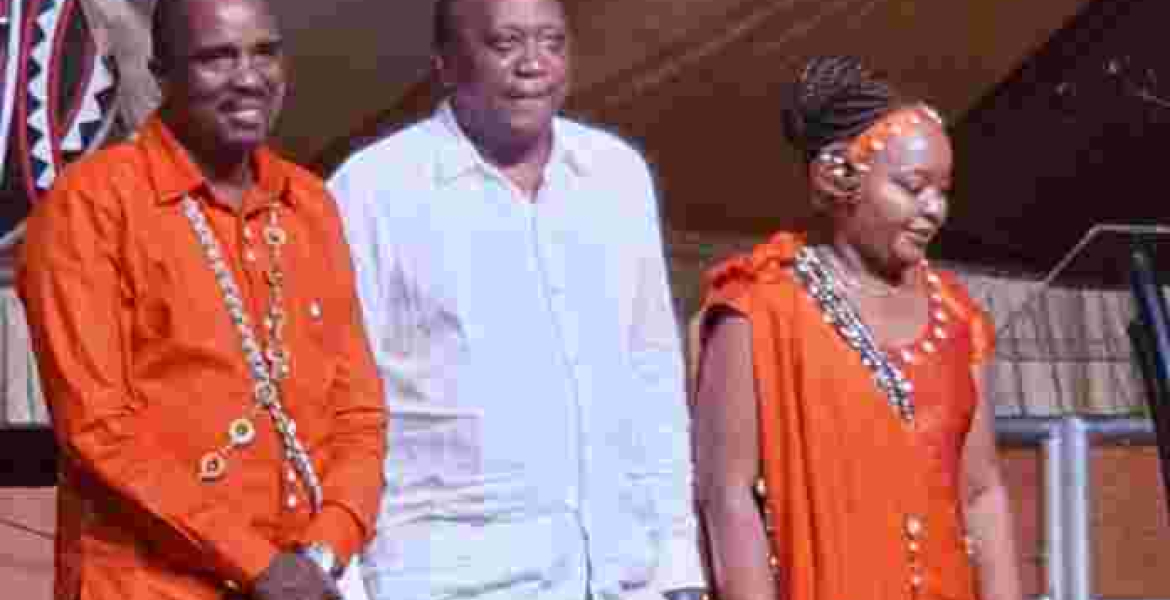 President Kenyatta congratulated newlyweds, city lawyer Kamotho Waiganjo and Kirinyaga Governor Anne Waiguru.
Kenyatta was among guests invited to the lavish traditional wedding (ngurario) held in Kiamugumo Primary School in Gichugu, Kirinyaga County on Saturday.
Kenyatta donned a white shirt and a black trouser to the ceremony that was attended by top politicians and other public figures.
The two sealed their union in front of about 2,000 guests that also included ODM leader Raila Odinga.
Speaking at the function, President Uhuru said: "Kamotho I can guarantee you that you have married a wonderful girl. She's a hardworking and committed woman," said Kenyatta.
"What's now remaining is that she should focus all her energies towards ensuring that he smiles every time he comes home," Uhuru added.
Kenyatta further praised the two lovebirds for choosing to hold a traditional ceremony, saying it is a way of embracing our culture.
He said adoption of Western culture was one of the reasons why society is collapsing. 
"We thank god because it is a good day. We are here to keenly look at this. I have never gone for a ngurario of old people. I was wondering where I would sit. I am happy that we are embracing our culture. Some of our lives are going wrong because we have left our traditions. 
"We have embraced the wazungu culture and that is why our society is collapsing. People no longer respect each other. You think you are better than the rest. Some of you speak English but they don't know where that language originated from. it is our responsibility to embrace our cultures."